Finland introduces the world's first phone-free tourist island
– visitors to Ulko-Tammio island are encouraged to stay offline this summer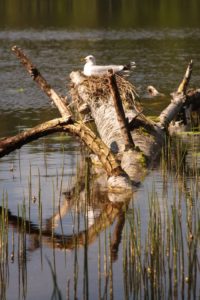 Those travelling to the island of Ulko-Tammio, located in the Eastern Gulf of Finland National Park, will be asked to keep their phones in their pockets this summer. The aim is to encourage holidaymakers to switch off their smart devices, take a break from social media and enjoy nature. Ulko-Tammio is believed to be the world's first phone-free tourist island.
The Eastern Gulf of Finland boasts plenty of beautiful islands awaiting explorers. Rugged islands, lush swimming spots and charming coastal villages are all characterised by nature, peace and the Baltic Sea.
"The island of Ulko-Tammio, which is located off the coast of Hamina, will be a phone-free area this summer. We want to urge holidaymakers to switch off their smart devices and to stop and genuinely enjoy the islands", Mats Selin, an expert in island tourism at Visit Kotka-Hamina, explains.
The campaign is hoped to encourage people to take a break from social media and smart devices outside the island, too. The staff of Parks & Wildlife Finland, the company which manages the island, are also excited about the campaign.
"We encourage visitors to put their phones away voluntarily and to focus their senses on nature rather than on their phones. This is a great initiative that could be implemented in other nature and recreational destinations, too", Joel Heino, Manager, Outdoor Recreation and Visitor Management at Parks & Wildlife Finland, says.
Summer is the high season of digital fasting
Technology is part of our everyday lives, and many people find it difficult to put their phone down even on holiday. Sharing your holiday activities on social media might feel more important than simply enjoying the moment. We take our smart phones with us everywhere, so many people are always within reach and spend any idle moments they have scrolling through their social media feed.
"People are not meant to be glued to screens all the time. Even a short digital fast can be useful and improve our well-being and help relieve symptoms of anxiety and depression", Terhi Mustonen, psychologist and Program Manager of the Limitless Gaming and Limitless Social Media programmes at the Sosped Foundation, says.
Summer holidays are a fantastic opportunity to take a break from technology and to enjoy genuine experiences, and Ulko-Tammio is an ideal phone-free island. Located far from the mainland, the island boasts interesting history, nature, birds – along with a birdwatching tower – and a cabin maintained by Parks & Wildlife Finland.
"Switching off your phone, exploring nature and meeting people face to face are bound to boost your mood and well-being. We spend countless hours scrolling our social media feeds, so taking a short break from them means you have more time for new experiences. I'd like to see more initiatives like this that promote digital fasting", Sari Castrén, psychologist and Research Manager at the Finnish Institute for Health and Welfare, says.
Interest in the Eastern Gulf of Finland is on the rise
The Eastern Gulf of Finland boasts a 30-nautical-mile-wide national park, where the island of Ulko-Tammio is located.
"The eastern side of the Gulf of Finland is home to a unique group of islands you won't find elsewhere. According to our research, interest in the islands of the Eastern Gulf of Finland is also on the rise among Finnish tourists looking for a nearcation destination", Selin explains.
The phone-free island of Ulko-Tammio
Tourists visiting Ulko-Tammio will be urged to put their phones away during their visit and to take in the island and its nature with all their senses.
Participation in digital fasting is voluntary, and the island is covered by a functioning mobile network.
Considered one of the crown jewels of the Eastern Gulf of Finland, the island of Ulko-Tammio is located in the Eastern Gulf of Finland National Park, which is one of the 41 national parks in Finland.
The island is home to rare birds and plants. The island also boasts an impressive history, beautiful and lush nature and rugged shores.
Ulko-Tammio has well-marked hiking trails and a birdwatching tower that offers wonderful views over the national park. Visitors can stay overnight on the island in tents or in the cabin maintained by Parks & Wildlife Finland.
Islands in the Eastern Gulf of Finland are typically accessed using private boats or by catching a commuter ferry, a cruiseferry, a water taxi or a water bus from Kotka.
The east coast has several other islands worth visiting and exploring.
About Dave's Travel Corner

Dave's Travel Corner is a travel content, resource provider and community (founded 1996) providing travel
Guides
written about Dave's personal travel experiences and
Journals
, pages that contain trip summaries and experiences written by fellow travelers. We spotlight locations and attractions with an article linked directly from our homepage including content across our blog, photo and video galleries. We use a combination of social media, written content, photography and videos to promote locations. Not only does the content appear on this site but we have direct partnerships with other well visited travel sites for placement of the content. Since 1996, we have also established hundreds of relevant link exchanges with other travel sites.
Visitors to Dave's Travel Corner will also find thousands of travel related links organized by categories on the
Resources Page
, a
Photo Gallery
containing International travel photos,
Book Reviews
, and
Product Reviews
focusing on products useful for travelers, fully automated
Forums
,
Tour Bookings
offering over 4400 unique tours around the globe,
Interviews
with those making news in the travel industry and
Videos
- specializing in International travel videos as well as home of the
Dave & Jim Show
.
Dave's own travel blog is
Above the Clouds
which focuses on International Travel & Lifestyle.
For information on advertising please choose from a variety of
advertising options here
.
Contributors are welcome

Learn how you can contribute
About

www.davestravelcorner.com/about