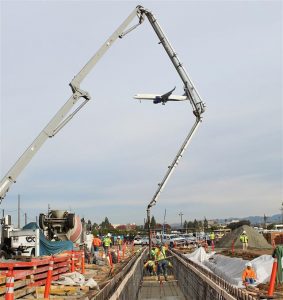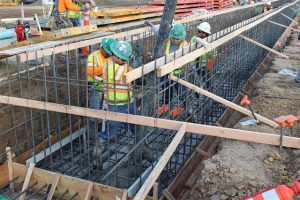 The 83,000-square-foot facility will be the control center for the LAX Automated People Mover train system
Construction workers piped in the first concrete for the foundation of the Automated People Mover
Maintenance and Storage Facility.
(Los Angeles) This month, Los Angeles World Airports (LAWA) announced another significant milestone in the construction of Los Angeles International Airport's (LAX) Automated People Mover (APM) with the start of foundation work on the Maintenance and Storage Facility (MSF), which will serve as the hub for operations and maintenance of the APM trains and system.
"When the first passengers board the Automated People Mover in 2023, they will find that the LAX guest experience has been transformed," said Bernardo Gogna, LAWA Chief Development Officer. "At the Maintenance and Storage Facility, the APM system's operators will work around the clock to ensure time-certain service to and from the Central Terminal Area for Angelenos and the city's visitors alike."
Sitting on a nine-acre site, the 83,000-square-foot MSF will feature several maintenance bays for the APM trains. It will also house the control center responsible for directing the fully automated trains according to routing sequences engineered for optimum performance, all while under 24-hour surveillance. In the first ever automated people mover application for a technology used primarily for heavy rail, an Automated Vehicle Inspection System (AVIS) will be used to perform visual inspections of the trains' undercarriages using cameras and thermal and laser sensors. The site will also feature a train wash and test tracks.
The developer on the project, LAX Integrated Express Solutions (LINXS), began demolition at the site in May 2019 followed by rough grading and utility work. As utility work is completed, the concrete for the maintenance bays and elevator shafts will be placed first, several feet below grade followed by the concrete for the facility floor. A total of 535,000 pounds of rebar will be used to reinforce the MSF foundation, which will be comprised of a total of 4,600 cubic yards of concrete. After foundation work is complete, steel erection will begin, with more than 1.5 million pounds of steel being used in its construction. The MSF will be complete in 2021 in anticipation of the first APM train deliveries.
Concrete being piped into the Maintenance and Storage Facility foundation.
In keeping with the sustainability goals for the project, LINXS is seeking Envision Certification for the system as a whole. The MSF will be built to LEED Gold standards and will incorporate several sustainable design elements, including a solar photovoltaic generation system capable of generating up to one megawatt of energy, which equates to the energy capable of powering 190 homes at any given time. The onsite train wash will use recycled water.
"Our team has been hard at work to bring an Automated People Mover to LAX that is befitting of a world-class airport, and sustainability is integral to that commitment," said Sharon Gookin, Project Director at LINXS. "Starting with concept and carrying through design and construction, the project has incorporated innovative and forward-thinking solutions that address some of the area's most pressing issues, including the urgent need to remain mindful of the long-term environmental impact of our built environment."
The APM, a 2.25 mile elevated electric train system that will transport travelers in and out of the LAX Central Terminal Area (CTA), is the centerpiece of LAWA's Landside Access Modernization Program (LAMP). The APM will feature six stations: three stations inside the CTA, which connect to the terminals via elevated pedestrian walkways, and three stations outside the CTA, which will connect to new off-site parking facilities, regional light rail transportation and a Consolidated Rent-A-Car Facility (ConRAC). Scheduled to open for passenger service in 2023, the APM is expected to relieve congestion within the CTA and in turn the surrounding thoroughfares, thereby reducing emissions and vehicle miles traveled.
For more information about the APM project, including fact sheets, renderings and construction impact notices, and to subscribe to receive email updates, visit FlyLAX.com/ConnectingLAX.
An aerial view rendering of the Maintenance and Storage Facility, which will be located between
96th Street and Arbor Vitae Street.
About Los Angeles International Airport (LAX)
About Los Angeles International Airport (LAX) LAX, the fourth-busiest airport in the world and second busiest in the United States, was named a top-10 U.S. airport by SKYTRAX. LAX served more than 87.5 million passengers in 2018 and offers an average of 700 daily nonstop flights to 109 cities in the U.S. and 1,281 weekly nonstop flights to 93 markets in 47 countries on 69 commercial airlines. LAX ranks 10th in the world in air cargo tonnage processed, with more than 2.4 million tons of air cargo. LAX handled 707,883 operations (landings and takeoffs) in 2018.
LAX generated 620,600 jobs in Southern California, with labor income of $37.3 billion and economic output (business revenues) of more than $126.6 billion, according to an economic study based on 2014 operations. This activity added $6.2 billion to local and state revenues and $8.7 billion in federal tax revenues. The study also reported that LAX's ongoing capital improvement program creates an additional 121,640 annual jobs with labor income of $7.6 billion and economic output of $20.3 billion; $966 million in state and local taxes; and $1.6 billion in federal tax revenues.
LAX was honored as having the "Best Overall Customer Service Program" by Airports Council International-North America; named the "Best Airport for Breastfeeding Moms" by Mamava; selected for the Top 10 "Best of the U.S.'s Big Airports" (Wall Street Journal) and "Most Pet-Friendly Airports in the U.S. (Mental Floss); named the second-most improved airport in the U.S. by JD Power; received an "Innovation Award" from the L.A. Better Business Challenge for its Central Utility Plant; and named a "Business Leader in Air Quality" by the South Coast Air Quality Management District.
LAX is also the second-most popular airport in the world to appear on Instagram, according to wego.com. LAX is part of a system of two Southern California airports – along with Van Nuys general aviation – that are owned and operated by Los Angeles World Airports, a proprietary department of the City of Los Angeles that receives no funding from the City's general fund.
About Dave's Travel Corner

Dave's Travel Corner is a travel content, resource provider and community (founded 1996) providing travel
Guides
written about Dave's personal travel experiences and
Journals
, pages that contain trip summaries and experiences written by fellow travelers. We spotlight locations and attractions with an article linked directly from our homepage including content across our blog, photo and video galleries. We use a combination of social media, written content, photography and videos to promote locations. Not only does the content appear on this site but we have direct partnerships with other well visited travel sites for placement of the content. Since 1996, we have also established hundreds of relevant link exchanges with other travel sites.
Visitors to Dave's Travel Corner will also find thousands of travel related links organized by categories on the
Resources Page
, a
Photo Gallery
containing International travel photos,
Book Reviews
, and
Product Reviews
focusing on products useful for travelers, fully automated
Forums
,
Tour Bookings
offering over 4400 unique tours around the globe,
Interviews
with those making news in the travel industry and
Videos
- specializing in International travel videos as well as home of the
Dave & Jim Show
.
Dave's own travel blog is
Above the Clouds
which focuses on International Travel & Lifestyle.
For information on advertising please choose from a variety of
advertising options here
.
Contributors are welcome

Learn how you can contribute
About

www.davestravelcorner.com/about