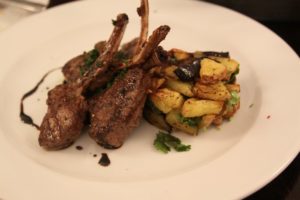 September 13, 2021. With Lithuania now offering its visitors an additional night in the country for free, its biggest cities Vilnius, Kaunas, and Klaipėda prove to be all the more suitable travel destinations for a quick getaway. Aside from being abundant with cultural sites and natural monuments, Lithuania's biggest cities stand out for their unusual and bizarre gastronomical experiences marked by a pronounced preference for local ingredients and a relaxing atmosphere.
Lithuania Travel—the country's national tourism development agency—along with the locally-acclaimed chef and food blogger Arnas Raulinaitis has compiled a list of the top brunch places in the most-visited Lithuanian cities.
Vilnius: A Unique Take on European Cuisine
Telegrafas. Nestled in the center of Vilnius Old Town, Telegrafas creates an elegant dining atmosphere overlooking the scenic Vilnius Cathedral Square. Balancing between culinary tradition and innovation it delivers a unique European gastronomical experience. The dishes are marked by a combination of European cooking, veering from East to West with a hint of Mediterranean.
Address: Universiteto g. 14, Vilnius 01122
Sugamour. With a heavy focus on elegant and extravagant sweets and baked goods, this dessert boutique offers an extensive breakfast menu available all throughout the day. The ample outdoor and indoor seating area provides a cozy atmosphere for lingering over savory brunch meals and tasty desserts.
Address: Vokiečių g. 11, Vilnius 01130
Meat SteakHouse. This steakhouse is an absolute must-visit for meat lovers visiting Lithuania. Equipped with a special meat ageing chamber that helps reveal the best meat flavoring properties during ageing, Meat offers a variety of light and hearty meat-based brunch options. Vegetarian menu is available too.
Address: A. Juozapavičiaus g. 13, Vilnius 09311
Chef's pick for Vilnius—Druska Miltai Vanduo (Salt Flour Water).
"Druska Miltai Vanduo or DMV—as the locals like to call it—is probably the most popular place to have breakfast in Vilnius. DMV began its life as a small artisanal sourdough bakery, however, today it offers a wide assortment of brunch foods—served with quality bread that they produce themselves—including their locally acclaimed take on eggs Benedict and variety of breakfast toast options," said Arnas Raulinaitis.
Address: Geležinkelio g. 3, Vilnius 02100
Kaunas: the Centre of Culinary Innovation
MoMo Grill Kaunas. Located in the former historical alcohol and yeast factory, it is a place with an extraordinary industrial style interior nestled in Lithuania's capital of modernism. As one of the first restaurants to introduce the concept of brunch in Kaunas, it offers a variety of traditional European and American brunch options including egg dishes, pancakes, breakfast pastries, and more.
Address: Karaliaus Mindaugo pr. 18a, Kaunas 44295
Monte Pacis. A luxurious environment that brings its visitors a unique opportunity to enjoy modern restaurant pleasures in the XVII century historic monastery ensemble of Pažaislis. Spiced with the culinary insights and creative secrets of the monks, the dishes are made from locally grown products.
Address: Tito Masiulio gatvė 31, T. Masiulio g. 31, Kaunas 52436
Uoksas. This critically acclaimed restaurant offers a modern take on Lithuanian and European cuisine. Known for its culinary interpretations and bold kitchen experiments with textures, layers and intensity of tastes—reflected by such delicacies as freeze-dried pumpkin and chocolate dessert—it has won the hearts of the Kaunas locals and visitors alike.
Address: Maironio g. 28, Kaunas 44249
Chef's pick for Kaunas—Holas.
"Holas is a youthful and vibrant place that offers a perpetually changing menu comprising two major sections—Mexican flavors and the most beloved dishes from all over the world delivered with a unique and modern twist," said Arnas Raulinaitis. "On the weekends, the chefs at Holas offer a wide variety of French toast options and—of course—the Lithuanian take on American pancakes which is an absolute must-try for those visiting Kaunas."
Address: Laisvės al. 84B, Kaunas 44250
Klaipėda: Lithuania's Gastronomic Port Town
Monai. Situated at the very heart of Klaipėda, Monai presents a cozy home-like environment ideal for a light brunch or a delicate dinner. The local chefs known for their unique and often flashy presentation of dishes, invite the guests to observe their creative process in the kitchen—situated at the center of the dining room.
Address: Liepų g. 4, Klaipėda 92114
Vanilės Namai. This dessert boutique is a must-visit for those that have a sweet tooth although it offers a wide variety of brunch options. Here, the visitors can indulge in various egg dishes, several pancake and waffle options as well as a large selection of lighter savory snacks and sweets—such as handmade eclairs, chocolate truffles, and other traditional French desserts.
Address: H. Manto g. 3, Klaipėda 92128
Felsner Family Restaurant. Offering a variety of traditional Lithuanian and modern European brunch options as well as desserts and wines, the local chefs prioritize ingredient quality and balance between flavors. The dishes available here span from such delicacies as fresh tuna tartar and sashimi to traditional Lithuanian kitchen indulgences like pan-fried bread—which is served here with a creamy garlic sauce and olives.
Address: Turgaus g. 11, Klaipėda 91247
Chef's pick for Klaipėda—Baltos Lėkštės (White Plates).
"Baltos Lėkštės is one of the first places in Klaipėda to offer pizza baked in a wood-fired oven. Stylish interior, friendly and professional service, and a unique menu inspired by Italian cuisine: wood-fired pizza, handmade pasta, fresh and piping hot doughnuts, and other kitchen delights made with whatever is in season at the time. Its weekend breakfast menu—that changes all the time—is definitely worth a try because Baltos Lėkštės is a true gastronomical gem of the seaside," commented Arnas Raulinaitis.
Address: Turgaus g. 10, Klaipėda 91247
More information about destinations and activities in Lithuania can be found on: www.Lithuania.travel.
ABOUT LITHUANIA TRAVEL
Lithuania Travel is a national tourism development agency responsible for Lithuania's tourism marketing and promotion, acting under the Ministry of Economy and Innovation. Its strategic goal—to raise awareness of Lithuania as an attractive tourism destination and to encourage inbound and domestic travel. The agency closely collaborates with tourism businesses and organizations, presents Lithuanian tourism products, services and experiences on social and digital media, press trips, in international travel exhibitions and B2B events.
About Dave's Travel Corner

Dave's Travel Corner is a travel content, resource provider and community (founded 1996) providing travel
Guides
written about Dave's personal travel experiences and
Journals
, pages that contain trip summaries and experiences written by fellow travelers. We spotlight locations and attractions with an article linked directly from our homepage including content across our blog, photo and video galleries. We use a combination of social media, written content, photography and videos to promote locations. Not only does the content appear on this site but we have direct partnerships with other well visited travel sites for placement of the content. Since 1996, we have also established hundreds of relevant link exchanges with other travel sites.
Visitors to Dave's Travel Corner will also find thousands of travel related links organized by categories on the
Resources Page
, a
Photo Gallery
containing International travel photos,
Book Reviews
, and
Product Reviews
focusing on products useful for travelers, fully automated
Forums
,
Tour Bookings
offering over 4400 unique tours around the globe,
Interviews
with those making news in the travel industry and
Videos
- specializing in International travel videos as well as home of the
Dave & Jim Show
.
Dave's own travel blog is
Above the Clouds
which focuses on International Travel & Lifestyle.
For information on advertising please choose from a variety of
advertising options here
.
Contributors are welcome

Learn how you can contribute
About

www.davestravelcorner.com/about