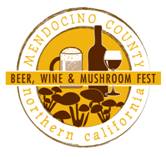 MENDOCINO COUNTY TO CELEBRATE FABULOUS FUNGI, CRAFT BEER AND LOCAL WINE AT FALL FESTIVAL, NOVEMBER 2-11
Annual November Event Showcases Local Bounty During 10-day Festival, Craft Beers Become Part of Festival for First Time Ever!
MENDOCINO COUNTY, Calif. – (October 16, 2012) – For the first time in the twelve year history of the annual Wine & Mushroom Festival, local craft beers will be incorporated into the mix, officially making the new title of the festival the "Beer, Wine & Mushroom Festival. The Anderson Valley Brewing Company and the North Coast Brewing Company will be integrally involved in this year's festival, hosting dinners and tours and pouring at the flagship event on November 3rd. The craft beers and delectable mushrooms of Mendocino County, combined with locally produced wines, will make the 2012 festival, which runs Friday November 2nd to Sunday, November, 11th, an event that delights foodies, oenophiles and nature-lovers alike!
Mendocino County boasts more than 3,000 types of mushrooms, 500 of which are edible, including chanterelles, porcinis, morels and hedgehogs, and even the extremely rare candy cap mushroom, with its intense maple-syrup flavor, that grows only along the northern coast of California. The Beer, Wine & Mushroom Festival will celebrate this bounty – along with locally crafted beers and wines – with an array of events, including brewmaster and winemaker dinners, wild mushroom foraging excursions, educational beer and wine-pairing demonstrations, art exhibitions and more!
The premier event of the festival is the Camp Mendocino Beer, Wine & Mushroom Train, aboard the historic Skunk Train on Saturday, November 3rd. Trains leave from Fort Bragg and Willits at 10:00 a.m., then after winding through the redwoods, the passengers disembark at Camp Mendocino for wine tastings, culinary delights, and a mushroom cook-off. The event will feature local mushroom expert, Eric Schramm, a mushroom hike, and presentation about Mendocino County wines. Silent auction, live music, and dessert port and chocolate truffles round off the day. Trains arrive back in Fort Bragg and Willits at 5:00 p.m. Benefits S.F. Boys & Girls Club Camp Mendocino. Adults: $95 per person.
Fort Bragg & Willits to Camp Mendocino | 707.964.6371 | www.skunktrain.com
Here is a taste of what else you will find at this year's festival:
Discounted Lodging Packages and Specials (this is just a sampling!)

Agate Cove Inn
Each weekend at sunset during the Beer, Wine & Mushroom Festival, our guests enjoy complimentary local wine from Esterlina and Yorkville Cellars, served with our famous mushroom appetizers. Relax in our gardens or dining room while watching the sun dip below the horizon and the dramatic surf, all from our whitewater, oceanfront location.
Mendocino | 800.527-3111 | www.agatecove.com
Alegria Oceanfront Inn & Cottages
Mendocino's only inn with a path to the beach. Ocean views, fireplaces, decks.  An enchanting retreat. Walk to all the Village has to offer. Scrumptious organic breakfast included.  During the Beer, Wine & Mushroom Festival, stay two or more mid-week nights and receive an $80 discount per night.
Mendocino | 707.937.5150 | www.oceanfrontmagic.com
Baechtel Creek Inn & Spa Beer, Wine & Mushroom Package
Create your own Mushroom Festival Package! One or two nights lodging; a 45-minute Swedish massage, and a complimentary bottle of Mendocino County wine. Our inn is also handy for a ride on the Skunk Train. Packages start at $249.99 plus tax for one night package for 2 adults.  Rates/Dates vary.
Willits | 800.459.9911 | www.baechtelcreekinn.com
Brewery Gulch Inn
Enjoy an additional 15% discount off the winter midweek rates when staying for two or more nights in this AAA Four-Diamond award inn. Wild mushrooms found on the Mendocino Coast will be featured in special dishes in the gourmet cooked-to-order breakfast and the light dinner buffet with local Mendocino County wines and beers. Both meals are included in all room rates.  Excludes Friday and Saturday nights.
Mendocino | 800.578.4454 | www.brewerygulchinn.com
Country Inn
The Country Inn B&B located in Fort Bragg will help you celebrate Beer, Wine & Mushrooms by offering this very special rate of $65/night any day of the week during the festival.  The inn is centrally located within walking distance of the Skunk train, Glass Beach, shops, restaurants, museums, and wine tasting.  Our rates include a tasty country style breakfast served in our sunny breakfast room or in the privacy of your room.
Fort Bragg | 800-831-5327 | www.beourguests.com
Emerald Dolphin Inn & Mini Golf
Beer, Wine & Mushroom Festival package includes:  Lodging for two, continental breakfast,  unlimited Miniature Golf passes (Fri-Sun), two tickets for Mendocino Coast Botanical Gardens, bottle of wine and fresh flowers upon arrival. Two-night package starts at $199, plus tax, for two people. Three-night stays start at $236, plus tax, for two people.
Fort Bragg | 866.964.6699| www.emeralddolphin.com
Raku House Inn

Easy, comfortable lodging in craftsman style bungalow a short stroll from Mendocino village and Big River Beach. Private baths and spacious rooms. A freshly baked organic contintental breakfast is delivered to your door each morning. During the Beer, Wine & Mushroom Festival, stay two midweek nights and receive an $80 discount per night.
Mendocino | 707.937.5150 | 
Super 8 Ukiah
After a long day of enjoying the Beer, Wine & Mushroom Festival, relax in our freshly renovated rooms.  Ask for our Mushroom rate:  $48.88 (King); $58.88 (two doubles) – includes continental breakfast.
Ukiah | 707.468.8181 | www.Super8Ukiah.com

Mushroom Foraging and Other Adventures
Liquid Fusion Kayak Mushroom Paddles, Nov. 3, 4, 10, 11 (3-hour guided adventure)
Learn the basics of mushroom identification with a hands-on, pre-paddle mushroom lesson; then tour the calm waters of the Noyo River in search of wild mushrooms and other Noyo River wonders.  Our waterproof gear will keep you dry and warm while you enjoy the quiet solitude of the Noyo River, fall scenery, colorful migratory ducks, and mysterious mushrooms. $75/person; reservations required; tours run rain or shine.
Fort Bragg | 707.962.1623 | www.liquidfusionkayak.com
Mushrooms at the Mendocino Coast Botanical Gardens
Join staff mycologist Mario Abreu for a series of weekly mushroom workshops and walks at the Botanical Gardens. Free with Garden admission.
Fort Bragg | 707.964.4352×16 | www.gardenbythesea.org
Mushroom Walks – Mondays at 1:30 p.m., Nov. 12, 2012 – Jan. 28, 2013
Staff mycologist, Mario Abreu, takes walkers on a weekly hunt for mushrooms throughout the Garden. Mushroom identification, biology, edibility, myths and the good times that all come along with a mushroom walk will be included. Warning: exposure to the mushroom world can be habit-forming! Weather permitting; come prepared for wet, off-trail hiking.
Mushroom ID for Beginners Workshops, Nov. 10, 17; Dec. 11, 10:00 a.m.–3:30 p.m.
What are mushrooms, how and where do you find them, and which varieties are safe to eat? Is a mushroom a plant? What role do fungi play in ecology? Should you be worried or happy about the mushrooms sprouting in your yard? If these questions come to mind when the rains start to fall, this class is for you! MCBG naturalist Mario Abreu will have specimens & handouts to guide you in understanding the wild mushroom. $15 Members; $20 Non-members.
The Art of the Mushroom Studio 391, Nov. 10 – Nov 30
Celebrate the Art of the Mushroom at Studio 391 with a unique photography exhibit featuring images of locally foraged mushrooms by Paul Kozal. Attend the exhibit opening and artist reception on November 10 from 3:00 p.m.–6:00 p.m. The exhibit will remain on view through end of November. Free Admission.

Gualala | 707.884.9065 | www.studio391.net
Unique Wine and Restaurant Events
Friday, November 2
Husch Vineyards, 2:00 p.m.
Enjoy a guided vineyard tour at Husch Vineyards and meet the sheep that call their vineyard home for the winter. After the tour, enjoy a mushroom and sheep-cheese appetizer in the tasting room and sample a selection of Husch wines. Also on Friday, November 9th.
Philo | 800.554.8724 | www.huschvineyards.com
Saturday, November 3
Winemaker Dinner at The Jaxon Keys Farmhouse, Tour at 5 p.m. & Dinner at 6 p.m.
A fun evening of friends, music and food featuring mushroom-inspired dishes paired with our award-winning zinfandels, cabernets, port and more. Our winemaker will share his knowledge and history of the ranch and his winemaking techniques. $85 per person; $65 for club members. All inclusive! Seating is limited. Please reserve by emailing vicki@jaxonkeys.com.
Hopland | 877.462.0666 | www.jaxonkeyswinery.com
Thursday, November 8th
Wild Fish Winemaker Dinner, 6:30 p.m.
This new restaurant on the Mendocino Coast hosts a night featuring Winemaker Jim Klein from Navarro Vineyard serving his award-winning wines alongside a six-course gourmet feast created by Chef Andre Riggs of Wildfish. $120 per person (includes gratuity).
Little River | 707-937.3055 | www.wild-fish.com
Saturday, November 10
BARRA of Mendocino's Wild Mushroom Fest, "Italiano Rustico," 6 p.m.
A Wild West Mushroom Fest featuring the finest of Old World traditional Italian fare. Enjoy such culinary delights as crostini di tonno, wild mushroom pate, platters of antipasto, and the star of the show – porchetta with porcini mushroom stuffing. Sip award winning BARRA of Mendocino and Girasole Vineyards wines. Local mushroom expert Eric Schramm will be on hand to educate  guests, and local author Heidi Cusick Dickerson and photographer Tom Liden will be signing copies of their newly published book, "Mendocino Roots & Ridges: Notes from America's Greenest Wine Region." $80 per person, $50 per person for wine club members. 
Redwood Valley | 707.485.0322 | www.barraofmendocino.com
Sunday, November 11
Mushroom Identification Walk, Talk And Tasting with David Arora, 11:00 a.m.–4:00 p.m.
Studio 391 presents a Mushroom Identification Walk, Talk and Tasting with David Arora, author of Mushrooms Demystified and a leading authority of mushrooms and their uses worldwide. Meet at Studio 391 in Gualala and then head off to a nearby location; bring sack lunch. Pre-registration required. $90 per person.
Gualala | 707.884.9065 | www.studio391.net
Also enjoy complimentary mushroom appetizers in these wine tasting rooms over the course of the festival. Check winery websites for specific dates these appetizers will be offered.
The above is just a sampling of the dozens of events that will take place during the 2012 Beer, Wine & Mushroom Festival in Mendocino County. For specific information about events surrounding the Mushroom Festival, visit www.visitmendocino.com and search for "mushroom." Please note that new events are being added every week. For more information on Mendocino County, call 866-782-9636 (866-GO-MENDO), or visit www.visitmendocino.com.
About Dave's Travel Corner

Dave's Travel Corner is a travel content, resource provider and community (founded 1996) providing travel
Guides
written about Dave's personal travel experiences and
Journals
, pages that contain trip summaries and experiences written by fellow travelers. We spotlight locations and attractions with an article linked directly from our homepage including content across our blog, photo and video galleries. We use a combination of social media, written content, photography and videos to promote locations. Not only does the content appear on this site but we have direct partnerships with other well visited travel sites for placement of the content. Since 1996, we have also established hundreds of relevant link exchanges with other travel sites.
Visitors to Dave's Travel Corner will also find thousands of travel related links organized by categories on the
Resources Page
, a
Photo Gallery
containing International travel photos,
Book Reviews
, and
Product Reviews
focusing on products useful for travelers, fully automated
Forums
,
Tour Bookings
offering over 4400 unique tours around the globe,
Interviews
with those making news in the travel industry and
Videos
- specializing in International travel videos as well as home of the
Dave & Jim Show
.
Dave's own travel blog is
Above the Clouds
which focuses on International Travel & Lifestyle.
For information on advertising please choose from a variety of
advertising options here
.
Contributors are welcome

Learn how you can contribute
About

www.davestravelcorner.com/about