Watch explorers learn to be "Chinese for a day" through unique cultural experiences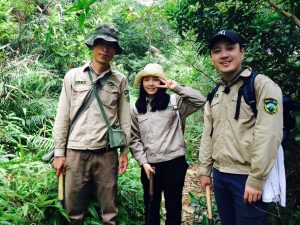 Beijing (October 2017) – "My Chinese Working Day", a cultural documentary series pioneered by the "I'm in China" programme is available for viewing on 20 September 2017. The show, a culmination of a month-long "Global Recruitment" competition, reveals what happens when a diverse group of interna-tional explorers take on unique jobs and thrilling activities that can only be found in Mainland China.
With China's distinctive natural scenery serving as a backdrop, each episode will feature an ambitious young explorer from a different nation attempting to learn an occupation, or perform a new skill unique to a specific Chinese city or province. Viewers follow along as explorers train with a local mentor and are guided through the history and craft behind each challenge, highlighting elements of China's culture that have seldom been presented before. The explorers provide their foreign perspectives on what they've learned, deepening understanding between differing cultures while entertaining and educating the viewer.
"It's been almost a millennium since Marco Polo's epic journey to Asia. The legacy of his voyage, of uncovering the mysteries and treasures of China for foreign eyes, profoundly influences the world even today", said the spokesperson of "I'm in China" programme, "We want to bridge China and the rest of the world, and to bring the next generation of Marco Polos to rediscover the new China."
The 15 episode weekly series will premiere on I'm In China's YouTube channel this week. In October the show will be broadcast on international media outlets, including CNC Network.
Upcoming episodes include Rob, a young student from America, who tries his hand as a traditional Chinese masseuse in the picturesque city of Sanya on Hainan island. Follow Rob's action-packed week of cultural discovery as he learns Tai Qi from a local master and goes hunting for fresh coconuts in the forest, while also tending to his new job. Watch this American go from China newbie to an aspiring cultural ambassador in an entertaining and educational event shot against Hainan's charming southern coastline.
The show's explorers were found through the "Global Recruitment" competition put on by "I'm In China". More than 10,000 entries were submitted by travelers from all over the world bidding for a chance to have a genuinely unique China experience and become a TV presenter for "My Chinese Working Day." The twenty winning entrants include British honeymooners, an American musician, a couple of Belarusian flight attendants and a Turkish student. Future episodes will show how they fare as panda nannies, sea captains, forest rangers, Peking duck chefs, catamaran sailors and much more.
For those who did not get into the program for the first season, the next season's "Global Recruitment" will re-open for entries at the end of October. Those interested to learn more should stay tuned to "I'm In China" on social media. This is a once in a lifetime opportunity to be a front-line cultural ambassador. See you soon, explorers!
About Dave's Travel Corner

Dave's Travel Corner is a travel content, resource provider and community (founded 1996) providing travel
Guides
written about Dave's personal travel experiences and
Journals
, pages that contain trip summaries and experiences written by fellow travelers. We spotlight locations and attractions with an article linked directly from our homepage including content across our blog, photo and video galleries. We use a combination of social media, written content, photography and videos to promote locations. Not only does the content appear on this site but we have direct partnerships with other well visited travel sites for placement of the content. Since 1996, we have also established hundreds of relevant link exchanges with other travel sites.
Visitors to Dave's Travel Corner will also find thousands of travel related links organized by categories on the
Resources Page
, a
Photo Gallery
containing International travel photos,
Book Reviews
, and
Product Reviews
focusing on products useful for travelers, fully automated
Forums
,
Tour Bookings
offering over 4400 unique tours around the globe,
Interviews
with those making news in the travel industry and
Videos
- specializing in International travel videos as well as home of the
Dave & Jim Show
.
Dave's own travel blog is
Above the Clouds
which focuses on International Travel & Lifestyle.
For information on advertising please choose from a variety of
advertising options here
.
Contributors are welcome

Learn how you can contribute
About

www.davestravelcorner.com/about