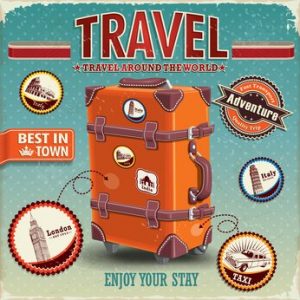 Travelers are a competitive bunch, from "How many countries have you been to?" and "We've been there, did you do…?", to watching TV's The Amazing Race and saying, "I could do that!"
A 2014 travel adventure competition is set to finally allow travelers to test their travel savvy and compete with other great travelers mano-a-mano for "The World's Greatest Traveler™" trophy and a free trip around the world.
One former participant calls it "The Amazing Race for regular people."
The 10th annual Global Scavenger Hunt travel adventure competition aims to return the romance of travel while testing the travel IQ of the most travel savvy of globetrotters pitting them against each other in an around the world contest. The event will have travelers visiting ten secret destinations (no guidebooks or online research possible), overcoming language and cultural barriers, and logistic challenges, all while completing a series of highly participatory, authentic and challenging site-doing scavenges over a 23-day circumnavigation beginning April 11, 2014. Trusting strangers in strange lands is not just recommended—it is required!
"The Global Scavenger Hunt covers a lot of extraordinary travel bases," says author and Event Director William Chalmers, "Taking our blind date with the world is a 21st-century version of spinning a globe and throwing out your finger and competition is fierce. Maybe that's why we've been called the 'Super Bowl of Travel,' the 'Olympics of Travel'', and one scribe called our adventure the 'Magical Mystery Tour'. I liked that one!"
The winners of this annual travel adventure (aka the Olympics of Travel), will be crowned The World's Greatest Travelers™. Last year's father-son team from Canada will be defending their title against Indiana Jones-types already signed up from United States, New Zealand, Australia, Germany and Canada. And all you have to do to unseat them is to circle the globe while outdoing, out-thrilling and out-traveling a fine collection of international travelers. Interested travelers need to apply online at GlobalScavengerHunt.com.
The event begins April 11th on the West Coast and ends May 3rd on the East Coast. The 23-days in between will be filled with nonstop global activities—a decathlon of travel events.
Outside magazine calls the annual travel adventure competition The Global Scavenger Hunt, "One of the 50 Most Amazing Trips in the World," travel guru Peter Greenberg says that, "Unlike The Amazing Race, this challenge is more about your ability to connect with cultures…," while NationalGeographic.com says the travel competition is, "like Survivor, the Amazing Race and the Eco-Challenge all rolled into one except with much more cultural interaction."
The event is limited to 15-two person teams, and the $10,900 per person entry fee includes: all international airfare, first class hotels, 40% of meals, along with special event swag. All travelers will be interviewed for suitability and single travelers are welcome to apply. Submit an application by contacting GreatEscape Adventures at 1.310.281.7809 or online at GlobalScavengerHunt.com
About Dave's Travel Corner

Dave's Travel Corner is a travel content, resource provider and community (founded 1996) providing travel
Guides
written about Dave's personal travel experiences and
Journals
, pages that contain trip summaries and experiences written by fellow travelers. We spotlight locations and attractions with an article linked directly from our homepage including content across our blog, photo and video galleries. We use a combination of social media, written content, photography and videos to promote locations. Not only does the content appear on this site but we have direct partnerships with other well visited travel sites for placement of the content. Since 1996, we have also established hundreds of relevant link exchanges with other travel sites.
Visitors to Dave's Travel Corner will also find thousands of travel related links organized by categories on the
Resources Page
, a
Photo Gallery
containing International travel photos,
Book Reviews
, and
Product Reviews
focusing on products useful for travelers, fully automated
Forums
,
Tour Bookings
offering over 4400 unique tours around the globe,
Interviews
with those making news in the travel industry and
Videos
- specializing in International travel videos as well as home of the
Dave & Jim Show
.
Dave's own travel blog is
Above the Clouds
which focuses on International Travel & Lifestyle.
For information on advertising please choose from a variety of
advertising options here
.
Contributors are welcome

Learn how you can contribute
About

www.davestravelcorner.com/about