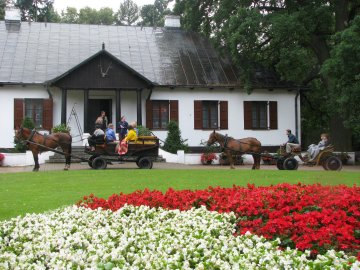 (MAY 2010) – Over 2,600 American volunteers are credited for helping write a prosperous new chapter for Polish students through an innovative English teaching program. Working in service teams of 10 to 15, for two or three weeks at a time, volunteers from states across the nation lent their conversational skills to rural classrooms in central and southern Poland out of friendship. Siedlce Governor Zygmunt Wielogorski wants the country to know thousands of Polish children and young adults speak English now because of the American volunteers, and their futures are secure because of that.
In October, 2010, Polish national and district officials will formally celebrate their 20-year development partnership with the internationally recognized Global Volunteers, a nonprofit, nonsectarian development assistance organization in consultative status with the United Nations and UNICEF, responsible for dispatching these volunteers to Poland.
With an eye toward European Union and NATO membership in 1990, Rural Solidarity (the rural arm of Lech Walesa's Solidarity Union), asked Global
Volunteers to foster its entry into the west by sending volunteers to teach conversational English. At that time, Glboal Volunteers was sustaining development programs in Africa, Asia, the Carribean and Central America. It was the organization's entry into European volunteer service and conversational English assistance.
Now, two decades later, a decorous Gala celebration is planned for October to mark this unprecedented relationship providing more than 200,000 classroom and small group hours enabling an entire generation of young Polish people to confidently speak conversational English, along with 10,000 hours served in afterschool programs and working with disabled children and adults. Fifteen volunteers from six states will join Global Volunteers President and CEO Bud Philbrook and Vice President for International Operations Michelle Heerey to represent the 2,600 former volunteers at the Gala. A standard Global Volunteers service program will complete the three-week celebration.
?The idea of teaching of conversational English came from Poland in 1989 — a time of changes in our country when Poland became a democracy,? said Marek Blaszczyk, who hosts the volunteer teams on behalf of the Siedlce District and Governor Wielogorski. Bud Philbrook, CEO of Global Volunteers, asked how his organization could help. The answer was – We have enough hands to work but we need to speak English to work with Western Europe and the U.S.
Mr. Philbrook said he couldn't promise teachers but he could engage native English speakers to help. Since that time the service program has grown and has been very successful in Poland. It also has become a model service program for other countries that wish to speak English.
During the school year volunteers assist teachers – as classroom resources, and in the summer months, the teams teach at popular summer camps in the mornings, prepare lessons in the afternoon and join students for singing, skits, dancing and games in the evening. Volunteers stay in Zakopane in southern Poland or at Reymontowka, a sprawling manor house once owned by the family of Wladyslaw Reymont, winner of the 1924 Nobel prize for his novel 'Peasants'. Reymontowka, which is located in the small farming village of Chlewiska in the peaceful Polish countryside, also serves as an arts and culture center that hosts several concerts and dancing performances each year.
When the volunteers first came to Poland they taught business and technology to unemployed people and employees of the police station, railroad, provincial government and tax office, said Blaszczyk. Global Volunteers never told us that you have to do something this way or that way. This was very important to us.
Serving at the invitation and under the direction of host community leaders, and working one-on-one with local people is Global Volunteers' singular Philosophy of Service, according to Philbrook. This philosophy ensures that long-term development needs are addressed in culturally appropriate ways.
Plans for the 20th Anniversary volunteer team on October 16, 2010 include a visit to the Polish Parliament in Warsaw, a meeting at the Ministry of Foreign Affairs, a day-long international conference about the impact of volunteering, and opportunities to meet the Bishop of the Siedlce Diocese, representatives of the University of Podlasie, local government officials, foreign delegations and students.
The official Gala will take place at Reymontowka with a guest list including Global Volunteers representatives from several country programs, the U.S. Ambassador to Poland, and representatives of the Ministry of Foreign Affairs, local provincial and county governments, and schools and district offices served by the program. The Gala's program will feature a piano recital with the music of Poland's own Fredrick Chopin.
Pete Smith of Napa, CA, and his grandson Zach of L.A. spent two weeks last August teaching conversational English to Polish kids at Reymontowka.
"We taught outside classes for 14-year-olds and they were pretty good at English, said 16-year-old Zach. It's one of the greatest things I have ever done in my whole life. I'd definitely do it again."
Pete said he enjoyed the chance to learn more about another culture and his growing grandson at the same time. "Kids are kids all over the world really" – and I was really proud of the way Zach conducted himself and how much the other kids liked him.
"Volunteering is the best way to get into the heart of a country," he added recalling a weekend train trip to Warsaw, the country's increasingly cosmopolitan capital city, to tour 'Old Town,' visit historical WWII sites and eat lots of (ice cream). (A longer train ride to Krakow and the sobering sights of Auschwitz are alternate free-time activities.)
Volunteers who come here tell me they leave a small part of their heart in Poland, said Blaszczyk. "We hope for them to return and new volunteers to come as well because everybody in the Siedlce District does not yet fully speak English."
Global Volunteers offers service programs in Poland throughout the year and in 19 countries worldwide, including the USA. To join a team, please call 800-487-1074 or visit www.globalvolunteers.org.
About Dave's Travel Corner

Dave's Travel Corner is a travel content, resource provider and community (founded 1996) providing travel
Guides
written about Dave's personal travel experiences and
Journals
, pages that contain trip summaries and experiences written by fellow travelers. We spotlight locations and attractions with an article linked directly from our homepage including content across our blog, photo and video galleries. We use a combination of social media, written content, photography and videos to promote locations. Not only does the content appear on this site but we have direct partnerships with other well visited travel sites for placement of the content. Since 1996, we have also established hundreds of relevant link exchanges with other travel sites.
Visitors to Dave's Travel Corner will also find thousands of travel related links organized by categories on the
Resources Page
, a
Photo Gallery
containing International travel photos,
Book Reviews
, and
Product Reviews
focusing on products useful for travelers, fully automated
Forums
,
Tour Bookings
offering over 4400 unique tours around the globe,
Interviews
with those making news in the travel industry and
Videos
- specializing in International travel videos as well as home of the
Dave & Jim Show
.
Dave's own travel blog is
Above the Clouds
which focuses on International Travel & Lifestyle.
For information on advertising please choose from a variety of
advertising options here
.
Contributors are welcome

Learn how you can contribute
About

www.davestravelcorner.com/about