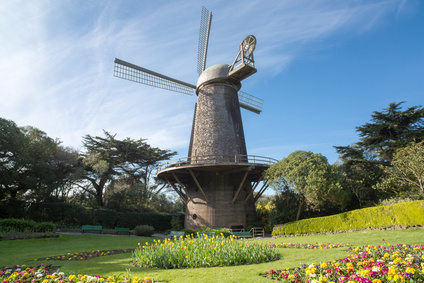 New iPhone app and itineraries help tourists and locals explore the hidden gems of San Francisco's Golden Gate Park
The California Academy of Sciences' first iPhone app, the Golden Gate Park Field Guide is now available.
SAN FRANCISCO (November 10, 2010) -The California Academy of Sciences launches its first-ever iPhone app this week, the Golden Gate Park Field Guide, leveraging technology to help users explore the flora, fauna, and hidden gems of San Francisco's 1,017-acre urban oasis. The park is home to an unparalleled blend of outdoor splendor, history, and culture, though its sheer size and labyrinthine roads and pathways make some of those treasures difficult to find. For the first time, the GGP Guide will bring together practical information and insights about the park's attractions, which include renowned architectural landmarks, an array of plant and animal species, dozens of statues, gardens and lakes, museums, and numerous sports facilities.
Organized into four key sections, the app encourages observation from a naturalist's point of view, and allows visitors to tailor their experience in Golden Gate Park based on personal interests, mode of transportation, and other factors. Its key features include:
Field Guide: A dynamic guide highlighting more than 170 of the park's animal and plant species, including a few surprises like wild coyotes and blackberry bushes.
Park Map: An interactive map and live weather data offer valuable practical information, helping users plan ahead, locate off-the-beaten-path landmarks, and even find which of the park's 60 attractions, 4 restaurants, or 15 public restrooms are closest to their location.
Adventures: Tour routes provide ideas to enrich any visit, whether travelling by foot, bicycle or car. Scavenger hunts help users discover native species, examples of camouflage in action, and more.
Sightings: 'Citizen scientists' can add their own sightings and photos to the growing database, and help record the park's biodiversity. Recent wildlife sightings are even reported in real-time via the app's map feature.
The GGP Guide is now available in the iTunes Store, but early birds can download it for free for a limited time. The app was designed by Odopod and developed by SourceN for the California Academy of Sciences.
As a complement to this new iPhone application, the Academy has developed tailored itineraries for tourists that offer specific suggestions for couples, groups of friends, and families exploring Golden Gate Park.
Romance in the Park
Designed for: Couples looking to spend a memorable day together
Overview: Start your day in the east end of Golden Gate Park, and visit the newly renovated California Academy of Sciences or de Young Museum of fine art, followed by a picnic on top of Stow Lake's Strawberry Hill. In the afternoon, visit the Rose Garden, play a round of disc golf, or visit the park's tulip garden and 108-year-old windmill – all of which are free. Finally, enjoy the sunset with a pint of local ale at the historic The Beach Chalet Brewery & Restaurant.
Girls-Only Getaway
Designed for: A group of friends looking for some fresh air, culture, and stellar cuisine
Overview: Begin your day with a little friendly competition, and play a round of golf, or sign up for an archery lesson in Golden Gate Park. For lunch, grab some BBQ sandwiches at the golf clubhouse for a picnic, or sit down for a more elegant lunch in the Moss Room. In the afternoon, walk and talk your way through the Botanical Garden and/or the historic Japanese Tea Garden. After the daylight begins to fade, the fun continues on Thursday nights at the California Academy of Sciences' NightLife event for adults, on Friday nights at the de Young museum's Cultural Encounters events, and any evening at the variety of restaurants and bars around the nearby intersection of 9th Ave. & Irving St.
Family Fun in the Park
Designed for: Families with children
Overview: Start your day surrounded by exotic plants at the Conservatory of Flowers, or the Japanese Tea Garden, both lush and historic destinations. Then, visit the newly reopened California Academy of Sciences to have lunch and enjoy the unique combination of an aquarium, planetarium, and natural history museum together under one roof. To burn off some afternoon energy, visit the large playground and carousel at The Koret Children's Quarter, or check out the live bison and model yacht racing lake further to the west. Wind down at the end of the day at the de Young Museum and check out one of their breathtaking impressionist exhibits on show through January, 2011.
About The California Academy of Sciences
The California Academy of Sciences is home to Steinhart Aquarium, Morrison Planetarium, Kimball Natural History Museum, and world-class research and education programs -all under one living roof. Admission to the Academy is: $29.95 for adults; $24.95 for youth ages 12 to 17, Seniors ages 65+ and students with valid ID; $19.95 for children ages 4 to 11; and free for children ages 3 and younger. The Academy is free to the public on the third Wednesday of each month. Admission fees include all exhibits and shows. Hours are 9:30 am – 5:00 pm Monday – Saturday, and 11:00 am – 5:00 pm on Sunday. The Academy is closed on Thanksgiving and Christmas. During peak periods, including some holiday weekends, an admission surcharge and extended hours may apply.
About Dave's Travel Corner

Dave's Travel Corner is a travel content, resource provider and community (founded 1996) providing travel
Guides
written about Dave's personal travel experiences and
Journals
, pages that contain trip summaries and experiences written by fellow travelers. We spotlight locations and attractions with an article linked directly from our homepage including content across our blog, photo and video galleries. We use a combination of social media, written content, photography and videos to promote locations. Not only does the content appear on this site but we have direct partnerships with other well visited travel sites for placement of the content. Since 1996, we have also established hundreds of relevant link exchanges with other travel sites.
Visitors to Dave's Travel Corner will also find thousands of travel related links organized by categories on the
Resources Page
, a
Photo Gallery
containing International travel photos,
Book Reviews
, and
Product Reviews
focusing on products useful for travelers, fully automated
Forums
,
Tour Bookings
offering over 4400 unique tours around the globe,
Interviews
with those making news in the travel industry and
Videos
- specializing in International travel videos as well as home of the
Dave & Jim Show
.
Dave's own travel blog is
Above the Clouds
which focuses on International Travel & Lifestyle.
For information on advertising please choose from a variety of
advertising options here
.
Contributors are welcome

Learn how you can contribute
About

www.davestravelcorner.com/about