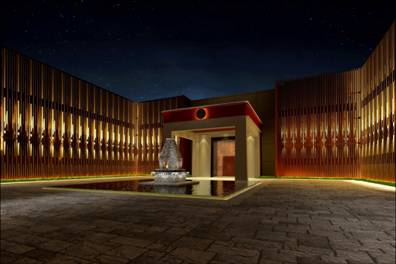 St. Regis Hotels & Resorts Debuts First St. Regis Resort in China with the opening of The St. Regis Lhasa Resort, Tibet
Tibet's First International Luxury Hotel, The St. Regis Lhasa Resort, Offers a New Dimension of Luxury for the Region
Lhasa, Tibet China / New York, New York (November 19, 2010) – Starwood Hotels & Resorts Worldwide, Inc. (NYSE: HOT) today announces the debut of St. Regis first resort in China and first-ever luxury resort in Tibet, with the opening of The St. Regis Lhasa Resort. Standing on the 'Roof of the World' at 12,000 feet above sea level, The St. Regis Lhasa Resort offers refined luxury and superlative service in a storied city. The resort boasts awe-inspiring views of the Himalayas and the Lhasa Valley from each of the 162 guest rooms, suites and villas which feature distinctive architectural details and decor that entwine modern luxury with traditional Tibetan elements.
The spectacular resort embraces the enchanting natural surroundings and breathtaking mountainous views of Lhasa and is destined to set new standards of service and luxury for Tibet. The magnificent resort offers the signature St. Regis Butler Service and features three world class restaurants to please any epicurean taste, a signature tea room, wine bar and an expansive 11,700 square foot Iridium Spa with an ornate gold-tiled pool and Meditation Garden for yoga, Pilates or meditation.
"We are proud to debut the first St. Regis Resort in China with the opening of The St. Regis Lhasa Resort, offering our discerning guests access to the distinguished St. Regis legacy with the highest expression of personalization, refined elegance and uncompromised guest experiences," said Paul James, Global Brand Leader, St. Regis and The Luxury Collection Hotels & Resorts. "With the region's unrivaled natural beauty and enchanting cultural heritage, Lhasa is one of the world's most coveted destinations for global travelers, and The St. Regis Lhasa Resort is destined to be an unparalleled way to discover Tibet."
"Lhasa is one of the most intriguing and beautiful cities in the world," said Magdy Anis, General Manager of The St. Regis Lhasa Resort. "We are honored to be opening Tibet's first luxury resort, offering global St. Regis guests the opportunity to experience Tibet's mysterious traditions and stunning beauty while enjoying St. Regis signature amenities and services."
The St. Regis Lhasa Resort boasts 150 luxuriously appointed guest rooms and 12 spacious villas and suites, including the Presidential Suite. Seamlessly blending Tibet's rich culture and exotic natural surroundings, the resort has been designed from the ground up with sustainable features including solar panels, locally-sourced produce and herbs for the resort's restaurants and an underground water recycling system. Guest accommodations feature beautiful residential interiors, custom-designed furniture and spacious marble bathrooms in addition to luxurious linens and amenities such as high-speed internet and plasma televisions in room.
St. Regis will also premiere its new spa brand, the Iridium Spa at The St. Regis Lhasa Resort. Poised to be the world's highest luxury spa, Iridium Spa allows guests to renew and refresh mind, body and spirit with a completely customized experience including traditional Tibetan herbal treatments and aromatherapy services using locally cultivated herbs and plants such as cypress and azalea leaves. Five-star luxury meets mystical Tibetan spiritual wellness at the Iridium Room with its ornate gold-tiled heated swimming pool and stunning Meditation Garden for yoga, Pilates or meditation.
The St. Regis Lhasa Resort offers an array of epicurean taste and experiences in a variety of culturally designed settings. Guests can enjoy convenient, all-day dining at the resort's signature restaurant, Social, featuring with a wide selection of international cuisine or dine at Si Zi Kang, the first gastronomic Tibetan restaurant to savor authentic Tibetan and Nepalese cuisine in a sophisticated and relaxed setting. For Cantonese and Sichuanese cuisine, guests are invited to Yan Ting with six private dining rooms and a diverse menu.
As the first luxury resort in Tibet, The St. Regis Lhasa Resort is also proud to present Decanter by Haut-Brisson, the first wine bar in the region serving over 140 labels of wine, liquors and aged cigars. Also the first of its kind, the Tea Room will offer guests a relaxing afternoon with different blends of local and imported teas, and serving vintage teas aged from 10-25 years.
Lhasa, christened 'Place of the Gods' by ancient Tibetans, is the spiritual and political center of Tibet. With its ideal location in the ancient Barkhor area, The St. Regis Lhasa Resort is close to the city's most important cultural landmarks allowing guests to explore all of the city's treasures. The resort is only a short walk from the Jokhang Temple or guests can rent a hybrid vehicle from the hotel for a short drive to the stunning Potala Palace, Sera Monastery, Norbulinka and the Drepung Monastery. Other scenic Himalayan destinations such as the Heavenly Lake Namtso and Yandra Yumtso Lake also surround The St. Regis Lhasa Resort. Combining Tibet's natural beauty and rich heritage with St. Regis timeless sophistication, bespoke service and modern luxury, The St. Regis Lhasa Resort's arrival to China will forever change the landscape of luxury travel in the region.
For more information on The St. Regis Lhasa Resort, please visit www.stregis.com/lhasa
About St. Regis Hotels & Resorts
Combining classic sophistication and modern luxury, the St. Regis brand remains faithful to its commitment to excellence. Founded by John Jacob Astor IV, with the opening of the first St. Regis Hotel in New York City over a century ago, the St. Regis brand of hotels is known for its unique luxury dimension, customized service and refined elegance, in the best destinations worldwide. Plans for this brand to globally continue its legacy include long-awaited St. Regis US and Latin American hotels and resorts in Bal Harbour, Buenos Aires and the Riviera Maya. In Asia, St. Regis has also announced plans to open hotels in Bangkok, Chengdu, Kuala Lumpur, Sanya Yalong Bay and Tianjin. In Africa and the Middle East, the St. Regis brand will continue to expand in Abu Dhabi, Cairo, Doha and Mauritius. The distinctive trait of the St. Regis experience is customized service and attention, coveted locations and luxurious design. For more information on St. Regis Hotels & Resorts please visit the new www.stregis.com.
Starwood Hotels & Resorts Worldwide, Inc.
Starwood Hotels & Resorts Worldwide, Inc. is one of the leading hotel and leisure companies in the world with over 1,000 properties in nearly 100 countries and territories with 145,000 employees at its owned and managed properties. Starwood Hotels is a fully integrated owner, operator and franchisor of hotels, resorts and residences with the following internationally renowned brands: St. Regis, The Luxury Collection, W, Westin, Le Meridien, Sheraton, Four Points by Sheraton, and the recently launched Aloft, and Element SM. Starwood Hotels also owns Starwood Vacation Ownership, Inc., one of the premier developers and operators of high quality vacation interval ownership resorts. For more information, please visit www.starwoodhotels.com
About Dave's Travel Corner

Dave's Travel Corner is a travel content, resource provider and community (founded 1996) providing travel
Guides
written about Dave's personal travel experiences and
Journals
, pages that contain trip summaries and experiences written by fellow travelers. We spotlight locations and attractions with an article linked directly from our homepage including content across our blog, photo and video galleries. We use a combination of social media, written content, photography and videos to promote locations. Not only does the content appear on this site but we have direct partnerships with other well visited travel sites for placement of the content. Since 1996, we have also established hundreds of relevant link exchanges with other travel sites.
Visitors to Dave's Travel Corner will also find thousands of travel related links organized by categories on the
Resources Page
, a
Photo Gallery
containing International travel photos,
Book Reviews
, and
Product Reviews
focusing on products useful for travelers, fully automated
Forums
,
Tour Bookings
offering over 4400 unique tours around the globe,
Interviews
with those making news in the travel industry and
Videos
- specializing in International travel videos as well as home of the
Dave & Jim Show
.
Dave's own travel blog is
Above the Clouds
which focuses on International Travel & Lifestyle.
For information on advertising please choose from a variety of
advertising options here
.
Contributors are welcome

Learn how you can contribute
About

www.davestravelcorner.com/about