LOS ANGELES, Nov. 22, 2010 (GLOBE NEWSWIRE) — Los Angeles Mayor Antonio R. Villaraigosa and City Councilmembers Bill Rosendahl, Janice Hahn and Tom LaBonge were joined today by federal aviation and local fire and airport officials to dedicate a new Aircraft Rescue and Firefighting (ARFF) facility at Los Angeles International Airport (LAX). The new $13.5-million Los Angeles Fire Department (LAFD) Station 80 replaces a 25-year-old building that no longer accommodates the size of today's firefighting apparatus and materials, nor the increasing volume and nature of operations at LAX associated with larger, new-generation aircraft and the airport's modernization (capital improvement construction) program. The 13-month construction project, which began September 2009, was completed under budget.
"Keeping LAX on the cutting edge of safety and security is my priority, and this new state-of-the-art facility is making LAX safer, improving our readiness for any type of emergency," said Mayor Villaraigosa. "I would like to thank the Obama Administration for the $10.8 million in ARRA funding provided for this project, which created nearly 200 jobs."
With approximately 28,000 square feet of space on two floors, the new station is double the size of the previous one and includes seven bays to house and maintain all the station's rescue and firefighting vehicles and other large emergency-response equipment, such as mass casualty decontamination units, of which some had been previously stored outdoors in a coastal environment. There is also ample living, administrative and training areas for 14 firefighters assigned to each 24-hour shift. One of the bays has a hydraulic lift capable of raising 100,000-pound firefighting apparatus so that maintenance can be performed more quickly on-site rather than at the LAFD's maintenance facility in downtown Los Angeles. The footprint of the former Station 80 fits inside the floor of the fire apparatus bays of the new facility.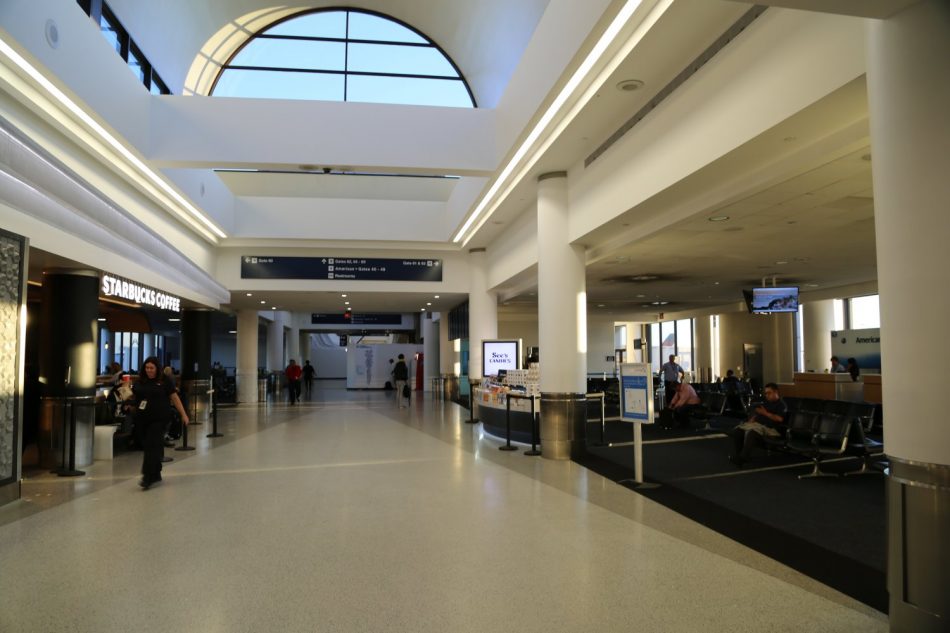 The $13.5-million construction project was supported by a $10,832,000 grant from the Federal Aviation Administration (FAA) and funded through the American Recovery and Reinvestment Act. The remaining costs were covered by airport revenue bond proceeds. No funding came from Los Angeles City's general fund.
"This state-of-the-art facility, from its truck maintenance lift to its kitchen, is packed with the equipment it needs to take command and control of any emergency situation at LAX," said City Councilman Bill Rosendahl, whose Council District 11 includes LAX. "We built Fire Station 80 hoping that moment never arrives, but the traveling public can now feel confident that we will be prepared if it does."
Councilwoman Janice Hahn (District 15), chair of the City Council's Trade, Commerce and Tourism Committee that oversees the airport, said, "This new, state-of-the-art station is yet another sign of the commitment we have made to making LAX as safe and secure as possible. This station, combined with our soon-to-be-renovated Bradley West Terminal, will make LAX one of the most convenient and impressive airports in the world – keeping us competitive for years to come."
"This is the first LAX project funded by the federal stimulus bill and it's something Los Angeles can be proud of," said Councilmember Tom LaBonge (District 4). "This building will create jobs and improve safety. Bottom line is this facility is bigger and better."
Los Angeles Fire Chief Millage Peaks said, "We have taken the best firefighters in the world and placed them in the best and greatest facility to serve and protect the traveling public at Los Angeles International Airport. We're truly appreciative of the support that we have received from our Mayor and Los Angeles World Airports."
Los Angeles World Airports Executive Director Gina Marie Lindsey said, "The modernization of our rescue and firefighting facilities provides an extra measure of comfort and security to the traveling public. LAFD Station 80 will continue its tradition of maintaining the highest degree of safety and readiness at LAX as it has done for nearly 70 years."
The new ARFF Station 80 is located midway between LAX's north and south airfield complexes with a total four runways and 2,400 feet further west of the passenger terminal area than the former station. Federal Aviation Administration (FAA) regulations require at least one ARFF apparatus capable of arriving at the midpoint of the furthest runway within three minutes. The two sets of runways are nearly one mile apart.
Construction
The new ARFF Station 80 was constructed by Tobo Construction, Inc., Los Angeles. Paragon Project Resources, Inc., Los Angeles, performed construction management. WLC Architects, Inc., Rancho Cucamonga, designed the new facility. Los Angeles World Airports Airport Development Group engineers managed the project.
Relocation of Station No. 80 allowed the old facility to be demolished to make way for two taxiways that were adjacent to the west side of the Tom Bradley International Terminal to be relocated further west. Relocating these taxiways facilitates construction of new-generation aircraft gates on the west side of the Bradley terminal.
Airport officials report nearly 200 jobs at prevailing wages were created during this project, including architects, engineers, inspectors, construction workers, building material fabricators, transport drivers and administrative support personnel.
Environmental
As part of the LAX Master Plan Environmental Impact Report, and in accordance with Los Angeles City and California state regulatory requirements and consultation with community leaders, Los Angeles World Airports developed several measures to minimize environmental impacts due to ARFF Station 80 construction, including:
Recycling construction materials
Reducing the number of trips service vehicles took to and from the construction site
Designating specific routes that service vehicles must use when traveling to and from the site
Retrofitting equipment and machinery to reduce noise and emissions
Continually dampening the work area to reduce dust
LAFD History at LAX
Since 1941 when the first Fire Station 80 operated out of a five-room bungalow, Station 80 personnel have pursued their primary mission to respond to the scene of any aircraft emergency at LAX. During the past 70 years, Station 80 firefighters moved into two other facilities while their responsibilities grew to include responding to fuel spills, aircraft fires, airborne medical emergencies, radiological and hazardous materials incidents, evacuation assistance, terrorist activity such as bomb threats and hijackings, and standbys for high-level national and foreign dignitary arrivals.
ARFF Station 80 is one of three LAFD stations located on airport property. Station 51 is also located on the restricted airfield on the east side of LAX and includes a paramedic team that responds to medical emergencies occurring in the passenger terminal area. Station 95, a hazardous materials task force, is located near the intersection of Century and Aviation boulevards adjacent to major air cargo facilities. There also is a Live Fire Training Facility at the southwest corner of LAX that was built in 1994 at a cost of $4 million. Firefighters train at this facility to maintain their annual certifications in aircraft rescue and firefighting with the goal of increasing passenger survivability during aircraft incidents.
In 2009, Station 80 personnel responded to 825 calls and 182 incidents at LAX.
Personnel who staff Station 80 are recognized as among the finest aircraft rescue and firefighting specialists in the country and are well-respected in the aircraft firefighting community. Along with the FAA, Station 80 plays an integral part in developing standard operating guidelines when using ARFF apparatus and more specifically, High Reach Extendible Turrets and Forcible Entry Procedures. These skill sets are considered invaluable while conducting lifesaving operations during aircraft incidents.
About Los Angeles International Airport
Los Angeles International Airport (LAX) is the seventh busiest airport in the world, offering more than 565 daily flights to 81 destinations in the U.S. and over 1,000 weekly nonstop flights to 65 international destinations. LAX is part of a system of three Southern California airports – along with LA/Ontario International and Van Nuys generation aviation – that are owned and operated by Los Angeles World Airports, a department of the City of Los Angeles that receives no funding from the City's general fund. In 2009, LAX served 56.5 million passengers, processed nearly 1.7 million tons of air cargo, and handled 544,833 aircraft operations (landings and takeoffs).
About Dave's Travel Corner

Dave's Travel Corner is a travel content, resource provider and community (founded 1996) providing travel
Guides
written about Dave's personal travel experiences and
Journals
, pages that contain trip summaries and experiences written by fellow travelers. We spotlight locations and attractions with an article linked directly from our homepage including content across our blog, photo and video galleries. We use a combination of social media, written content, photography and videos to promote locations. Not only does the content appear on this site but we have direct partnerships with other well visited travel sites for placement of the content. Since 1996, we have also established hundreds of relevant link exchanges with other travel sites.
Visitors to Dave's Travel Corner will also find thousands of travel related links organized by categories on the
Resources Page
, a
Photo Gallery
containing International travel photos,
Book Reviews
, and
Product Reviews
focusing on products useful for travelers, fully automated
Forums
,
Tour Bookings
offering over 4400 unique tours around the globe,
Interviews
with those making news in the travel industry and
Videos
- specializing in International travel videos as well as home of the
Dave & Jim Show
.
Dave's own travel blog is
Above the Clouds
which focuses on International Travel & Lifestyle.
For information on advertising please choose from a variety of
advertising options here
.
Contributors are welcome

Learn how you can contribute
About

www.davestravelcorner.com/about