One needn't head south to Miami Art Basel to enjoy a zany art show. From Morocco to the Great Barrier Reef, these luxury international hotels and lifestyle brands boast unique art pieces and eclectic collections of their own.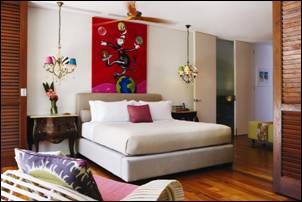 Molori Great Barrier Reef, Australia
A bespoke private hideaway and the sister property to South Africa's famed Molori Safari Lodge, Molori Great Barrier Reef is located near Australia's iconic coral reef and within the lush Daintree Rainforest, the world's oldest rainforest.
Custom-designed by its owner Kirk Lazarus, an international entrepreneur, hotelier and interiors wiz, Molori Great Barrier Reef features several one-of-a-kind art pieces. Commissioned by Lazarus and located in the main guestroom is a whimsical painting of Dr. Seuss's Cat in the Hat spinning across the globe, carefully juggling hotels, oil, a blonde and a brunette – a creative illustration of Lazarus's own life, a delicate balancing act.
The entrance to Molori Great Barrier Reef includes a South African solid bronze statue, also commissioned by Lazarus and shipped from Cape Town, depicting a warrior offering the dove of peace
The Oberoi, Gurgaon (opening February 1, 2010)
The Oberoi Group's patronage of Indian art is well known. Each of the properties house works of artists from all over the country, offering guests a glimpse of the vibrant and versatile culture of India. In keeping with this tradition, the soon-to-open Oberoi, Gurgaon has specially commissioned work by young contemporary Indian artists from the major art centers of the country – including works by Mrinmoy Barua from the Bengal School in Shantiniketan, Neeraj Yadav representing the new age, contemporary work from Baroda, and Delhi based artists Archana and Amit Dutta.
While the paintings are contemporary, the wall panels in each room and suite features the traditional Zardozi work from artisans in Lucknow and Bhopal. In addition to the hotel's own art collection, The Oberoi, Gurgaon, also offers patrons an opportunity to appreciate and buy contemporary Indian art. For the very first time in any Indian hotel, The Oberoi, Gurgaon hosts a 2,000 sq. ft. contemporary Indian art gallery by Nature Morte in its luxury retail arcade.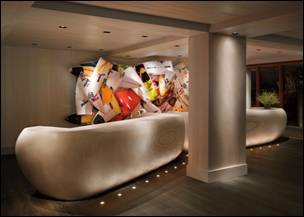 The Waikiki EDITION
Dream South Beach (opening early 2011) South Beach, Miami
One of the first features that guests of The Waikiki EDITION encounter in the lobby is a wall-to-wall surfboard installation by artist and internationally famed former professional surfer Herbie Fletcher, made from over 100 collected, broken surfboards from the sport's best pipeline surfers: Kelly Slater, Andy Irons, Mick Fanning, Joel Parkinson, Nathan Fletcher, Bruce Irons and Christian Fletcher. It hangs effortlessly above the one-of-a-kind, custom designed reception desk made from sculpted plywood which has been transformed into a natural, organic shape and finished using the techniques and traditions of local Hawaiian surfboard making. The installation adds a unique sense of location to the modern, understated interiors.
Dream, Vikram Chatwal Hotels
Dream New York Midtown, New York City
Situated between New York's theatre district and Central Park West, and defined by Vikram Chatwal Hotels chic-cool design, Dream New York brings an avant-garde level of surrealism to the hotel industry. The lobby, in particular, showcases an array of bizarre antique curiosities just behind a two-story cylindrical tank of tropical fish, all intended to represent the disconnected and visceral nature of dream sequences.
There's of course the story of Catherine the Great, Neptune and Madonna and Child, a copper statue that lived a former life atop a bar in Hartford called The Russian Lady; a two-story photograph of a couple embracing – both marked by their love of 'ink' – that lines the shaft of the lobby's glass elevator, shot custom for the hotel by designer Mark Zeff; and an oversized glass-domed cake plate encasing a bundt cake precariously perched above spikes – look but don't touch! For a Freudian touch, each of the elevator landings on the guest floors have custom light boxes featuring art pieces that represent distinct dream archetypes.
With a creative concept spearheaded by Michael Czysz's design house Architropolis and interiors lead Kelly Ogden, Dream South Beach embodies the transformation of two iconic Art Deco South Beach hotels, the Tudor Hotel and Palmer House, into an alluring hideaway from the South Florida sun.
When it opens next year, Dream South Beach will feature a number of unique art objects, including a statue of Ganesha, the keeper of entrances, by Las Vegas-based ceramic artist Miguel Rodrriguez – the statue will sit on a lotus flower among the bamboo grove in the central entry of the property.
In the interior public spaces the hotel will feature wonderful 3-D mixed media art by Austin-based artist Adam Morey. Titled Ether, the art is reminiscent of topographical maps, with an auto-paint finish. His cubes series featuring 3-D white acrylic cubes will also be on-property – no two cubes are alike.
La Mamounia, Morocco
La Mamounia, Marrakech's iconic hotel, re-opened its doors in September 2009 following an extensive restoration project led by internationally acclaimed interior designer Jacques Garcia. Globally regarded as one of the most desirable hotels in the world, the new La Mamounia boasts an impressive roster of art including an original mural by Jacques Majorelle; works by renowned French painter and sculptor Rachid Khimoune; and photography by various French and Moroccan photographers, including Saad Tazi, Saad Moulay Mohamed, Michel Kirch and Michelle Maurin.
True to its role as a patron of the arts, this winter La Mamounia will host a temporary photography exhibition by celebrated photographer Carole Bellaiche, honoring the history of French cinema. In collaboration with Marrakech's Galerie 127, the exhibition is scheduled to run from December 3rd until February 28th, 2011, coinciding with the 10th edition of the International Film Festival of Marrakech (Dec. 3-11).
Las Alcobas, Mexico City's newest and most stylish small luxury hotel, boasts two fantastic murals located in the lobby, both of which were painted by renowned artist Roberto Cortazar. In addition, two of the hotel's suites have original pieces by Cortazar. Each guestroom offers original pieces of artwork – one, a hand-painted chair by artisans in Oaxaca found in the minibar and two, an original hand-painted 'alebrije' in every hallway. The hotel has also acquired additional accents from the Fonart (Fondo Nacional para el Foment de las Artes), with which the hotel is currently working on acquiring winning pieces from every year's national competition.
.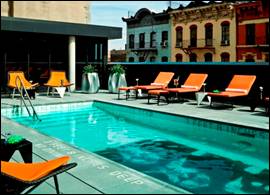 Thompson Hotels www.thompsonhotels.com
Thompson Toronto Thompson LES
Gritty sexy only begins to describe Thompson LES, the 141- room hotel located on Manhattan's Lower East Side. Informed by the traditions that have made the LES the city's most intriguing neighborhood, the hotel's industrial design is complemented with the works of several of America's most influential artists. Each room features a custom-designed lightbox by Lee Friedlander; the lobby showcases the work of legendary painter Peter Halley; and the base of the pool displays a portrait of Andy Warhol by his muse and confidant, Gerard Malanga.
Thompson Toronto's lobby offers an artistically edgy, avant-garde motif – a sublime gateway to the sexy and luxurious guestrooms above. Upon entering the coal-black lobby designed by Studio Gaia, first to strike on the visual hit list is the simple white-on-black sketch by Spanish artist Javier Mariscal of the city's urban skyline adorning the entire back wall.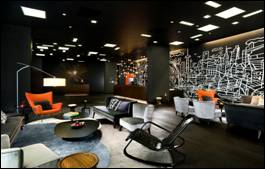 Thompson Beverly Hills
Thompson Beverly Hills merges the sophistication of New York design with the ease of the Southern California lifestyle. Rooms and public spaces evoke the commanding cool of 1960s Hollywood, with California Modernism design elements throughout. Furniture is custom-designed by Dodd Mitchell, with dark wood and glass accents, while the iconic works of fashion photographer Steven Klein accent guestrooms and public spaces.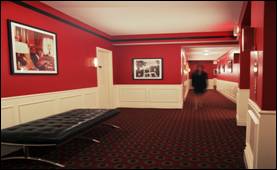 Gild Hall
Works of society photographer Slim Aarons, who was known for his intimate shots of 'beautiful people,' are displayed along the corridors of the Gild Hall. Perfectly complementing Gild Hall's glamorous ambiance, the works will showcase the fashionistas and glitterati that Aarons photographed in the mid-1900s (think Truman Capote, Salvador Dali, and Britt Ekland).
Smyth Tribeca
The lobby of Smyth Tribeca, designed by Yabu Pushelberg, reveals a unique combination of exterior strength and classic elegance. The hotel draws inspiration from its vibrant surrounding neighborhood, pairing sumptuous fabrics with a curated collection of custom and vintage furniture. Also unique to the space are a series of ink profile sketches by Miami-based artist Santiago Rubino – a personal favorite of Yabu Pushelberg's principals.
Orient-Express Hotels www.orient-express.com
La Residencia
Dei, Mallorca
Villa San Michele
Florence, Italy
The precious 1642 fresco of the Last Supper by Nicoderno Ferrucci in the refectory of the Villa San Michele was carefully restored by hand in 1999 using materials of the period such as limewash and naturally occurring oxides, such as enamel. The fresco is painted into three lunettes separated by two painted columns behind which the scene unfolds and had suffered some damage over the 350 years since its creation by soot, dust and water. A further delight the restoration unveiled was the presence of a little white cat at the foot of the disciples, who appears to be enjoying his own fish supper. The Villa San Michele is a former 15th century monastery in the hills above Florence. Its facade is attributed to Michelangelo.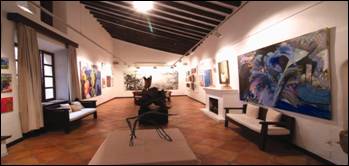 For the unsuspecting client, La Residencia's art collection is an event – and an immense surprise. Displayed here are outstanding works by over 85 artists, all of whom have lived and worked in Dei or the north side of Mallorca during the last three or four decades. Throughout the collection one may find different versions or improvisations of past renowned European masters: Velaquez, Carvaggio, Georges de La Tour, Delacroix, Titian. They have been honored with the hotel's once yearly theme show at La Residencia's Tafona Gallery, where the artists reveal their 'personal view' of these great works.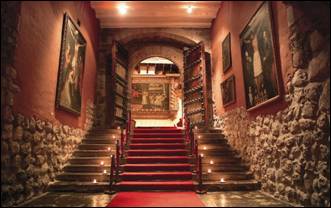 Hotel Monasterio
Cuzco, Peru
Athenaeum InterContinental Athens
Athens, Greece
The Chatwal New York
Midtown, New York City
The collection of original paintings in the Hotel Monasterio is one of the most interesting in the city of Cuzco. Most of the pieces originate from the early 18th century and have a Flemish influence. Many have been highlighted with gilt brocade – a stencil technique that became popular in 1730 and was used to redecorate the paintings. All the paintings depict religious messages and were meant to guard against temptation. Angels and demons populated the spiritual world of the 18th-century Cusquenians – the sermons in the cathedral, full of Catholic fervor, described a nonmaterial world where evil ensnared the unwary at every turn. The Hotel Monasterio arranges free weekly tours of its art collection guided by a local art historian.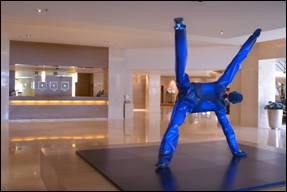 Since its inception the Athenaeum InterContinental Athens has remained committed to supporting and acquiring works of art by contemporary Greek artists and amassed a unique collection that contains a variety of works by established artists, with an emphasis on works by a generation of younger artists who have come in prominence in recent years. This unique modern art collection forms an integral part of the hotel's identity; art pieces and statues adorn the hotel's public areas, function rooms as well as a great number of its rooms and suites.
The iconic statue located in the hotel's lobby, Blue Man by George Lappas, unfolds in time. The transparent plastic, aided by light, takes the solid core of Lappas's artistic thought towards the spiritual sphere and the joy of life, towards a metaphysical blue which reminds admirers of Yves Klein.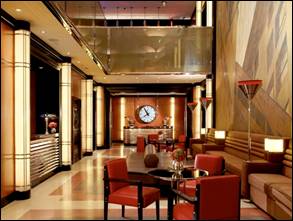 Newly opened, The Chatwal New York is simply brimming with antiques and is in itself a living piece of art. From murals in its lobby and mezzanine depicting the building's strong New York roots, the iconic building was the epicenter of American theater for the 20th century and originally opened in 1905 as home to the prestigious Lambs Club – America's first professional theatrical club. Since the club's founding, there have been more than 6,000 Lambs, with an elite roster reading like a Who's Who of American theatre: Maurice, Lionel and John Barrymore, Red Barber, Oscar Hammerstein II, Charles Chaplin, John Wayne, Douglas Fairbanks and Fred Astaire. The building has been restored and modernized by master architect and designer Thierry Despont, who provides a subtle nod to the building's theatrical and historical origins.
A striking floor-to-ceiling 18th-century stone fireplace, originally a gift from Stanford White to the Lambs, acts as a centerpiece for the hotel's restaurant, lovingly named The Lambs Club (the walls of which are lined with black-and-white photographs of original Lambs members), with an original photograph of the Lambs in full celebratory-swing turned into a mural now depicted on its wall. The landmark facade of the building has been restored to its former glory, complete with original marble Ram's heads and a marble plaque alluding to the glory days of the Lambs. Guestrooms feature iconic New York black and white photographs, as well as vintage Broadway posters which line guestroom corridors, evoking a sense of the building's location in the heart of Manhattan's theatre district.
About Dave's Travel Corner

Dave's Travel Corner is a travel content, resource provider and community (founded 1996) providing travel
Guides
written about Dave's personal travel experiences and
Journals
, pages that contain trip summaries and experiences written by fellow travelers. We spotlight locations and attractions with an article linked directly from our homepage including content across our blog, photo and video galleries. We use a combination of social media, written content, photography and videos to promote locations. Not only does the content appear on this site but we have direct partnerships with other well visited travel sites for placement of the content. Since 1996, we have also established hundreds of relevant link exchanges with other travel sites.
Visitors to Dave's Travel Corner will also find thousands of travel related links organized by categories on the
Resources Page
, a
Photo Gallery
containing International travel photos,
Book Reviews
, and
Product Reviews
focusing on products useful for travelers, fully automated
Forums
,
Tour Bookings
offering over 4400 unique tours around the globe,
Interviews
with those making news in the travel industry and
Videos
- specializing in International travel videos as well as home of the
Dave & Jim Show
.
Dave's own travel blog is
Above the Clouds
which focuses on International Travel & Lifestyle.
For information on advertising please choose from a variety of
advertising options here
.
Contributors are welcome

Learn how you can contribute
About

www.davestravelcorner.com/about