– Register for Sweepstakes at Patagonia Stores Nationwide from June 8 through June 29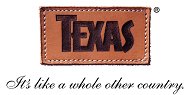 Whether your outdoor tastes run to raising your binoculars in search of an Elegant Trogon, or paddling down Class II or III rapids in water coursing beneath 1,500-foot limestone walls, the wild side of Texas is just the ticket. Patagonia and Texas Tourism have teamed up for a sweepstakes aimed at adventure travelers looking for a Lone Star State experience. Register at one of 23 Patagonia stores across the country (excluding Cardiff, CA and Hawaii) between June 8 and June 29 for a chance to win one of two trips or a Patagonia gift card that can help outfit you for your next outdoor excursion.
The grand prize is a six-night birding trip through the lower Rio Grande Valley, which is widely regarded as the birding capital of America, given the more than 600 documented species, the Great Texas Coastal Birding Trail and World Birding Center. The two-person prize includes two $250 gift cards redeemable in any of Patagonia's 25 stores nationwide, plus airfare, transportation, personal birding guide, hotel accommodations and select meals in McAllen, Brownsville and South Padre Island, TX. The prize is courtesy of Patagonia, Southwest Airlines, the McAllen Convention & Visitors Bureau, the South Padre Island Convention & Visitors Bureau and South Texas Nature.
Second prize is a five-night river trip in Big Bend National Park, including three nights on the Rio Grande River – with a personal guide and gourmet chef – and pre/post-river accommodations at a nearby resort. The two-person prize includes two $250 gift cards redeemable in any of Patagonia's 25 stores nationwide, plus airfare, rental car, accommodations and select meals. The prize is courtesy of Patagonia, Southwest Airlines, Far Flung Outdoor Center and Lajitas Resort & Spa.
Third prize is a $1,000 Patagonia gift certificate redeemable in any of its 25 stores nationwide.
Complete sweepstakes details are available in Patagonia stores or at www.patagonia.com/stores.
"Patagonia has a 35-year commitment to an active lifestyle, and we recently opened our first Texas store in Austin, so we decided to give adventure travelers across the country an opportunity to see what Texas has to offer," said Vickie Achee, Marketing Director for Patagonia's North American Retail Division. "The state's tourism motto is that 'Texas is like a whole other country,' and our sweepstakes winners will be able to see for themselves how true that is."
"Texas truly offers something for every type of traveler, from the leisurely to the adventurous, but our outdoor offerings are assuredly the most abundant," said Julie Chase, Director of Tourism for the Texas Office of the Governor, Economic Development and Tourism. "We are excited to showcase a slice of our seven vast and varied regions to Patagonia consumers."
Texas is an inviting year-round destination, featuring sunny days and moderate temperatures during long spring and autumn seasons. Throughout the state's seven diverse regions – from rolling hills and expansive plains to coastlines, lakes and rivers – Texas prides itself on having something for every type of traveler, but perhaps most significantly, something for lovers of nature and outdoor activities. For water enthusiasts, kayaking, boating, and tubing adventures are available on the state's coastal and inland waterways. Texas breathtaking scenery and trails provide a haven for hikers and cyclists. Throughout the many national parks and trails, visitors will experience every type of terrain, from deserts to grasslands, mountain trails, steep cliffs and riverbed. Campers and hikers will find an abundance of options at state and national parks, with a choice of scenic hiking trails, primitive campsites and abundant wildlife viewing.
About Patagonia
Patagonia is a manufacturer and retailer of outdoor clothing, technical apparel and gear that is noted internationally for its commitment to product quality and environmental activism. With sales last year of over $280M, Patagonia is noted internationally for its commitment to product quality and environmental activism. Since 1996, the company has used only organically grown cotton in its clothing line. With its most recent launch of synthetic fiber-to-fiber recycling, Patagonia is taking back worn-out polyester and nylon clothing and reincarnating it as new products. Its Environmental Grants Program has contributed over $31 million to grassroots environmental activists since 1985, and its Environmental Internship Program allows employees to work for environmental groups while receiving their full paycheck. Patagonia products are sold through select retail dealers and through the company's Web site (www.patagonia.com), as well as through Patagonia retail stores.
About Tourism in Texas
Tourism is one of the largest industries in Texas, employing 534,000 Texans. In 2007, travelers spent almost $57 billion in Texas. Travel expenditures generated $2.8 billion in state taxes and $994 million in local taxes. For more information on Texas travel events and vacation destinations, visit www.traveltexas.com for for a free Texas State Travel Guide call 1-800-8888-TEX.
About Dave's Travel Corner

Dave's Travel Corner is a travel content, resource provider and community (founded 1996) providing travel
Guides
written about Dave's personal travel experiences and
Journals
, pages that contain trip summaries and experiences written by fellow travelers. We spotlight locations and attractions with an article linked directly from our homepage including content across our blog, photo and video galleries. We use a combination of social media, written content, photography and videos to promote locations. Not only does the content appear on this site but we have direct partnerships with other well visited travel sites for placement of the content. Since 1996, we have also established hundreds of relevant link exchanges with other travel sites.
Visitors to Dave's Travel Corner will also find thousands of travel related links organized by categories on the
Resources Page
, a
Photo Gallery
containing International travel photos,
Book Reviews
, and
Product Reviews
focusing on products useful for travelers, fully automated
Forums
,
Tour Bookings
offering over 4400 unique tours around the globe,
Interviews
with those making news in the travel industry and
Videos
- specializing in International travel videos as well as home of the
Dave & Jim Show
.
Dave's own travel blog is
Above the Clouds
which focuses on International Travel & Lifestyle.
For information on advertising please choose from a variety of
advertising options here
.
Contributors are welcome

Learn how you can contribute
About

www.davestravelcorner.com/about