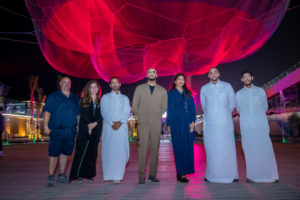 Saudi Arabia is poised to be the new travel, art and cultural destination. First Saudi F1 Grand Prix took place concurrent with the launch of the Jeddah's Art Promenade
The Jeddah Art Promenade, Saudi Arabia's first globally curated public-art destination was unveiled December 3rd, 2021 kicking off the first Saudi Formula 1 Grand Prix weekend. Directed by none other than one of the most influential disruptors in the creative world, Kasseem 'Swizz Beatz' Dean, this project is the first of many to come from his global creative agency headquartered in the Kingdom, Good Intentions. With a track record of producing the largest public art fairs in the world (No Commissions), amassing one of the largest private art collections in the world (the Dean Collection), and engaging with the most talented creatives in the world (Good Intentions) Swizz is laid it all out on the table for this project.
The promenade has over a dozen striking, intentionally curated public art installations by four world-renowned artists, STUDIO DRIFT, Janet Echelman, KWEST, and Javid JAH brought to life by the best producers in the game, Far Right Productions, and national award-winning curator Umbereen Inayet. An iconic, custom, larger than life gold falcon titled, Wusul (Arrival in Arabic) by artist, KWEST now resides in the Red Sea as visitors walk from the gorgeous marina weaving between nine custom planetary inspired gem toned sculptures titled, World of Spheres by artist and designer, Javid JAH. Billowing in the sky above heads, is artist Janet Echelman's aerial artwork Earthtime 1.26, a monumental soft sculpture knotted from 38 miles of vibrantly colored engineered fiber that gives visual form to human interconnectedness with our planet. Artists, STUDIO DRIFT's revered kinetic moving sculpture, Amplitude is as they describe "a moving installation mimicking birds flying. The movement in this installation is like the pulse that occurs in all organisms" and is being nestled in the destination's on-site EDITION hotel right by the exquisitely designed Yacht club.
This project came about when Swizz Beatz and his partner and co-founder of Good Intentions, Noor Taher were mapping the agency's foreseeable influences across the kingdom. With a strong network of relationships; tested, succeeded, and record-breaking IP creations, and inherent insight into the culture of Saudi, the duo knew that to go further they had to collaborate with the best. Insert Sela, the Kingdom's leading sports, entertainment, and events producers whose portfolio of projects in recent years has been integral to the development and progression within the country.
Sela is the project owner of the Jeddah Art Promenade and commissioners of the public art acquired and activated by Good Intentions. The events powerhouse known to develop and produce incredibly large-scale projects has become a key player in the market when it comes to building permanent destinations across the Kingdom in line with Saudi Vision 2030. Both Good Intentions and Sela share the same 'sky is not the limit, it's just a view' mindset, a mantra Swizz holds sacred when going about any venture he comes across. What is even more special is that both companies are led by women – Swizz's partner and collaborator of over 10 years Noor Taher and Sela's Chairwoman and General Counsel to the Public Investment Fund (the largest sovereign fund in the world) Shihana Alazzaz.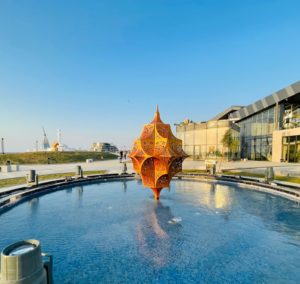 "I love seeing women in leadership roles in Saudi, the support and opportunities they have to make a real change is incredible. My partner, Noor is a leader in our company, Good Intentions is a female-led company. You have Shihana who is leading on the Sela side, trailblazing. It's an incredible time for women in Saudi, they have my unconditional support" Swizz shares.
As Good Intentions continues to work on ground-breaking projects in the region and around the world, this strategic partnership with Sela will take both company's projects in the future to the next level. Collaboration at its core is when creativity flourishes, the world awaits what these two companies have in store.
"We are at the cusp of creating unprecedented experiences, the Kingdom's support for destinations such as the Jeddah Art Promenade will pave a way for the youth to immerse themselves in culture and art. Shaping the future is a large undertaking and we are proud to collaborate with Good Intentions to exceed expectations and set an example of how a genuine partnership should be. We look forward to many more projects in the future." Shihana Alazzaz.
"The Falcon installation from artist Kwest is a powerful statement of energy and creativity taking flight. We at Sela are thrilled to be working with Swizz Beatz and the Good Intentions team, headed by homegrown lead Noor Taher, to give vital art a platform. With more than a dozen installations planned, the Jeddah Art Promenade will blaze an iconic trail down our beautiful coast, offering visitors a visceral cultural experience and creating a landmark worthy of our nation's vision."
The seaside town of Jeddah is a bustling and vibrant destination with luxury hotels, a new marina, luxury retail restaurants, and coffee shops along the corniche. The coastal city is enriched with some of the world's most pristine heritage sites, vibrant coral reefs, and scenic views whose people welcome guests with warmth to show them the traditions and culture they value so close to their hearts.
About Dave's Travel Corner

Dave's Travel Corner is a travel content, resource provider and community (founded 1996) providing travel
Guides
written about Dave's personal travel experiences and
Journals
, pages that contain trip summaries and experiences written by fellow travelers. We spotlight locations and attractions with an article linked directly from our homepage including content across our blog, photo and video galleries. We use a combination of social media, written content, photography and videos to promote locations. Not only does the content appear on this site but we have direct partnerships with other well visited travel sites for placement of the content. Since 1996, we have also established hundreds of relevant link exchanges with other travel sites.
Visitors to Dave's Travel Corner will also find thousands of travel related links organized by categories on the
Resources Page
, a
Photo Gallery
containing International travel photos,
Book Reviews
, and
Product Reviews
focusing on products useful for travelers, fully automated
Forums
,
Tour Bookings
offering over 4400 unique tours around the globe,
Interviews
with those making news in the travel industry and
Videos
- specializing in International travel videos as well as home of the
Dave & Jim Show
.
Dave's own travel blog is
Above the Clouds
which focuses on International Travel & Lifestyle.
For information on advertising please choose from a variety of
advertising options here
.
Contributors are welcome

Learn how you can contribute
About

www.davestravelcorner.com/about