Lower Town Arts District in Paducah, Kentucky
Paducah's oldest neighborhood, Lower Town Arts District is famous for the award-winning Artist Relocation Program that prompted its colorful revitalization, which continues today with the Paducah School of Art & Design. The arts district is populated with working artists, students and artists-in-residence who add to the city's vibrant artistic landscape. The work of Paducah's resident artists can be viewed and purchased at various art galleries and collectives throughout the city including the Art Guild of Paducah, Yeiser Art Center and Bricolage Art Collective.
Franklinton Arts District in Columbus, Ohio
Nestled on the western banks of the Scioto River, the Franklinton Arts District is a vibrant hub of creativity and innovation. This haven for artists features studios, performance venues, galleries and maker spaces. Just steps away lies Columbus' first independent lifestyle hotel, The Junto. The Junto is designed from the ground up to bring people together within the Columbus community producing an inventive meeting place for locals and travelers alike. The new destination with a variety of restaurants and bars and distinct accommodations provides a warm welcome with its 198 creatively designed rooms and suites with unexpected touches. For information, visit https://thejuntohotel.com/ http://www.franklintonartsdistrict.com/aboutus.html
Naples Art District in Florida's Paradise Coast (Naples, Marco Island, Everglades)
Known as Southwest Florida's premier cultural destination for locals and visitors alike, The Naples Art District consists of professional working artist studios and galleries for fine art, art education, remodeling and home décor. Strolling through the district, visitors will find a vibrant alliance of working painters, sculptors, jewelers and photographers. The creative hub allows visitors to visit individual artists and purchase original artwork or discover their inner artist by signing up for one of the many classes offered in the district. For information, visit https://www.paradisecoast.com/
Downtown Hattiesburg in Mississippi
Downtown Hattiesburg offers a vibrant art scene, complete with theaters, galleries museums and more. Visitors can celebrate the arts by popping into the Historic Saenger Theater for an evening show or walking the beauty of the Hattiesburg Public Art Trail. The trail features an enriching collection of murals, sculptures and paintings from artists both local and from across the nation. Each piece of art harnesses the spirit of Mississippi, allowing visitors to become fully immersed in the destination's creative culture. For information, visit https://www.visithburg.org/
NEON District in Norfolk, Virginia
Norfolk's first official arts district, the NEON District, is home to a new wave of passion and creativity in downtown. NEON, or New Energy Of Norfolk, is home to long-time cultural institutions like the Chrysler Museum of Art and Harrison Opera House as well as studio-based ventures like d'Art Center and the Rutter Family Art Foundation that provide artists a place to make, create and show. Within a few short blocks, you can see a muralist at work, take in an improv comedy performance at Push Comedy Theater, watch a live glass-working demonstration, shop for the freshest gear, get a tattoo or dine out at an eclectic restaurant. For information, visit https://neonnfk.com/
Canyon Road in Santa Fe, New Mexico
Canyon Road in Santa Fe is home to the highest density of galleries in the US (100+) and the heart of Santa Fe's gallery scene along a half-mile, tree-lined pedestrian-friendly stretch. Once all private homes, the charming adobe buildings now host pieces ranging from contemporary to traditional, Western to Native American to abstract, created by artists from all over the world. Time your visit with artist-led events and outdoor festivals, including the annual Christmas Eve Farolito Walk, and explore small eateries, cafes, and award-winning, fine-dining restaurants. For information, visit https://www.santafe.org/visiting-santa-fe/neighborhoods/canyon-road/
Kingston Creative in Kingston, Jamaica
Kingston is the cultural mecca of Jamaica, an under-discovered, progressive city for art lovers and the heartbeat of the nation to locals. Kingston is covered in murals created by local artists to reflect Jamaica's rich history, thanks to accelerating programs by Kingston Creative, a non-profit organization that commissions local talent to help develop Kingston's Arts District and stimulate growth in Jamaica's creative economy. Kingston Creative's mission is to enable local and Caribbean creatives to succeed so that they can create economic and social value, gain access to global markets and positively impact their communities through collaboration and public-private partnerships to empower creative people and transform Downtown Kingston. The strategy is to create a world-renowned Art District and Creative Hub in the old city and the organization is in the process of implementing the following projects; Paint the City Street Art murals, Urban art parks, sculptures/public art, and a co-working space and business accelerator for creatives. For information, visit https://kingstoncreative.org/
Downtown Providence in Rhode Island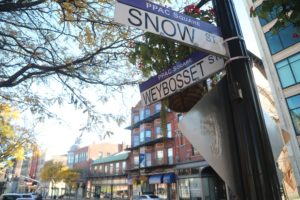 Providence, known as The Creative Capital, has an impressive arts scene, full of museums, performing arts centers, galleries, and even fiery art installations. The performing arts are a big part of Providence culture, led by Tony Award-winning Trinity Repertory Company, the gold-gilded Providence Performing Arts Center, and the Veterans Memorial Auditorium, which are not only historic landmarks but also feature Broadway musicals, children's performances, popular seasonal ballets, opera, plays and musical concerts. Much of the visual arts influence in Providence can be attributed to the influence of RISD, one of the nation's top art universities. RISD's Museum of Art houses more than 80,000 works of art, ranging from Greek sculpture to French Impressionist paintings, and Chinese terracotta to contemporary multimedia art. Finally, don't miss WaterFire Providence, a multi-sensory experience that consists of a series of bonfires installed on the three rivers of downtown Providence complete with aromatic wood smoke, flickering firelight and enchanting music. For information, visit https://www.goprovidence.com/
Old Town Alexandria and the Waterfront Public Art Installation in Virginia
Named one of America's Top Art Places, Alexandria is nationally recognized as a community with a "backbone of creative culture…exceptionally successful at combining art, artists and venues for creativity and expression…to make vibrant neighborhoods." The city's visual arts hub is the world-famous Torpedo Factory Art Center, a former munitions factory transformed into an artistic powerhouse with three floors of artist studios and galleries. From March to November 2023 the fifth temporary art installation on Old Town Alexandria's waterfront Two Boxes of Oranges and Admonia Jackson is on display. Created by Jamaican-born, New York-based, award-winning artist Nina Cooke John of Studio Cooke John, the installation is inspired by the ships uncovered on Alexandria's waterfront in 2015 and 2018 and the many layers of history that are not readily seen. The installation forms an abstracted ship's hull, inviting visitors to stand within the space and imagine a time in Alexandria's history when the ships carried not only cargo like tobacco, molasses, rum and limes but also enslaved people who were traded as part of the transatlantic and domestic slave trades. For information, visit https://visitalexandria.com/things-to-do/arts-and-culture/
Glasstown Arts District in Millville, New Jersey
Built around the Maurice River, with historic buildings and the town's heritage as a glass center, the Glasstown Center Arts District is designed as an inviting place for visitors to stroll, relax, shop for art and fine crafts, and enjoy themselves. Rich in the history of American glass making, Millville once served as a center for the glass industry and was home to many skilled craftsmen that produced today's collectibles. The Riverfront Renaissance Center for the Arts is dedicated to the fine arts, showcasing a public gallery and education center for travelers and residents to explore. Also located in Millville is the Wheaton Arts and Cultural Center, which attracts 80,000 visitors annually. Guests can watch world-class glass art created in the Glass Studio, tour the Museum of American Glass and its notable collection, walk through the Craft Studios to see skilled artists at work and browse through the finest selection of handcrafted gift items in our wonderful museum stores. For information, visit https://www.glasstownartsdistrict.com/
Berea Creative District in Berea, Kentucky
Dubbed the "Folk Arts and Crafts Capital of Kentucky," creativity, craftsmanship and culture reside within the charming town that is Berea, Kentucky. Nestled on the outskirts of Appalachia, the quaint artistic hub is filled with endless studios, handmade jewelry and fabric stores, galleries, glass studios, boutiques, and gift shops that any art fanatic is sure to love. Visitors are encouraged to visit the historic Artisan Village and the Kentucky Artisan Center to explore and experience the imaginative spirit throughout the city and to witness classes, demonstrations and craftsmen perfecting their work. The enchanting and creative town of Berea is sure to exceed any expectations on your art-travel agenda. For information, visit https://visitberea.com/
Alserkal Avenue in Dubai, UAE
What once was an industrial warehouse district is now Alserkal Avenue, Dubai's thriving creative hub, and like the city it's located in, the art district is constantly evolving and creating meaningful experiences. Through its 20 galleries and public installations as well as cafes and specialty stores, Alserkal Avenue fuses art, food, fashion and music, fueling creativity and inspiration for travelers, all in one walkable, central location. For information, visit https://www.visitdubai.com/en/places-to-visit/alserkal-avenue
About Dave's Travel Corner

Dave's Travel Corner is a travel content, resource provider and community (founded 1996) providing travel
Guides
written about Dave's personal travel experiences and
Journals
, pages that contain trip summaries and experiences written by fellow travelers. We spotlight locations and attractions with an article linked directly from our homepage including content across our blog, photo and video galleries. We use a combination of social media, written content, photography and videos to promote locations. Not only does the content appear on this site but we have direct partnerships with other well visited travel sites for placement of the content. Since 1996, we have also established hundreds of relevant link exchanges with other travel sites.
Visitors to Dave's Travel Corner will also find thousands of travel related links organized by categories on the
Resources Page
, a
Photo Gallery
containing International travel photos,
Book Reviews
, and
Product Reviews
focusing on products useful for travelers, fully automated
Forums
,
Tour Bookings
offering over 4400 unique tours around the globe,
Interviews
with those making news in the travel industry and
Videos
- specializing in International travel videos as well as home of the
Dave & Jim Show
.
Dave's own travel blog is
Above the Clouds
which focuses on International Travel & Lifestyle.
For information on advertising please choose from a variety of
advertising options here
.
Contributors are welcome

Learn how you can contribute
About

www.davestravelcorner.com/about