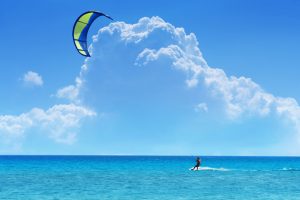 Blue Haven Resort and Marina in Turks and Caicos Selected as Official Arrival Destination For the Atlantic Kite Challenge
PROVIDENCIALES, TURKS & CAICOS – Oct. 275, 2013 – Christopher Columbus was alleged to have made first landfall in the Western world in 1492 on the shores of the Turks and Caicos Islands. While this fact has not been proven, the six riders of the Atlantic Kite Challenge will leave no doubt once they arrive at Blue Haven Resort and Marina in the Turks and Caicos Islands over 500 years later.
In late 2013, between November 20 and November 25, the six kiteboarders will soar from the port of Fuerteventura in the Canary Islands embarking on the first-ever, non-stop crossing of the Atlantic Ocean bound for their official arrival destination, Turks and Caicos Islands in the Caribbean.
Following a South Atlantic route, their arrival – two to three weeks later – (estimated between December 7 and December 15) coincides with the grand opening of the Blue Haven Resort and Marina. The new property is the 'official arrival destination' hotel for the Atlantic Kite Challenge. The kitesurfers will be welcomed and feted with a three day celebration that will include beach volleyball competitions, cultural exhibitions and fairs, the music of local bands, delicious cuisine and the enthusiasm of regional kiteboarding groups, resort guests and locals.
"Our Beautiful by Nature islands have long been an incredible destination for kitesurfing and other adventure sports" said Turks and Caicos' Premier Dr. Rufus Ewing. "We have such incredibly clear waters around us, and our Tourism industry has grown to accommodate discerning travelers of all walks of life with leading hotels in the Caribbean. We are thrilled to be the final destination of the Atlantic Kite Challenge. We look forward to greeting the team soon and celebrating this milestone for the kitesurfing sport."
"What a stunning example of adventure, we will have right on our doorstep" said Roland Rutjens, Corporate General Manager of Blue Haven Resort and Marina. "We share the same belief in passion that this team has: passion for the islands and their people, outstanding hospitality and for our guests. We wish all of the kitesurfers the very best on this epic journey and look forward to welcoming them at Blue Haven. Together with the Turks and Caicos community we will embrace them with a special celebration and provide them with much needed relaxation after their arrival."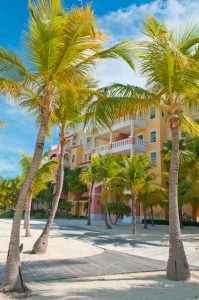 During the crossing – which will feature daily social media posts with photos of all six participants – the kitesurfers will take over from one another every two hours during the 6000-km long journey, surfing both day and night. In this longest ever 'downwinder' they will be supported by a 50-foot catamaran, Lagoon 500 Double A, and its professional crew. A TV crew will also be on board documenting the crossing.
The Atlantic Kite Challenge is the brainchild of Netherlands-based Filippo van Hellenberg Hubar, founder of the Enable Passion Foundation. Filippo will be one of the six kiteboarders partaking in the Challenge along with Max Blom, also from the Netherlands. Camilla Ringvold of Norway, Bruno Sroka of France and Francisco Lufinha of Portugal. Eric Pequeno from the United States was chosen as the sixth kiteboarder through a social media competition on Facebook.
"The idea for the Atlantic Kite Challenge combined my passion for kitesurfing and business ventures" explains Hubar. "I wanted to find out whether something that initially looked so impossible could be achieved with the right motivation and dedication. The idea took form slowly and resulted in a team of committed people. All those involved are contributing in their own way to realize this joint goal."
"We are so pleased to have found the perfect arrival destination for our venture. Turks and Caicos is a very well known kiting destination with stunning clear water. You can imagine that after such a long journey through the entire Atlantic Ocean, the warm waters around Blue Haven as well as its outstanding facilities will more than make up for the hardships of the actual crossing" Hubar said.
In addition to Blue Haven Resort and Marina, other sponsors include Mystic, Urge, Slingshot and GoPro who will provide equipment to the team.
The Enable Passion foundation is a non-profit foundation that strives to inspire people in realizing their passions, by organizing and carrying out extraordinary and pioneering projects.
About the Turks and Caicos Islands
The Turks and Caicos Islands consist of 40 islands and cays located 550 miles southeast of Miami, Florida and just below the Bahamas chain. The destination is fast becoming one of the most sought after vacation destinations in the Caribbean due to its award-winning beaches and exceptional outdoor adventures. The World's third largest barrier reef parallels Turks and Caicos providing superior scuba diving, deep sea fishing and fly-fishing. Turks and Caicos is easily accessible via British Airways, which offers a non-stop, eight-hour flight from London to Providenciales International Airport. Numerous non-stop flights depart daily from New York City, which is just a three-hour flight to Providenciales.
About Blue Haven Resort and Marina:
Tucked away on the Leeward side of Providenciales, Blue Haven Resort and Marina (http://www.bluehaventci.com/), the "Gateway to the True Turks and Caicos Islands," provides a secluded and tranquil vacation destination away from the bustling resorts that line Grace Bay Beach. The Resort features 35 luxury suites and 16 premier guestrooms and three culinary venues that offer world-class, yet laid back dining experiences.
Blue Haven's premier location just minutes from the world's third largest barrier reef makes it the ideal choice for outdoor adventure enthusiasts whose primary vacation goal is to partake in exciting adventures. Guests have access to PADI scuba diving, deep sea and fly-fishing excursions, Kiteboarding, kayaking, paddle boarding and exploration excursions to remote destinations throughout the Turks and Caicos archipelago.
The state-of-the-art Marina at Blue Haven houses 78 slips which can accommodate boats and yachts with drafts up to 8.5 feet (at mean low tide) and as long as 220 feet. Full concierge services are available to all yachts in port.
Blue Haven Resort and Marina also delights guests with premier amenities and services including a spa, conference center, a 24-hour fitness center, volleyball and horse shoe courts, oceanfront infinity pool with swim up bar and a stretch of fully-serviced white sand beach dotted with cozy chaise lounges and hammocks.

Biographies of the kitesurfers and Twitter handles:
Filippo van Hellenberg Hubar (Netherlands)
This passionate kitesurfer conceived the idea to cross the Atlantic Ocean. After studying Aerospace Engineering at Delft University of Technology, he worked as a strategic consultant, where he gained experience in project management. His love of kitesurfing and work in project management has helped to bring the HTC Atlantic Kite Challenge to life.
Camilla Ringvold (Norway) @camringvold
Camilla is the only woman in the team. She has won many Norwegian kite competitions both on water and snow. She is also the owner of one of the largest kite shops in Norway, gives kite lessons and organizes major events.
Max Blom (Netherlands) @maxblomjr
Max is well known in the kitesurfing world. He is co-founder of the surf clothing brand Mystic and travels all over the world to share his vision about a range of topics including 'negotiations in the Far East' to photo-shoots and competitions in the Caribbean. His love of kitesurfing began in 2003 and he has been supporting the sport with his technical innovations now for over a decade.
Francisco Lufinha (Portugal)
Francisco is a 30 year-old Portuguese sailor and kitesurfer passionate about all nautical sports. Being taken aboard a boat by his parents only 15 days after he was born, he was never able, or even wanted, to let go of the sea again. In 2005 he was the Portuguese kitesurf champion and in 2006 vice-champion. Francisco lives by challenging himself with new adventures, his latest being kitesurfing the Portuguese continental coast where he beat a world record by kitesurfing more than 560 km in 29 hours, day and night, without stops. Trying to cross the Atlantic in a team of six is his next challenge.
Bruno Sroka (France) @brunosroka Frenchman Bruno Sroka is a three-time kitesurfing World Champion. In addition, he has taken part in a number of hazardous and psychologically demanding trips, such as kitesurfing around Cape Horn, crossing the English Channel and more recently kitesurfing from France to Ireland. www.brunosroka.com
Eric Pequeno (USA) @1ericpequeno
Born and raised kitesurfer from Michigan and winner of the 6th rider competition. Keen on all kinds of boards: skateboarding, snowboarding, wakeboarding, paddleboards, but since 2008 he is devoted to is absolute passion for kitesurfing out on the Great Lakes. Chasing wind and doing everything he can to not miss a chance to be on the water is what he lives for. Passion and determination has provided Eric the drive to start and run several businesses, which made it possible to pursue is kitesurfing dreams.
About Dave's Travel Corner

Dave's Travel Corner is a travel content, resource provider and community (founded 1996) providing travel
Guides
written about Dave's personal travel experiences and
Journals
, pages that contain trip summaries and experiences written by fellow travelers. We spotlight locations and attractions with an article linked directly from our homepage including content across our blog, photo and video galleries. We use a combination of social media, written content, photography and videos to promote locations. Not only does the content appear on this site but we have direct partnerships with other well visited travel sites for placement of the content. Since 1996, we have also established hundreds of relevant link exchanges with other travel sites.
Visitors to Dave's Travel Corner will also find thousands of travel related links organized by categories on the
Resources Page
, a
Photo Gallery
containing International travel photos,
Book Reviews
, and
Product Reviews
focusing on products useful for travelers, fully automated
Forums
,
Tour Bookings
offering over 4400 unique tours around the globe,
Interviews
with those making news in the travel industry and
Videos
- specializing in International travel videos as well as home of the
Dave & Jim Show
.
Dave's own travel blog is
Above the Clouds
which focuses on International Travel & Lifestyle.
For information on advertising please choose from a variety of
advertising options here
.
Contributors are welcome

Learn how you can contribute
About

www.davestravelcorner.com/about