Summertime in The D. It's the perfect time to soak up the sun, along with all of the cars, culture, gaming, music and sports the metro area offers. Whether you're a festivalgoer, a foodie or a sports fan (we'd prefer if you cheered for the Tigers) metro Detroit is the perfect spot for you. Detroit traditions like the Ford Fireworks, Woodward Dream Cruise and Detroit Jazz Festival will make your stay unforgettable.
Grab your wagon, it's planting season. Eastern Market turns into a floral oasis on May 15 for Eastern Market Flower Day. Each market shed is open and covered with every possible annual, perennial, herb, shrub and tree at incredible prices. Metropolitan Detroit Flower Growers Association members attend every year from Michigan, Ontario and neighboring states to share their arrangements and their best gardening tips.
Eat em' up Tigers, eat em' up! There's nothing quite like a ball game on a sunny afternoon in The D. Catch the Detroit Tiger's at Comerica Park this summer. If you prefer the night-game setting, be sure to snag Friday or Saturday (starting May 20) night tickets to watch the fireworks post-game.
Experience electronic music in the birthplace of Techno – The D. Movement Electronic Music Festival takes place May 28-30 in Hart Plaza. Every year, thousands of people from all over the country flock to Movement to experience the origin of their favorite genre in a three-day festival along the beautiful Detroit River.
We couldn't really call ourselves the Motor City without having a celebration like Autopalooza, the series of auto events taking place throughout metro Detroit all summer long. The series kicks off with the Chevrolet Detroit Belle Isle Grand Prix June 3-5. Don't miss other Detroit classics like Greenfield Village's Motor Muster and the Woodward Dream Cruise.
The Chevrolet Detroit Belle Isle Grand Prix starts its engines June 3-5 on beautiful Belle Isle Park. The event features the cars of the Verizon IndyCar Series, the WeatherTech SportsCar Championship and the trucks of the SPEED Energy Stadium SUPER Trucks presented by TRAXXAS. Watch as cars zip along the 2.4 mile track and take in all of the auto excitement.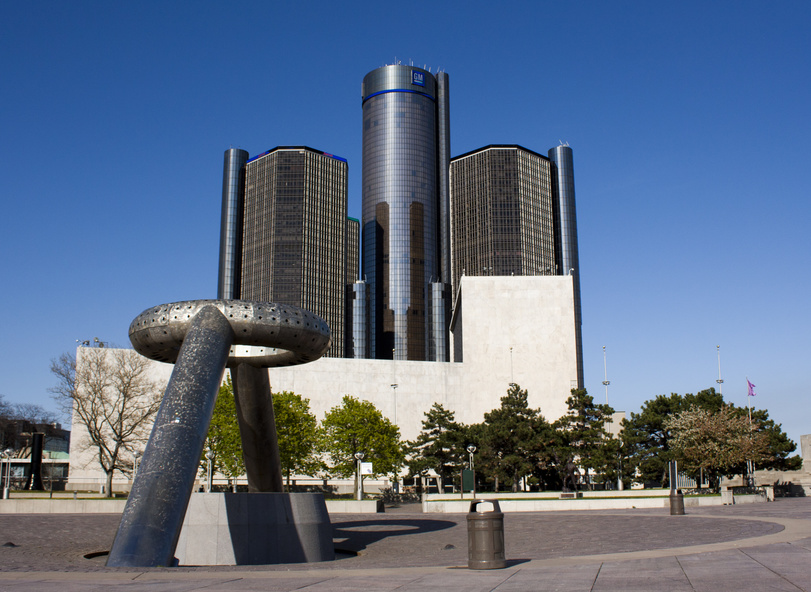 The empowering Motor City Pride Festival & Parade takes place in Hart Plaza June 11-12. Live entertainment throughout the weekend and a selection of unique shops lead up to the highly anticipated parade. The celebratory weekend makes this the largest LGBTQ pride event of its kind in Michigan.
Take me out me out to a 19th-century ball game, take me out with the crowd. Travel back in time every Saturday and Sunday June 11-Aug. 21 to Dearborn's Greenfield Village for Historic Base Ball Games. Brush up on the 1867 rules to follow the game and remember, baseball mitts are optional. Attendees can also enter to win Detroit Tigers tickets.
You'll love Greenfield Village, so be sure to check out additional events. Staple summer spectacles include Motor Muster June 18-19, Annual Salute to America June 30-July 3 and Annual Old Car Festival Sept. 10-11.
Summer kicks off on Detroit's landmark riverfront June 24-26 at GM River Days, an event celebrated by both land and water. This year, The Detroit Riverfront Conservancy celebrates 10 years of River Days. The festival offers fun for all ages including, rides, games, arts and crafts, music, boat rides, food and more. Head to riverdays.com for more information. The weekend-long extravaganza leads up to the Ford Fireworks, a jaw-dropping summer tradition taking place along the Detroit River Monday, June 27.
Bring your own blanket to Wild Summer Nights and the Detroit Zoo will take care of the entertainment. Concerts take place every Wednesday during July and August in the zoo's Main Picnic Grove, featuring live music from local performers spanning various genres – jazz, pop, children's, folk, blues and more.
Detroit isn't called rock city for nothing. The D is home to several concert venues, including Comerica Park, DTE Energy Music Theatre, Ford Field, Joe Louis Arena and the Fox Theatre. Don't miss favorites like Kenny Chesney and Dave Matthews Band as they celebrate summer in The D.
Attend the first ever Corktown Strut, July 1-3 in the emerging neighborhood of Corktown, brought to you by the artist consultation organization, Forward Arts. It will take place inside and outside bars and restaurants in Corktown. Two James Distillery Annex (a performance space next to the distillery), Batch Brewing, UFO Factory, PJ's Lager House, MotorCity Wine, Mudgie's Deli and the soon-to-open restaurant Katio are all on board for the festivities. F
Celebrate Independence Day Downriver with four days of live music, carnival rides and games, fireworks, a banana derby and more. Uncle Sam Jam Fest celebrates the stars and stripes July 7-10 in Civic Center Park in Woodhaven. Live entertainment and tons of family fun will take place during this 7th annual celebration.
To add to the diverse music culture, The D also brings you the Mo Pop Festival, July 23-24 at West Riverfront Park. Check out the music, riverside biergarten, food truck alley and craft bazaar. Performers include G-Eazy, M83 and HAIM.
Attention elite auto enthusiasts: the 38th annual Concours d'Elegance of America is July 29-31 at the Inn at St. John's in Plymouth. This world-class exhibition showcases beautiful cars from every era and celebrates classic, rare, collectible and prestigious automobiles alongside an art exhibit and vintage auto auction.
Want to feel inspired? Connect with a community of forward thinkers at Maker Faire Detroit July 30-31. This award winning weekend event takes place at The Henry Ford in Dearborn. Watch closely as participants tinker, hack, invent and ultimately, make. Maker Faire encourages all makers to join – from the novel inventors to the garage tinkers – to learn and explore new technologies.
Paintings, sculptures, glassware, jewelry and photography are available at West Bloomfield's Orchard Lake Fine Art Show July 30-31, featuring original and handmade art from world-renowned and local artists.
Celebrate Arab and Chaldean culture at the 45th annual Arab and Chaldean Festival at Hart Plaza July 30-31. The festival includes food, art, live music and dance, perfect for the entire family. Festival traditions include a children's fair and a fashion show, displaying gorgeous attire from Arab countries.
The African World Festival is a cultural extravaganza celebrated at the Charles H. Wright Museum of African American History. This free weekend event includes live performances, poetry, arts, crafts and African drumming you'll have to see to believe. The ethnic celebration includes worldwide cuisines and genre spanning music, perfect for the whole family. The festival takes place Aug. 19-21.
Relive the heydays of the 1950s at the world's largest one-day automotive event, the Woodward Dream Cruise on Aug. 20. Enjoy a day filled with entertainment and an endless stream of cars, ranging from hot rods to collectors. The celebration takes place along a 16 mile stretch of Woodward Avenue from Pontiac to Detroit. The Woodward Dream Cruise attracts more than 1.5 million people and 40,000 classic cars. Don't forget your letter sweaters and poodle skirts.
Take a trip back in time to 16th century England at the Michigan Renaissance Festival from Aug. 20 through Oct. 2 (weekends and Labor Day) in Holly's "Hollygrove" village. Attend hilarious renaissance-themed comedy shows and entertaining theater performances. The festival also includes games, rides, music and more – perfect for the entire family.
Wayne State University hosts the Detroit Sports Commission Prep Kickoff Classic, Michigan's season-opening high school football event, Aug. 25-27. As always, this year's kickoff classic will deliver a memorable experience for players, fans, coaches, cheerleaders, band members and school communities. This locally created event is recognized for excellence in attendance, marketing and community presence by the National Association of Sports Commissions.
The Michigan Peach Festival of Romeo hits the streets of downtown Romeo Labor Day weekend, Sept. 1-5. Attend family fun events like parades and cruises, craft shows and races. Be sure to save room to indulge in the plethora of peach-packed goodies from local orchards.
A Michigan tradition: the Fifth Third Bank Michigan State Fair happens Sept. 1-5 at Suburban Collection Showplace in Novi. Take in agricultural exhibits, craft beer tents, entertainment, farmers markets, art exhibits, the Shrine Circus and more. The fair celebrates Michigan's agricultural industry and small businesses while bolstering the traditions of the State Fair – and it gets bigger and better every year.
Over 200 musical performances rock 10 stages at Arts, Beats & Eats, one of Oakland County's favorite summer festivals throughout Labor Day Weekend, Sept. 2-5. The downtown Royal Oak event celebrates the metro Detroit community with a highly ranked Juried Fine Arts Show and delicious local cuisine. Admission fees benefit local charities and the community.
The world's largest free jazz festival, the annual Detroit Jazz Festival, hits The D Labor Day weekend, Sept. 2-5. The celebration occupies several blocks of downtown Detroit – from Hart Plaza to Campus Martius Park. Five stages and 100 musical acts encompass the event, including activities for all ages, fireworks and more.
Be swept away by the music and ambiance of historic North Cass Corridor in Detroit during the community music event Dally in the Alley on Sept. 10. Unbelievable food, drinks and great people watching accompany the music. Don't forget to snag one of the iconic Dally T-shirts to commemorate the event. Event proceeds support the North Cass Community Union projects and efforts to improve the quality of life.
Exhibits
Nothing says Detroit like Pewabic Pottery and Cranbrook Art Museum has one of the largest private collections on display now through Aug. 28. The exhibit debuts the Gerald W. McNeely Collection of Pewabic Pottery, recently donated to Cranbrook and never before seen in its entirety.
Dance! American Art 1830-1960 hits the floor at the Detroit Institute of Arts March 20-June 12. The exhibit captures dance in all its forms, from carefree to choreographed performance. Featured artists include Isamu Noguchi, Jasper Johns and Andy Warhol. You might leave the exhibit with inspiration, whether it's for your next art piece or the next time you step out on the dance floor.
The new Legoland Discovery Center will open March 25 at Great Lakes Crossing Outlets. The discovery center is a two-to-three-hour experience that will offer several interactive and educational features, such as a brick pool, master classes from the Lego Master Model Builder, a fun Lego ride, a 4D cinema and, of course, the popular Miniland area found in every Legoland Park. This will be the state's only location and the eighth of its kind in the United States.
Inside|Out, a DIA program brings reproductions of masterpieces outdoors and will adorn venues from downtown Detroit all the way to Ortonville April through October. These exhibits are clustered in close proximity to encourage outdoor activity such as biking and walking tours. An additional nine participating venues have been added for this year. For more information, visit dia.org.
The Henry Ford Giant Screen Experience opens April 4 and will feature unique programs including a venue for the Cinetopia International Film Festival in June, a Thursday Night Flix series and feature films that further explore the people, places, themes and ideas that bring the American experience to life. Guests will get a re-invented cinematic experience complete with new 4K digital state-of-the-art projection system, sound, screen and seating.
Where can you find more than 80 penguins across four different species? At the world's largest penguin facility, of course. The new exhibit opens at the Detroit Zoo on April 18 and is sure to cause quite a splash. The Polk Penguin Conservation Center (PPCC) is a 326,000-gallon, 25-foot-deep aquatic area where visitors will be able to watch penguins as they explore their habitat and deep-dive.
Whether you were an original Beatlemaniac or are just simply inspired by their music today, you'll enjoy The Magical History Tour: A Beatles Memorabilia Exhibition making its U.S. premiere at The Henry Ford April 30-Sept. 1. Experience the creativity, love and curiosity of the Fab Four firsthand.
There's nothing quite like hitting the open road and you can take it all in at The Open Road: Photography and the American Road Trip exhibit at the DIA. Featuring the work of 19 photographers, this exhibit showcases the journey of American car culture. Stop by between June 17 and Sept. 11 to check it out before it's on the road again.
America's premier automotive manufacturing exhibition, the newly reimagined Ford Rouge Factory Tour, offers dazzling interactive technology, including a multisensory experience where you can witness the engineering of the Ford F-150 from concept to highway. Ford's environmental innovation is also shown, as the world's largest "living roof" can be seen on top of the plant.
Want a taste of the great outdoors in The D? Look no further – visit the new Outdoor Adventure Center – bringing northern Michigan downtown. Experience exciting outdoor adventures with hands-on activities, exhibits and simulators. Walk behind and touch a waterfall, step into a fishing boat and reel in a big fish, hit the trail on a mountain bike or off-road vehicle and much more.
Save 20 percent or more on popular Detroit attractions with The D Discount Pass. Current participants include the Arab American National Museum, Charles H. Wright Museum of African American History, Comedy Sportz Detroit, Detroit Princess Riverboat, Edsel & Eleanor Ford House, Ford Piquette Avenue Plant, The Henry Ford, Holocaust Memorial Center Zekelman Family Campus, Michigan Science Center, Meadowbrook Hall, Motown Museum, Outdoor Adventure Center and Sea Life Michigan Aquarium.
About Dave's Travel Corner

Dave's Travel Corner is a travel content, resource provider and community (founded 1996) providing travel
Guides
written about Dave's personal travel experiences and
Journals
, pages that contain trip summaries and experiences written by fellow travelers. We spotlight locations and attractions with an article linked directly from our homepage including content across our blog, photo and video galleries. We use a combination of social media, written content, photography and videos to promote locations. Not only does the content appear on this site but we have direct partnerships with other well visited travel sites for placement of the content. Since 1996, we have also established hundreds of relevant link exchanges with other travel sites.
Visitors to Dave's Travel Corner will also find thousands of travel related links organized by categories on the
Resources Page
, a
Photo Gallery
containing International travel photos,
Book Reviews
, and
Product Reviews
focusing on products useful for travelers, fully automated
Forums
,
Tour Bookings
offering over 4400 unique tours around the globe,
Interviews
with those making news in the travel industry and
Videos
- specializing in International travel videos as well as home of the
Dave & Jim Show
.
Dave's own travel blog is
Above the Clouds
which focuses on International Travel & Lifestyle.
For information on advertising please choose from a variety of
advertising options here
.
Contributors are welcome

Learn how you can contribute
About

www.davestravelcorner.com/about