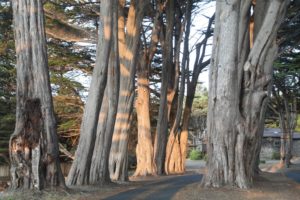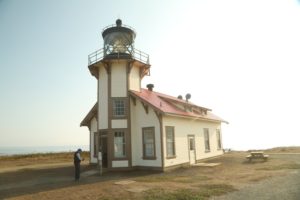 Enticing Packages and Offerings Allow Guests to Revel in the Season's Delights, Get Back on the Wellness Train or Get Away for Five Whole Days, Enjoy a Redwoods Railbike Adventure, or Cozy Up in Front of a Fire
MENDOCINO COUNTY, CA – Mendocino in the winter offers the best of both worlds. Atmospheric storms and misty mornings are balanced by the relatively mild temperatures that make this part of the world so magically lush. Plentiful mushrooms spring up at the bases of ancient trees and sweet Dungeness crab is pulled from icy waters and brought right to the table, to name two of the culinary delights that can be expected in this gorgeous, gloriously uncrowded corner of Northern California's storied coast. It's impossible not to feel centered beneath giant redwoods and while taking in sweeping views over the ocean, but that feeling can get to the next level with wellness treatments that are tailored to pamper and renew for a fresh start. Adventure is always on offer in this hiker's paradise and for a twist, the world-famous Skunk Train has introduced a challenging new route for their pedal-powered Railbikes. Whether being intrepid or hunkering down, everyone will find something to love on a Mendocino winter escape.
To take advantage of those atmospheric storms, the breathtaking Inn at Newport Ranch offers a Winter Storm Watch package. Colder weather creates some of the most memorable skies and vistas on the Mendocino Coast, so it's easy to be torn between exploring the craggy shoreline or staying warm in luxurious comfort at the Inn, maybe by taking a seat in the walk-in fireplace with a glass of Mendocino wine or curled up with a book in one of the resort's many cozy nooks. The Winter Storm Watch package includes a 60-minute hot rock massage for two, custom created hot chocolate with delectable home-made marshmallows, dinner including foraged and winter garden bounty, and Happy Hour with "Dark and Stormy" cocktails and Mendocino wines and bites. The Inn at Newport Ranch is situated on 2,100 pristine private acres and boasts 50-mile panoramic views across the Pacific. Guests have exclusive access to the vast property that encompasses virgin redwood forests, grasslands, and beach. Many guests opt to tour the acreage on horseback or book a private UTV tour – there is so much to see. Every amenity is on offer, from Ranch cuisine cooked from locally-sourced or onsite garden-grown ingredients, to sumptuously appointed guest rooms, to the onsite Fireside Spa and a hot tub perched atop an old water tower. The Inn's interior spaces are designed to enhance the natural beauty of the location, and each room is a bespoke masterpiece filled with handcrafted objects and fascinating items from the owner's world travels. The Winter Storm Watch package is available on select dates through the end of March 2022. $800 for double occupancy. Accommodations are not included in the package but guests who book this package and stay two nights or more receive a 10% discount on their rate. The Inn at Newport Ranch, 31502 N. Highway One, Fort Bragg, CA 95437, (707) 962-4818, www.theinnatnewportranch.com
The New Year brings new opportunities, and many will find it easier to embrace them after taking advantage of the picturesque Little River Inn's Wellness package. Available starting this month, the package for two is the perfect way to practice self-care and kick off 2022 in a soul-nourishing manner. It includes a two-night stay in an Ocean View Room, 90-minute Seaweed Body Scrub and Massage for two with Sue at the Inn, two hours of healing relaxation with Donna Call, Doctor of Acupuncture and Chinese Medicine, and admission for two to the Mendocino Coast Botanical Gardens to commune with nature. Family-owned for five generations, the historic inn has something for everyone, and is just steps from easy-to-hike Van Damme State Park and sheltered Van Damme State Beach. There is an Audubon-certified golf course where guests might encounter an elusive deer, regulation tennis courts and an award-winning chef-driven restaurant with options for all that features carefully crafted and hearty California cuisine. The same menu can be enjoyed in-room, or at the local's favorite – Ole's Whale Watch Bar – famous for its views, where the tumultuous Pacific might show off the telltale spout of a migrating whale. The Inn has 65 rooms – from the modestly priced to the downright luxurious – all with views of the winter's tempest-tossed ocean. The Wellness Package is available January 1, 2022 – January 31, 2022. The package, which includes lodging, begins at $1,246 for two (exclusive of tax and gratuity). Little River Inn, 7901 N. Highway One, Little River, CA 95456, (707) 937-5942, www.littleriverinn.com.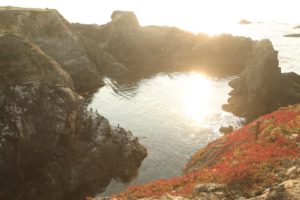 This winter, the historic Skunk Train, Mendocino's most beloved attraction, has launched a brand-new excursion built around their wildly popular Railbikes which takes riders along the Noyo River on custom-built, two-person, pedal-powered vehicles that run right on top of the train tracks. The new "Railbikes on the Noyo" experience allows riders to skim along the tracks, penetrating deep into the woods through awe-inspiring scenery. With no need to steer, and an adjustable electric assist, riders can drink in the woods and wildlife, and get up close and personal with nature. At the turnaround point, riders disembark to enjoy a complimentary picnic lunch served with their choice of beer or wine at the charming Camp Noyo (with the cooler included as a take-home souvenir). "Railbikes on the Noyo" is a strenuous and lengthy trip, requiring excellent mobility, but those looking for a shorter, less formidable trip, will enjoy the "Railbikes on Pudding Creek" excursion, departing from the Fort Bragg depot. This ride is appropriate for most people and can even be modified for mobility-challenged riders. The California Western Railroad's Skunk Train is a 137-year-old heritage train line that takes visitors deep into ancient Redwood forests, along riparian corridors, and past some of the most unchanged scenery in Northern California, including trees that are more than 1,000 years old. Since 1885, the Skunk Train has carried passengers along the Redwood Route®, and today a ride on the train charms the whole family (including Fido). Passengers travel over bridges and deep into the heart of the redwoods, through terrain that has remained essentially undisturbed for centuries. For further information on the new "Railbikes on the Noyo" experience, visit https://www.skunktrain.com/railbikes-on-the-noyo/. To find out more about "Railbikes on Pudding Creek," please visit https://www.skunktrain.com/railbikes/. Skunk Train, 100 W. Laurel Street, Fort Bragg, CA 95437, (707) 964-6371 (Fort Bragg Depot) and 299 E. Commercial St, Willits, CA 95490, (707) 964-6371 (Willits Depot), www.skunktrain.com.
Who wouldn't want to extend their trip to Mendocino beyond a couple of days? The lauded Brewery Gulch Inn, which has received multiple recognitions in Travel + Leisure, Conde Nast Traveler and USA Today, has an unprecedented offer that allows discerning travelers to experience first-hand everything these publications have been raving about. From now through the end of May, guests can book a Five-Night Mini Vacation at Brewery Gulch Inn and receive a cascade of deep discounts off the standard rates. For a consecutive five-night stay, the cumulative discount results in a 30% savings off their regular rates! Another huge perk — new Executive Chef Stephen Smith prepares a complimentary, made-to-order breakfast for all guests each morning, and at the nightly wine hour, a selection of appetizers is presented in room-specific Mendo Boxes that were crafted from the same eco-salvaged redwood that was used to build the inn. Perched high on a bluff overlooking picturesque Smuggler's Cove and the Pacific Ocean, Brewery Gulch Inn is an architectural masterpiece. The property encompasses three acres of mature pines and redwoods, wooded glens, wetland ponds, and gardens for strolling. Inside one will find warmly glowing arts and crafts furniture and a four-sided glass and steel fireplace in the Great Room common area. All guest rooms boast feather beds cloaked in Sferra linens, Molton Brown bath products, Himalayan bath salts and thick Abyss towels. To receive the Five-Night Mini Vacation cumulative discount, the offer, valid through May 31, 2022, must be mentioned at the time of booking and is not combinable with any other discounts. Holiday periods are excluded. If booking online, mention "5 Night Mini" in the comments section, the rate will be adjusted by the inn and a new confirmation reflecting the discount will be sent. Brewery Gulch Inn, 9401 N. Highway One, Mendocino, CA 95460, (707) 937-4752, www.brewerygulchinn.com.
Travelers looking to be comfy-cozy as can be while also enfolded in nature couldn't pick a better base for their Mendocino sojourn than the Glendeven Inn & Lodge or their intimate sister property right across the street, the Inn at the Cobbler's Walk. Both Inns boast fireplaces in most rooms, the perfect place from which to enjoy the split of wine that is provided nightly to guests. Glendeven Inn has six rooms with real wood fireplaces, as does every room at Glendeven Lodge, and at Cobbler's Walk, six rooms have working fireplaces where eco logs are used. After warming next to their fireplace, guests can explore 15 acres shared by the two properties, where llamas and chickens roam at will, and the beautiful gardens beg to be strolled or contemplated from delightful socially-distanced seating areas (and guests are welcome to observe as the llamas are fed at dusk). The colorful chickens include guest favorites Blue Favaucanas and Cream Legbars. For further exploration, under-the-radar and verdant Van Damme State Park surrounds the inns on three sides. Five and a half hours of hiking trails – including through some of the oldest trees on earth – are all accessible right from the front door of the Inn at the Cobbler's Walk and across from Glendeven Inn & Lodge. During the winter months, guests love walking under the protected canopy of Van Damme park's scenic fern canyon trail or strolling along the cliffs to watch dramatic waves roil and crash during storms. All guests receive their famous three-course breakfast, delivered to each room every morning at 9AM. Breakfast baskets include eggs from their own chickens, accompanied by fruit, vegetables and herbs cut from the gardens, fresh daily homemade baked goods, and fresh squeezed organic orange juice. Glendeven Inn & Lodge is an idyllic farmstead lodging destination where guests can revel in a luxurious version of the rural lifestyle while enjoying the amenities of a fine hotel. Glendeven Inn & Lodge, 8211 N. Highway One, Little River, CA 95456, (707) 937-0083, www.glendeven.com and www.cobblerswalkmendocino.com.
Mendocino is magical in winter. Isolated and remote yet only three hours north of the San Francisco Bay Area, visitors can take advantage of special pricing, packages and an unforgettable ambiance at this time of year.
# # #
About Dave's Travel Corner

Dave's Travel Corner is a travel content, resource provider and community (founded 1996) providing travel
Guides
written about Dave's personal travel experiences and
Journals
, pages that contain trip summaries and experiences written by fellow travelers. We spotlight locations and attractions with an article linked directly from our homepage including content across our blog, photo and video galleries. We use a combination of social media, written content, photography and videos to promote locations. Not only does the content appear on this site but we have direct partnerships with other well visited travel sites for placement of the content. Since 1996, we have also established hundreds of relevant link exchanges with other travel sites.
Visitors to Dave's Travel Corner will also find thousands of travel related links organized by categories on the
Resources Page
, a
Photo Gallery
containing International travel photos,
Book Reviews
, and
Product Reviews
focusing on products useful for travelers, fully automated
Forums
,
Tour Bookings
offering over 4400 unique tours around the globe,
Interviews
with those making news in the travel industry and
Videos
- specializing in International travel videos as well as home of the
Dave & Jim Show
.
Dave's own travel blog is
Above the Clouds
which focuses on International Travel & Lifestyle.
For information on advertising please choose from a variety of
advertising options here
.
Contributors are welcome

Learn how you can contribute
About

www.davestravelcorner.com/about