This summer, Miraval Studios at the famed Château Miraval in the South of France will reopen its doors after a major renovation plotted and overseen by Miraval Estate's owner Brad Pitt and EMMY-winning French producer Damien Quintard.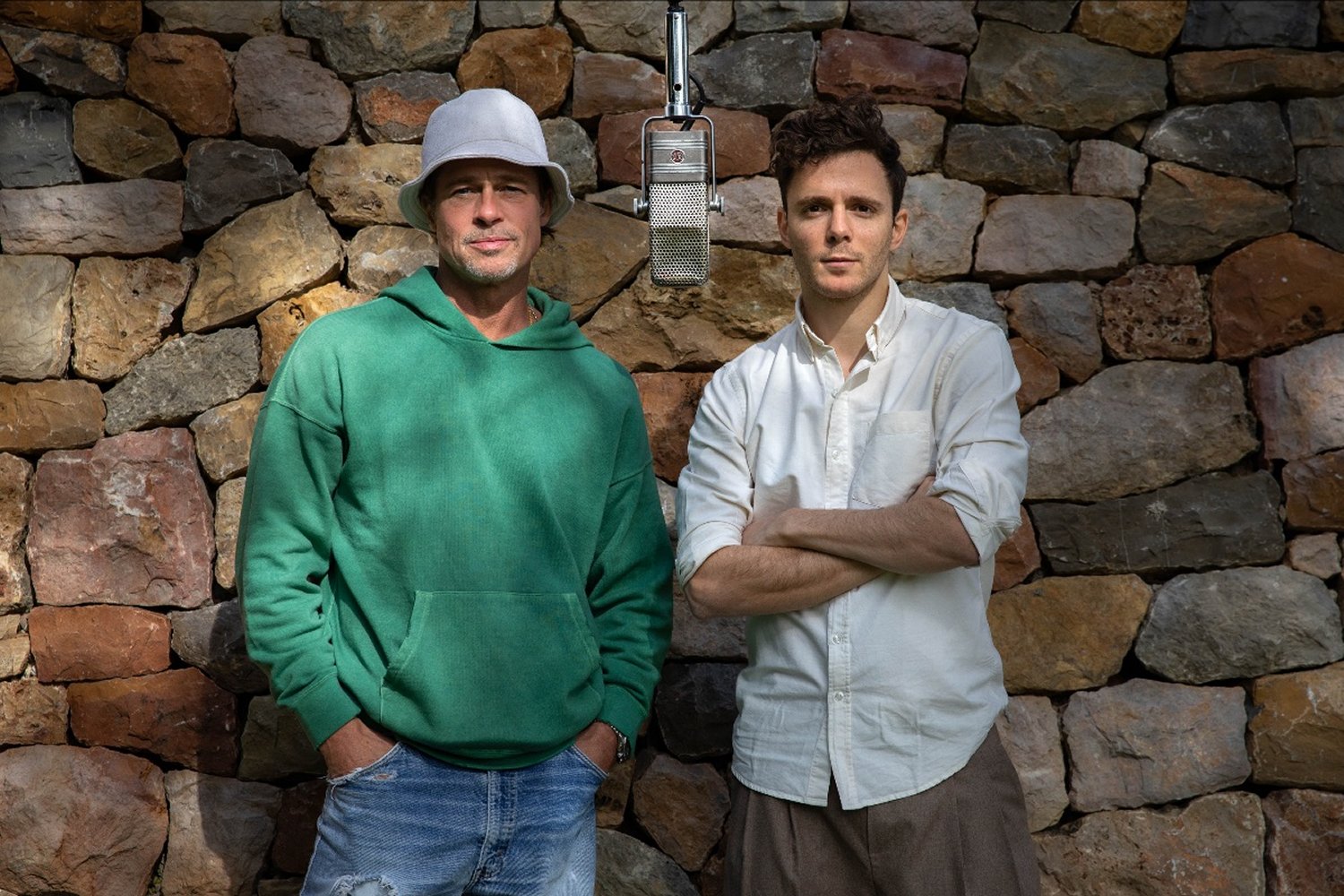 Brad Pitt & Damien Quintard – Photo Credit: Hélène Hadjiyianni
In 1977, the estate's then-owner, French pianist and composer Jacques Loussier, built a state-of-the-art recording studio on the property, previously called Studio Miraval, which went on to host sessions for Pink Floyd's "The Wall," AC/DC, The Cure, Sting, Sade and The Cranberries, among others. The studio was active into the early 2000s but has sat unused for nearly two decades, until now. Pitt and Quintard will reopen the completely redesigned and updated Miraval Studios for the future, honoring the past while pushing forward a new take on recording, amid a breathtaking vista sure to nurture all manner of creative expression.
Few partners are better suited to making this dream a reality than Quintard, a musical prodigy and rising star in the recording industry. Having first come to fame in the world of classical music, Quintard has developed a signature approach that garnered an Emmy Award for his work on the Baku 2015 European Olympic Opening Ceremony. He has also produced artists such as Brian Eno, Arca, Parcels and Teodor Currentzis, among others.
Having been impressed by his work, Pitt asked Quintard to meet. "When we met in Paris, we immediately clicked. It was an intense moment where we just talked and talked about sound. I was amazed at how sensitive and precise he was in his analysis of music," says Quintard. The decision to work together was an easy one, but the duo soon had a more challenging one to make: whether to move ahead with Miraval in its current state or, essentially, start from scratch. Luckily, even after nearly 20 years of disuse, the equipment was still in good working order, but Quintard saw aesthetic possibilities beyond the extant design of the studio.
The Miraval Estate is already a breathtaking property, and this redesign will simply highlight and enhance its beauty, with natural light as the heart of the re-design. Miraval Studios will be offering unrivaled amenities, in and out of the studio. In addition to the original gear on which so many classic albums were recorded, the studio is built around a desk designed by Pitt and Quintard with hybrid analog/digital capacities, while boasting a fully integrated Dolby Atmos system as well as technology to handle pre-mixing for film and television. With its 25-foot ceilings, Studio One has a 100 square meter control room and 320 square meter live room that conserves what Quintard describes as the "heritage of the quirky sound" of the iconic drum room pioneered by Loussier.
The facility has also "redefined a remarkable natural reverb so we can record voices or instruments anywhere in the studio. It really is a space where you can produce anything from pop and rock, to hip-hop and classical records," Quintard says. Elsewhere, there are recording booths, a room housing drool-worthy vintage synthesizers and other rare gear, work stations for sound and video editing, a mezzanine overlooking the entire studio, a swimming pool and a tower connected to the studio to house visiting bands and musicians on the property, be it for a day or a month. Naturally, the catering from the Château will be fantastic.
"The combination of Brad's vision for Miraval and our common passion for taking the time to make simple but beautiful things has resulted in something that is one-of-a-kind," says Quintard. "We are so excited for musicians of all types to be a part of what we've created."
About Miraval:
In 2021, Pitt signed a joint venture partnership deal with Quintard for Miraval Studios.
Also in 2021, Tenute del Mondo became a shareholder of Château Miraval.
Miraval Studios is beginning to book for Summer 2022, details here: www.miraval.com/studios
About Dave's Travel Corner

Dave's Travel Corner is a travel content, resource provider and community (founded 1996) providing travel
Guides
written about Dave's personal travel experiences and
Journals
, pages that contain trip summaries and experiences written by fellow travelers. We spotlight locations and attractions with an article linked directly from our homepage including content across our blog, photo and video galleries. We use a combination of social media, written content, photography and videos to promote locations. Not only does the content appear on this site but we have direct partnerships with other well visited travel sites for placement of the content. Since 1996, we have also established hundreds of relevant link exchanges with other travel sites.
Visitors to Dave's Travel Corner will also find thousands of travel related links organized by categories on the
Resources Page
, a
Photo Gallery
containing International travel photos,
Book Reviews
, and
Product Reviews
focusing on products useful for travelers, fully automated
Forums
,
Tour Bookings
offering over 4400 unique tours around the globe,
Interviews
with those making news in the travel industry and
Videos
- specializing in International travel videos as well as home of the
Dave & Jim Show
.
Dave's own travel blog is
Above the Clouds
which focuses on International Travel & Lifestyle.
For information on advertising please choose from a variety of
advertising options here
.
Contributors are welcome

Learn how you can contribute
About

www.davestravelcorner.com/about