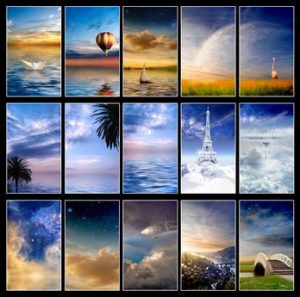 The most obvious reason why you're travelling is that you probably want to move away from the city, from the stress, and from your work. Sometimes it's the adventure that takes us places, but how often do we forget the duties and work we've left behind?
Well, there's nothing better than the relaxing waves of the sea, the splendid breeze of the ocean, and a glass of an ice-cold cocktail while basking under the sun. Amidst the R&R we're doing, as entrepreneurs and business men would always say – business is business, and when you've got the opportunity to do it (where ever you are) you should grab it. I mean, what are the chances that you'll meet someone interested in your business, and you'll never know when someone's interested in the service or product you offer, while you're on the road or on vacation.
UPrinting business cards allow you to design unique cards and have them in some impressive shapes. So always keep a few handy, and if you're still not convinced enough, here are other reasons why you should bring some business cards in your trip:
There are other entrepreneurs on vacation, too – When you're on vacation, chances are the people around you are professionals and entrepreneurs, too. It's also possible that the person you're talking to in a bar might need the service or product you're providing. Just make sure you engage in a nice casual conversation and flash out that mighty business card of yours before you part ways.
Strangers are potential customers – If you've watched the film Fight Club (1999), you've probably seen Tyler Durden (Brad Pitt) talk about making soap for a living and creating napalm with household materials. In that classic sequence you'll see one of the few instances where you'll have the chance to flash your business card to a stranger – during small talk. My only tip for travelling entrepreneurs, freelancers, or professionals is to be social. Talk to people around you while you're on the road, the question "What do you do for a living?" will always pop-up in small conversations.
You decide who needs your product or service – When you're on vacation or anywhere in the world trying to do some R&R, or adventuring – you decide who actually needs your service or produce. I know kind of sounds impossible. But when you're graphic designer and you see a lame logo on a bus or hotel while travelling, chances are you'll have that mental note to criticize the logo. Why don't you walk up to anyone representing the company and offer your graphic design services to them, and leave a business card for them to contact you? Or if you're an entrepreneur that owns a printing company and you saw substandard or low quality menu lists on a restaurant, you can instantly offer to reprint the menus in better quality and offer a discount for them.
Possibilities are endless so you better bring a few business cards along in your trip. Better be armed all the time.