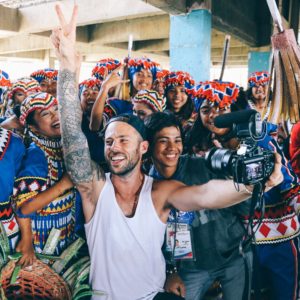 Q. Introduce yourself to our readers.
I'm Mike Corey, an Adventure Travel YouTuber and BBC Television Host, who helps people overcome their fears so they can travel the world.
I have an online travel and lifestyle brand called Fearless & Far, not because I am fearless, but because I've built a life around doing the things that scare me most. Sound fun? Haha
I'm a recovering scaredy-cat, and spent most of my life with a phobia of public speaking, now it's my full-time career. A life of adventure and travel was waiting for me on the other side of my greatest fear, and I'm here to help show people the way.
Q. It seems like an appropriate year to discuss how to distinguish between the fear we should listen to and fear we should chase. Curious to hear your thoughts about this.
That's a great question. Obviously there are things in life that are dangerous, things that are scary, and things that are both.
What complicated things a bit, is many things can appear dangerous until we learn more about them, like bungee jumping.
Knowledge is the antidote to fear in most cases.
Let's say you bungee jump once in your life. There's a 1 in 500,000 chance of death.
Let's say you continue to drive an average amount. There's a 1 in 103 chance of death.
But which do we fear more?
I guess the point I'm trying to make here is that fear is a liar. We can't trust it. It's trigger happy and misinformed. We need to use the manual override.
Q. Tell us about your first international trip and what hooked you on travel?
I was tricked into my first big international trip.
I had made a promise with a friend to "Screw it all, and go far far away" after we both had a bumpy patch after University.
I paid for my trip, (a research volunteer position), and he bailed last minute. I realized I had booked myself into a one way solo backpacking trip to Indonesia by myself. I was horrified.
I remember waving goodbye to my family from the departures area, thinking I might not see them again.
I arrived at an island, off an island a few days later. It was called Hoga.
There was no power, no running water, and no mirrors. I had 3 months here.
It was the greatest thing that ever happened to me. I realized that fear is a liar. There was nothing to be scared of.
Q. What was your greatest fear and how did you overcome it?
People never believe me when I say I was black out terrified of public speaking for most of my life.
In grade 4 I was brought up in front of the class and humiliated twice because of events outside my control. I was a quiet kid. Those dents stayed.
This stuck with me until I was in my early 20s. The travel experience I mentioned above cracked the egg though, it was a slow process, but it was a gift. Because I was so uncomfortable with it, I worked harder than everyone else, I forced myself into public speaking classes, improv comedy, talk on camera. All of it was so uncomfortable, all of it so embarrassing. I was so "bad" at it… but now I think back and realize I was only bad because I had never once in my life practiced.
I still remember my hands shaking so much I couldn't read my papers in public speaking class, sweating through my shirt every improv comedy class.
Now people call me a "natural." I think it's all so ironic.
Q. Discuss the two most powerful human emotions, fear and love.
The Dark and the Light. These are opposites.
You cannot feel both at once. Love is the antidote to all negative feelings in your life. You cannot be grateful, and jealous (which is fear), grateful and angry (also fear), or grateful and depressed (fear again).
Gratitude is the action of love. It is the shining light. The darkness of fear disappears when we blow open the shutters.
Q. Tell us about some of your more crazy adventures.
Because my travel style is… strange. I have a lot of stories.
Camping alone on the Great Wall of China, Roasting Marshmallows over the Door to Hell in Turkmenistan… perhaps one of the most famous (or infamous) misadventures I've had was seeking out a strange frog poison ritual in the depths of the Amazonian Rainforest, which left myself, my friend, and a bunch of local tribal kids sick, half naked, and eaten alive by mosquitoes… The promise was "heightened senses" and "improved immunity".
I'm not sure if it worked, but it was an experience I'll remember forever.
Q. What advice can you give those looking to make a career/lifestyle of what they want to do instead of being torn by what they feel they have to do to earn money?
The most terrifying and most liberating truth is that we create our own destiny. We control the outcome of every event, and we can interpret our own actions as successes or failures.
While our circumstances might not be our fault, they are our responsibility to correct. There are many examples of people rising up to the heavens despite horrific circumstances. Where people seem to get stuck, is on the obstacles. I think if you're seeing obstacles, there is a deep fear inside of you, holding you back. You have to address this first.
Pardon the aggressive and direct nature of this next question, but it's always produced results in my life…
"If someone had a gun to my head, and it was life or death, how would I make this request happen?"
We become surprisingly resourceful when thinking this way.
Q. What does it take to be successful in your type of work?
Having a bigger purpose than just posting photos and videos of the top 10 beaches. You need a message, and a goal.
If you set out to help people, to really give, the work and money seem to come.
Also, we also get stuck on just starting. We fixate on getting a new camera, a new website, etc. It's not the details that matter, it's the writing, the videos, the photos that matter, without that, there is nothing else. Start Today.
Q. Since you are based in Mexico City – what are some of your favorite places to visit in the city.
I'm on the road 11/12 months a year these days. This has continued again since July 2020.
Mexico City will always have my heart though. I arrived there expecting to hate it, and then fell in love. There is a magic there that exists in only a few places in this world. Drink Fermented Cactus Sap at Pulqueria de Diana, eat escamoles (Mexican Caviar) at Tlacoyotitlan, and Stay away from the Mercado De Sonora, The Witchcraft market. I got cursed there.
—
Biography

Mike Corey is a marine biology graduate, turned filmmaker, with an intense passion for travel.
From an early age, Mike has always been fascinated with the lesser known parts of our world. His lifetime of curiosity has sent him searching out the creatures and locations that most avoid, while spending a decade competing in both fencing and breakdancing on the side. He has since settled into a fast-moving career as a travel YouTuber, adventure filmmaker, and TV presenter.
After receiving his Bachelor of Science in Canada, Mike backpacked the world to volunteer as a research assistant for scientists studying ocean conservation. Bringing a camera along for these trips allowed him to capture the material he needed to win several international travel video competitions which kicked off a career in travel filmmaking.
For more information about Mike and his adventures, visit his site, Fearless and Far or: Instagram | Facebook