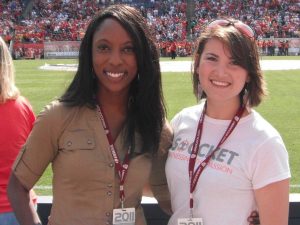 sOccket is a unique soccer ball which generates and stores energy every time it is kicked. This invention has significant practical applications in energy starved regions around the world.
Recently we had a chance to ask co-founders Jessica and Julia a few questions about their ingenious invention.

Q. Jessica/Julia – tell us a little about your background and how you became involved with sOccket.
The concept for sOccket came out of an Engineering Class at Harvard University in the fall of 2008, where Uncharted Play co-founders Julia Silverman and Jessica Matthews were part of a group tasked with creating a "massively multiplayer game." After a few false starts, they stumbled upon an idea to address the energy needs of the developing world using the most popular game of all: SOCCER. And so sOccket, the soccer ball generator, was born.
While the ball's inventors are not engineers by training, their first-hand knowledge of daily life in resource poor communities (and the universal love of soccer) helped inspire the sOccket generator concept. Although skeptics initially believed the ball would not capture a useful amount of power, the sOccket team knew that the ability to harness even a little bit of energy could make a huge difference in the lives of billions around the globe.

Q. How does sOccket work, how long before it stores enough energy to charge, and what sort of items can it be used as a source of power for?
15 minutes of play generates enough electricity to power an LED lamp for 3 hours! Up to 24 hours of energy can be stored in the ball at a time. The energy transferred to the sOccket from every kick is captured by our patented technology and stored for later use in the ball's internal battery. Our specially-designed sOccket accessories now include an LED lamp, a water purifier, and a cell phone charger. We are also working on the design for a mini-fridge, which will be useful for households that need to keep medication chilled. With the ball's current design, the accessories connect directly to the device using a headphone jack.

Q. It seems like your idea could have implications with other items that involve kinetic energy. Just brainstorming here, but would something like this work with shoes, something place in or on shoes that collects energy every time a step is taken – or maybe a sport like cricket?
Absolutely! The sOccket movement is meant to inspire people to find fun, new ways to improve the world around them, because while the sOccket isn't the solution to the world's energy problems it could be the spark that gets us there. As you suggested, there are lots of opportunities for our patented technology to turn everyday items into dual-functioning, energy-harvesting toys-and this is something we are actively exploring.

Q. What regions of the world are you targeting for distribution?
We're concentrating our efforts where the need is greatest: resource-poor communities around the world where there is no access to electricity, but everyone is passionate about soccer.
During the design process, extensive pilot tests of the prototypes were conducted in sub-Saharan Africa-from the townships of South Africa to the rural villages of Nigeria. For the newest mass-produced model of the sOccket ball, over 3,000 units are currently confirmed for distribution in late 2011/early 2012 in communities in need across Mexico, El Salvador, Costa Rica, Haiti, and South Africa.

Q. How have kids responded to the sOccket? Any stories from their play with the ball?
The response has been universally positive, and variations on the same scene unfold each time we first present the sOccket to kids (and every time is just as awesome as the next!). First, pure joy – and that is before they even know there is anything different about the ball. Just to have a real, spherical, honest-to-God ball is a blessing in itself. When we actually say that the ball is special, that it can harness energy and power a lamp or a phone, there is always a collective yell of excitement. Then, when we plug in a lamp to demonstrate, the kids' eyes just pop out of their heads, and you can see the wheels beginning to turn. There's a moment of silent amazement, and then, right away, kids start brainstorming their own ideas. "We should make one that has a soda fountain in it!" or "We can make it different colors so it looks like a rainbow when you kick it!" (true story) Just seeing a cool idea like the sOccket immediately inspires kids to unleash their own imaginations. It's really awesome to be a part of that process.

Q. Will there be a commercial version available?
sOcckets were available for purchase through our online store. At this time, we are finalizing the sale price of the balls.

Q. How and what type of outreach are you doing in order to get these into the hands of communities that have a need for this?
Our outreach model is pretty simple:
– Sponsors purchase a large number of balls for donation
– People donate balls
– Individuals purchase buy one give one sOcckets where each purchase also pays to donate a sOccket to a child in need.
Our team partners with nonprofits, NGOs and other organizations on the ground in target communities.
We ship over the sOcckets.
Working with our partners, we provide the balls, as well as education about the balls, to children in need
The two best ways to help us get sOcckets to resource-poor areas are to donate balls through our online store and to tell your friends to spread the word!

Q. Do you have opportunities for individuals and or companies to get involved with this project? Is there a way non profits can get involved?
Two ways for partners to get involved are to purchase a large number of balls for donation or to help us ship and distribute balls to communities in need. Non-profit partners have been key allies, particularly on the distribution side. Anyone interested in partnerships should fee free to contact us at contactus@unchartedplay.com to discuss opportunities for collaboration.
For more information view the following video: