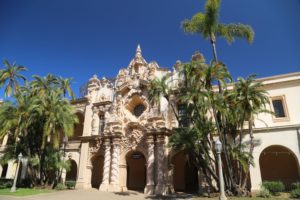 With 17 diverse museums, 16 beautiful gardens, the world-famous San Diego Zoo, Tony Award®-winning Old Globe theater and more, San Diego's Balboa Park provides visitors dozens of different experiences unlike other city parks. Often referred to as the "Smithsonian of the West" due to its large number of museums, this National Historic Landmark near downtown San Diego spans 1,200 acres, beating out both New York City's Central Park and San Francisco's Golden Gate Park in size.
Next year, visitors can discover exciting new additions like the new Comic-Con Museum and rediscover old favorites like the historic 1910 Balboa Park Carousel. The following are six must-sees that visitors will not want to miss in 2021:
The much-anticipated Comic-Con Museum is slated to open in late summer 2021. The new museum will be a place where audiences can connect with the magic of Comic-Con year-round. Museum-goers can expect 25,000 square-feet dedicated to rotating exhibits, a 6,000-square-foot education center, and 4K video theater and presentation space. The museum also plans to offer learning-focused labs, classes and seminars, and a gift shop filled with comics, graphic novels, branded souvenirs and more. The new Comic-Con Museum will be set in the former Hall of Champions near the new Palisades plaza.
The popular Mingei International Museum is slated to reopen in summer 2021 after completing a $52 million reconstruction, transforming the museum along Plaza de Panama and creating a newly designed community gathering space with a new plaza level and garden courtyard open to the public. The project also features a new education center, library and quiet, spacious upper level galleries devoted to exhibitions. Restored historic spaces include the museum's upper terraces, which will be opened to the public for the first time in decades, offering views of the Plaza de Panama, El Prado and Balboa Park's iconic California Tower. The museum's historic Bell Tower will also be opened and accessed by a new grand staircase, and a planned multipurpose theater space will host performances, lectures, concerts and special events. Other enhancements include a newly designed Shop Mingei store and full-service cafe with coffee bar.
The historic Balboa Park Carousel has delighted children of all ages since arriving to Balboa Park around 1922. Made in New York, the 1910 Herschell-Spillman menagerie carousel is currently receiving a full makeover to return the popular family ride to its original glory. The carousel is a menagerie of animals, and all but two pairs are hand-carved with original European craftsmanship. Also original are the hand-painted murals surrounding the upper portion of the carousel and the military band music. The Balboa Park Carousel is one of a few in the world still offering the brass ring game for everyone taking the 5-minute ride.
The House of Pacific Relations International Cottages is adding five new structures to house nine more cultural groups including Chamorro, India, Korea, Mexico, Palestine, Panama, Peru, Philippines, and Turkey. Housed in historic cottages built for the 1935 California Pacific International Exposition, the House of Pacific Relations represents 32 countries around the globe from Austria and China to Spain and the Ukraine. Throughout the year, Open Houses are scheduled for 12 noon – 5:00 p.m. every Saturday and Sunday, showcasing the national traditions from the many international cultures. Lawn programs are scheduled for 2:00 p.m. on Sundays during March through October and feature music, dance, traditional costumes, arts, crafts and food. The five new structures are slated to be completed in early 2021.
A new observation platform is being installed around the historic Moreton Bay fig tree, located between the Spanish Village Art Center and San Diego Natural History Museum. The iconic tree is the largest of the Ficus macrophylla represented in the park and one of the three largest Moreton Bay Fig trees found in California. A native of east Australia, the tree was planted as a small tree in a garden of the 1915 Panama-California Exposition and has grown into a magnificent giant over the past 105 years. Heavy foot traffic over the roots caused the tree to decline over the years. In 1989, the tree was trimmed and fenced off to the public, but it has since recovered and once again shows thick, glossy foliage. A new wrought iron fence now circles the tree, and an elevated observation platform scheduled to be completed in late 2020 will allow guests to enjoy the extensive shade and respite under the canopy of this magnificent flora.
The Palisades area is being transformed into a new pedestrian-friendly plaza and green space, sandwiched between the new Comic-Con Museum, San Diego Automotive Museum, San Diego Air & Space Museum and Municipal Gym at the southwestern end of Balboa Park. Formerly a parking area, the Palisades is restored to its original vision of a walkable, family friendly space where guests can find a spot to sit and enjoy a beautiful day in San Diego's crown jewel. The plaza features seating and tables, four L-shaped grassy lawns and a central space for a proposed future water feature that will reflect the Palisade's original look when it was first developed for the 1935 California Pacific International Exposition.
Happiness is calling you back to San Diego. For more information on San Diego's offerings, including exciting vacation packages and valuable coupons for attractions, restaurants and more, visit the San Diego Tourism Authority's website at www.sandiego.org.
About Dave's Travel Corner

Dave's Travel Corner is a travel content, resource provider and community (founded 1996) providing travel
Guides
written about Dave's personal travel experiences and
Journals
, pages that contain trip summaries and experiences written by fellow travelers. We spotlight locations and attractions with an article linked directly from our homepage including content across our blog, photo and video galleries. We use a combination of social media, written content, photography and videos to promote locations. Not only does the content appear on this site but we have direct partnerships with other well visited travel sites for placement of the content. Since 1996, we have also established hundreds of relevant link exchanges with other travel sites.
Visitors to Dave's Travel Corner will also find thousands of travel related links organized by categories on the
Resources Page
, a
Photo Gallery
containing International travel photos,
Book Reviews
, and
Product Reviews
focusing on products useful for travelers, fully automated
Forums
,
Tour Bookings
offering over 4400 unique tours around the globe,
Interviews
with those making news in the travel industry and
Videos
- specializing in International travel videos as well as home of the
Dave & Jim Show
.
Dave's own travel blog is
Above the Clouds
which focuses on International Travel & Lifestyle.
For information on advertising please choose from a variety of
advertising options here
.
Contributors are welcome

Learn how you can contribute
About

www.davestravelcorner.com/about