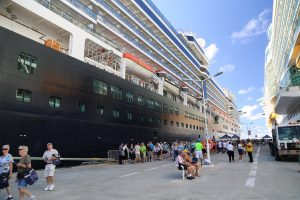 The Society of American Travel Writers (SATW) Foundation is excited to announce that Carnival Corporation is making a major charitable contribution to support the annual Lowell Thomas Travel Journalism Competition.
Carnival Corporation, a Gold supporter of the SATW Foundation since 2015, will extend its annual $40,000 contribution through 2020, helping the non-profit SATW Foundation in its quest toward making the Lowell Thomas contest a self-sustaining enterprise.
"Carnival Corporation's contributions are evidence of its support for the health and future of quality travel journalism," said David G. Molyneaux, president of the SATW Foundation.
The SATW Foundation recognizes, rewards and encourages the best of travel journalism through its annual competition, celebrating its 34th year in 2018. The 24 categories for entries include foreign and domestic travel coverage, blogs, special projects, photo illustration of travel, investigative work, commentary, books, audio and video broadcasts, websites, magazines and newspapers. Top prizes are individual Gold, Silver and Bronze awards for Travel Journalists of the Year as judged from a portfolio of their work.
"We are proud to support the SATW Foundation and its mission to recognize and honor high standards of excellence among journalists with their coverage of the travel and vacation industry through the Lowell Thomas Travel Journalism Competition," said Roger Frizzell, chief communications officer for Carnival Corporation, the world's largest leisure travel company with 10 of the world's most well-known brands, including Carnival Cruise Line, Cunard, Holland America Line, Princess Cruises and Seabourn in the U.S.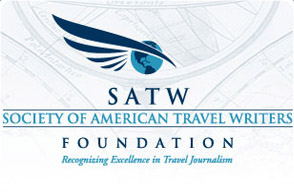 "Travel helps bring people together from around the world, and the media play an essential role in helping to inspire travel to experience new and interesting people, cultures and places," said Frizzell. "It is an honor to support extraordinary travel journalism, and we applaud the SATW Foundation for continuing to recognize exceptional storytelling."
The SATW Foundation distributes to winning journalists nearly $20,000 each year. In addition, the Foundation pays faculty at top U.S. schools of journalism for their work independently judging Lowell Thomas entries.
The annual Lowell Thomas competition draws entries from top freelance travel journalists and media, including recent award winners: the New York Times, Los Angeles Times, National Geographic Traveler, Departures, Coastal Living, Travel + Leisure, BBC Travel, CBS Sunday Morning, and National Public Radio. The competition is open to all North American journalists.
"The number and quality of Lowell Thomas contest entries continue at a high rate, an indication that travel journalism is strong and has a bright future," said Molyneaux.
"While some print media have ceased or diminished publication of travel news and reviews, other media are rushing in to take their places. Emerging writers, editors, broadcasters, and photographers also are doing some outstanding work through their blogs and new platforms of social messaging. The SATW Foundation encourages excellence in travel journalism in all media."
About the Society of American Travel Writers Foundation: Operates and oversees the annual Lowell Thomas Travel Journalism Competition. The nonprofit 501 (c) (3) Foundation funds the competition through entry fees and donations, which are tax-deductible. The Foundation (SATWF.com) is directed by a board of writers, editors and public relations leaders who are also members of the Society of American Travel Writers (SATW.org).
About the Lowell Thomas Travel Journalism Competition:
The premier contest in North America in the field of travel journalism. Awards nearly $20,000 annually in prize money, does not promote any specific destination or travel product, is open to all North American journalists, and is judged independently by the faculty at top U.S. schools of journalism. Winners and videos are at www.satwf.com.
About Carnival Corporation & plc:
Carnival Corporation & plc is the world's largest leisure travel company and among the most profitable and financially strong in the cruise and vacation industries, with a portfolio of 10 dynamic brands that include nine of the world's leading cruise lines. With operations in North America, Europe, Australia and Asia, its portfolio features Carnival Cruise Line, Holland America Line, Princess Cruises, Seabourn, AIDA Cruises, Costa Cruises, Cunard, P&O Cruises (Australia) and P&O Cruises (UK), as well as Fathom, the corporation's immersion and enrichment experience brand.
Together, these brands operate 103 ships with 231,000 lower berths visiting over 700 ports around the world, with 18 new ships scheduled to be delivered between 2018 and 2022. Carnival Corporation & plc also operates Holland America Princess Alaska Tours, the leading tour company in Alaska and the Canadian Yukon. Traded on both the New York and London Stock Exchanges, Carnival Corporation & plc is the only dual listed company in the world to be included in both the S&P 500 and the FTSE 100 indices.
In 2017, Fast Company recognized Carnival Corporation as being among the "Top 10 Most Innovative Companies" in both the design and travel categories. Fast Company specifically recognized Carnival Corporation for its work in developing Ocean Medallion™, a high-tech wearable device that enables the world's first interactive guest experience platform capable of transforming vacation travel into a highly personalized and elevated level of customized service.
About Dave's Travel Corner

Dave's Travel Corner is a travel content, resource provider and community (founded 1996) providing travel
Guides
written about Dave's personal travel experiences and
Journals
, pages that contain trip summaries and experiences written by fellow travelers. We spotlight locations and attractions with an article linked directly from our homepage including content across our blog, photo and video galleries. We use a combination of social media, written content, photography and videos to promote locations. Not only does the content appear on this site but we have direct partnerships with other well visited travel sites for placement of the content. Since 1996, we have also established hundreds of relevant link exchanges with other travel sites.
Visitors to Dave's Travel Corner will also find thousands of travel related links organized by categories on the
Resources Page
, a
Photo Gallery
containing International travel photos,
Book Reviews
, and
Product Reviews
focusing on products useful for travelers, fully automated
Forums
,
Tour Bookings
offering over 4400 unique tours around the globe,
Interviews
with those making news in the travel industry and
Videos
- specializing in International travel videos as well as home of the
Dave & Jim Show
.
Dave's own travel blog is
Above the Clouds
which focuses on International Travel & Lifestyle.
For information on advertising please choose from a variety of
advertising options here
.
Contributors are welcome

Learn how you can contribute
About

www.davestravelcorner.com/about