In Helsinki, St. Petersburg, Riga, Warsaw and Hamburg alike, Residents Enjoy Their Summers to the Fullest, Inviting Visitors to Join Celebrations and Laid-back Summer Activities.
Los Angeles, April 29, 2014 – Connected by the Baltic Sea, shared history and cultural traditions, St. Petersburg, Helsinki, Riga, Warsaw and Hamburg have, above all, one thing in common: Locals worship their summer with warm winds and short nights when the sun barely sets. Sun-starved residents of these Northern/North-Eastern European cities spend every possible minute outside, enjoying picnics, festivals, and outdoor activities. There is no better way to experience life in the Baltic Sea Region than to join the locals in enjoying their summers.
Below we offer suggestions on how to make the most of your summertime visit to St. Petersburg, Helsinki, Riga, Warsaw and Hamburg.
Warsaw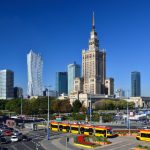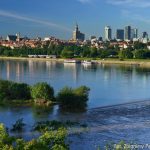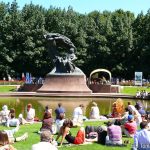 Music is a big part of Warsaw's summer. Jazz fans come to the historic Old Town Square on Saturday evenings for the International Jazz at the Old Town Square Festival. One of Europe's oldest jazz festivals, the event features big names of the international jazz scene. (Jul 4 – Aug 30, 2014).
On Sundays, locals relax at Łazienki Park and listen to free piano performances of pieces by Warsaw's native son, Frederic Chopin at the Chopin Concerts in Łazienki Królewskie (May 18 – Sep 28, 2014 noon/4pm). Even more Chopin and other European composers are featured at the 10th International Music Festival 'Chopin and his Europe (Aug 15-31, 2014).
In the summer, the Vistula river is the place to be when young and old join the fun at the beach bars along the river. The lively, La Palya Music Bar and Temat Rzeka feature sunbathing, dancing and city light views.
A midsummer highlight, is the June 21, 2014, Wreath Celebration when pagan rituals come alive in celebrations of the elements of fire and water. Concerts, shows and cooking demonstrations lead up to the main event of Warsaw's "virgins" placing wreaths lit with candles in the river, and with fireworks blazing above.
Hamburg
The people of Hamburg like to be active. Summer days start with a morning run or bike ride around the inner-city Alster lake or along the Elbe beaches in Altona district, with the first container ships passing towards the ocean.
Also popular are boat rides on the Alster or laid-back canoe tours of Hamburg's canals which evoke a feeling of being away from the big city. Customarily, the boat ride is topped off with a cold beer and hearty meal at water front restaurants such as Bootshaus Dornheim, which also rents canoes.
A perfect place for picnics is Hamburg's "Central Park", Planten and Bloomen features a Japanese Garden and Tea House, rose gardens, performances, and nightly light and water shows at the park's lake. (10 pm in the summer).
In the evenings, locals will meet friends for stylish sun-downer cocktails in the many water-view restaurants along the Alster, notably at Alsterperle, AlsterCliff or the harbor Blockbräu beer restaurant.
Popular summer events include Hamburg Cruise Days and Blue Port, which draws thousands to the waterfront or onto the water for a celebration of cruise liners. Cruise ship parades, harbor illuminations, music and culinary stages make for a uniquely Hamburg experience (Aug 1-3, 2014).
Riga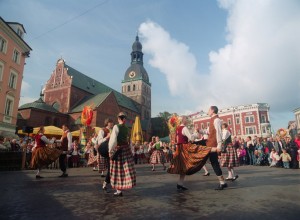 Jāņi, the summer solstice celebration, is Riga's most popular holiday, when ancient customs come alive in the salutation of nature and fertility, traditional foods and dance, symbolic rituals and all-night festivities.
Jāņi kicks-off on June 14/15, 2014 at the Ethnographic open-air Museum of Latvia, where visitors learn about traditions and how to properly celebrate the summer solstice.
Riga's historic Herb Market at Dome Square at old town is a must-visit on June 20th, when, in preparation of Jāņi, residents stock up on fresh flowers, garlands, smoked meats and fish, and the best Latvian cheeses.
The popular Rise, Fair Sun Concert on June 21/22 at the open air stage in Mežaparks is a contemporary interpretation of the traditional Jāņi celebration.
Ethnographic festivities start in the evening of June 23 at Turaida Museum Reserve and Castle north of Riga, with folk dances and a music festival.
All culminates on Jāņi, June 23, the year's shortest night, when locals will enjoy homemade beer and Jāņi cheese – symbolizing the midsummer sun – and stay awake all night. Festivities continue until the morning hours of June 24 with bonfires, beer and cheese, flower wreaths and songs in Riga's city center along the banks of the Daugava river.
The Riga City Festival from August 15-17, 2014 is the city's main summer event with music, dance, sports, an air show and a regatta.
Helsinki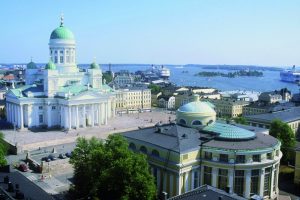 Helsinki is not just about design, culinary experiences and urban culture. The city also celebrates nature and outdoor life. In the summer, residents are out enjoying their parks and waterfront. With 75 miles of coastline, 315 islands and 30% of the city consisting of green spaces, Helsinki's citizens are never far from nature.
To learn about the green surroundings of the Finnish capital, visitors should stop by the Nature Center Haltia at Nuuksio National Park. Open since 2013, and overlooking the Pitkäjärvi-lake, the Mahlamäki-designed center is entirely built of wood. Exhibits highlight local nature, sustainability, and mythology.
In summer, streets and parks are buzzing with locals, and with the sun hardly setting, Helsinki's outdoor nightlife continues into the next morning. Esplanade Park is the place to relax or enjoy popular events, such as the raising of the midsummer pole, folk dancing, and the Jazz-Espa concerts.
Helsinki's best place for Midsummer Eve (June 20, 2014) is Seurasaari Island, where traditions are alive with handicrafts, musicians, and folk dancing. The night culminates in dancing and bonfires.
Helsinki's Flow Festival features a weekend of music, art, and dining. Located in the historic Suvilahti power plant, it can easily be reached from the city center (8–10 August, 2014.
St. Petersburg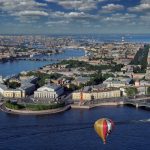 "Only" 300 years old, St Petersburg looks back at a turbulent history but today stands for palaces, grand culture, czarist history – and the magical "White Nights", the endless days between early June and late July, when the sun barely sets. Residents sleep little and instead enjoy the cultural events and outdoor celebrations in parks or along the banks of the Neva river, where there's music, street performers, food and all-night partying.
A cultural highlight is the prestigious Marjiinsky Theater's Stars of the White Nights 2014 International Ballet and Opera Festival, (28 May – 31 July 2014), which features a diverse program with world-renowned dancers and musicians.
For romantics, there is a lot to discover in St Petersburg, where the vast gardens of the imperial palaces offer inspiration, hidden corners, and elaborate landscaping. Most poplar is the Peterhof Palace and Garden, where visitors spend the longs days exploring the famous fountains, vistas, and ornate designs.
The Summer Garden at the Russian Museum is the oldest park in St. Petersburg and a local favorite. Known for its marble statues, the garden and palace evokes the time of Peter the Great. The palace is one of the very few that survived WWII undamaged.
For a different experience, St Petersburg's boat companies offer late-night cruises of the "Venice of the North's" 48 canals and 42 islands, passing grandiose sights along the way.
About Dave's Travel Corner

Dave's Travel Corner is a travel content, resource provider and community (founded 1996) providing travel
Guides
written about Dave's personal travel experiences and
Journals
, pages that contain trip summaries and experiences written by fellow travelers. We spotlight locations and attractions with an article linked directly from our homepage including content across our blog, photo and video galleries. We use a combination of social media, written content, photography and videos to promote locations. Not only does the content appear on this site but we have direct partnerships with other well visited travel sites for placement of the content. Since 1996, we have also established hundreds of relevant link exchanges with other travel sites.
Visitors to Dave's Travel Corner will also find thousands of travel related links organized by categories on the
Resources Page
, a
Photo Gallery
containing International travel photos,
Book Reviews
, and
Product Reviews
focusing on products useful for travelers, fully automated
Forums
,
Tour Bookings
offering over 4400 unique tours around the globe,
Interviews
with those making news in the travel industry and
Videos
- specializing in International travel videos as well as home of the
Dave & Jim Show
.
Dave's own travel blog is
Above the Clouds
which focuses on International Travel & Lifestyle.
For information on advertising please choose from a variety of
advertising options here
.
Contributors are welcome

Learn how you can contribute
About

www.davestravelcorner.com/about