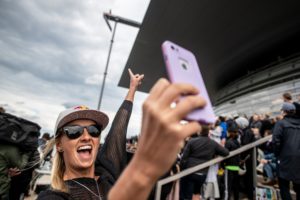 Women's high diving will celebrate its premiere in Denmark on July 16 as the 2022 Red Bull Cliff Diving World Series returns to the capital city for the next nail-biting clash of cliff diving crop.
Only after a few days after the road cycling elite has started the most prestigious race in their sport, the Tour de France, in the Danish capital, the cliff diving elite travels from Paris to Copenhagen for the third stop of the Red Bull Cliff Diving World Series. With two different winners in both categories in two stops nothing less than a thrilling tussle for the podium will be expected from up to 27m.
Copenhagen will be a first for the 12 women of the World Series when they launch from the 21m platform mounted on the cantilever roof of the Opera House. In a season that could turn into a thrilling two-way title tussle between the sport's super star Rhiannan Iffland from Australia and Canada's up-and-comer Molly Carlson new locations add extra spice to the spectacular sport.
While the Australian remains the strong favourite due to her experience and exceptional talent, the signs are that this season the 'Dominator from Down Under' might have a real fight on her hands to keep hold of the King Kahekili Trophy. With a second and a first place in her pockets from Boston (USA) and Paris (FRA), the reigning champion leads the overall World Series standings tied with her young rival Carlson after the first quarter of the season.
"When I step up on a new platform the only thing I rely on is the repetitions I've done and the hard work that I've put in. So, when you get up on the platform there's a way that you connect body and mind." 30-year-old Iffland shares insights preparing for the yet unfamiliar location.
The pace at which Britain's next diving diamond Aidan Heslop moves towards the top is rather incredible though. From the youngest competitor in a World Series event at 16 in 2018, the 2022 Commonwealth Games participant has risen to become the youngest ever competition winner in Boston earlier this year. With the world's hardest dive on his list, the 20-year-old has all the tools and the nerve to join Catalin Preda (ROU), Gary Hunt (FRA) and Constantin Popovici (ROU) in the current race for the men's overall title.
While record champion Hunt has four victories to his name on Danish soil, the 38-year-old athlete has not yet won once in the current season. A defeat by record-breaking Romanian Preda on home soil across the Eiffel Tower in Paris cries for revenge in a well-known venue. Coming from an eighth place at the FINA World Championships in the 10m mixed synchronized event, the Frenchman is eager to continue his winning streak from the home of the Royal Danish Opera.
For the fifth time since 2013 the platforms will be mounted on the roof of this architectural masterpiece on the island of Holmen in the heart of Copenhagen; it will be the first time tough that the 24 athletes have to cross 3500 square metres of newly installed solar panels before they'll be rewarded with a phenomenal view. Built in alignment with Amalienborg Palace and Frederik's Church, the so-called marble church with its characteristic copper green dome, you can see the church across the water through the royal family home standing in the main entrance to the Opera.
Inside the opera, 1,703 seats are individually angled to provide the best experience for the guests during a stage performance; in July 2022 the spectators of the Red Bull Cliff Diving World Series can choose their own individual spot on the water and underneath the roof to be impressed by the divers' performances.
Wildcards (women, men): Anna Bader (GER), Meili Carpenter (USA), Elisa Cosetti (ITA), Antonina Vyshyvanova (UKR); Blake Aldridge (GBR), David Colturi (USA), Carlos Gimeno (ESP), Michal Navratil (CZE).
Click here for more details on 2022's permanent athletes and wildcards.
Standings Red Bull Cliff Diving World Series (after 2 of 8 stops)
WOMEN
1- Rhiannan Iffland AUS – 360pts.
1- Molly Carlson CAN – 360
3- Eleanor Smart USA – 240
4- Jessica Macaulay CAN – 202
5- Xantheia Pennisi AUS – 168
MEN
1- Catalin Preda ROU – 330pts.
2- Gary Hunt FRA – 320
3- Aidan Heslop GBR – 276
4- Alessandro De Rose ITA – 202
5- Carlos Gimeno (W) ESP – 172
Red Bull Cliff Diving World Series
Since 2009 the Red Bull Cliff Diving World Series has provided a platform for aesthetic free falls and dives of ever-growing complexity, spotlighting the sport's finest athletes as well as the most promising breakthrough talents. A pure extreme sport, the World Series is hosted in exceptional locations where athletes launch from pure rocks, historical bridges or next to waterfalls always with the aim of acting environmentally responsible and increasing the awareness for the sustainability of our planet.
In 2022, 24 of the world's best cliff divers – 12 women and 12 men – will once again leap, twist and somersault from breathtaking heights of up to 27m and at speeds in excess of 85km/h, with no protection but their concentration, skill and physical control, at eight demanding stops around the world. A thrilling quest for perfection and excellence to win the glorious King Kahekili Trophy is guaranteed in the Red Bull Cliff Diving World Series' 13th season.
For more information and updates visit www.redbullcliffdiving.com.
WATCH IT LIVE
This competition will be LIVE on July 16 from 13:00 GMT on www.redbullcliffdiving.com, Red Bull TV, Facebook & YouTube. Red Bull TV can be accessed anytime, anywhere – online at Redbull.TV and via the Red Bull TV app for mobile devices, game consoles and Smart TVs.
NEW: The first day of competition will be live on Red Bull's global TikTok channel from 14:00 GMT.
SOCIAL MEDIA
We invite you to follow the World Series on Facebook, Instagram and YouTube (@Red Bull Cliff Diving).
About Dave's Travel Corner

Dave's Travel Corner is a travel content, resource provider and community (founded 1996) providing travel
Guides
written about Dave's personal travel experiences and
Journals
, pages that contain trip summaries and experiences written by fellow travelers. We spotlight locations and attractions with an article linked directly from our homepage including content across our blog, photo and video galleries. We use a combination of social media, written content, photography and videos to promote locations. Not only does the content appear on this site but we have direct partnerships with other well visited travel sites for placement of the content. Since 1996, we have also established hundreds of relevant link exchanges with other travel sites.
Visitors to Dave's Travel Corner will also find thousands of travel related links organized by categories on the
Resources Page
, a
Photo Gallery
containing International travel photos,
Book Reviews
, and
Product Reviews
focusing on products useful for travelers, fully automated
Forums
,
Tour Bookings
offering over 4400 unique tours around the globe,
Interviews
with those making news in the travel industry and
Videos
- specializing in International travel videos as well as home of the
Dave & Jim Show
.
Dave's own travel blog is
Above the Clouds
which focuses on International Travel & Lifestyle.
For information on advertising please choose from a variety of
advertising options here
.
Contributors are welcome

Learn how you can contribute
About

www.davestravelcorner.com/about