A ray of sun broke through the clouds and the morning mist, illuminating the valley in sparkly golden gold. The surrounding mountains cast a long shadow over a vast expanse of farmland cut by a river meandering through the valley.
This is the Sacred Valley of the Incas, a lush green valley lies in the heart of Urubamba Province, Peru – about 35 miles from Cusco, the gateway to Machu Picchu. Up on the edge of a mountain cliff, three transparent capsule suites cling closely to the mountain and hang 1,200 feet off the ground. From afar, they look like space pods crash landing on the mountain and are precariously wedged in between the rocks on a ledge.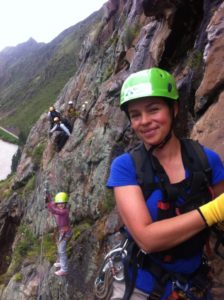 Inside a capsule, Natalia woke up to a hint of sunlight shimmering through the glass. Sitting up with her legs crossed in bed, with a steaming coffee in her hand, she was mesmerized by the sweeping panoramic view of the valley outside her capsule. She slept very little the night before from the excitement of seeing the incredible sight of the Milky Way just right above her, with occasional shooting stars streaking across the night sky.
The hotel – Skylodge Adventure Suites, is Natalia's brainchild. Spending a night suspended high up on a cliff at her own hotel in a picturesque setting is nothing short of surreal and a dream come true for her.
From Bogota to the Sacred Valley
Natalia is a native of Bogota, Colombia where she enjoyed a very successful engineering career and loving family. She has a Master's degree in Logistics and was a scholarship recipient from the Colombian government.
In 2007, she established Natura Vive, an adventure tour company offering multiple-day rafting trips for adrenaline junkies. The tour business, however, did not pan out as planned – The adventure tourism was still in its infancy in local tourism and Columbia lacked a large presence of international tourists.
It was then she landed a great job with a multinational company, but that offer came as a dilemma to her.
"My older daughter was born in Bogota. If I accepted the job offer, I would miss out on many precious moments of her growing up."
The last option was to move to the Sacred Valley with her husband. The vivid color of the valley drew her in like a magnet.
"The Sacred Valley seems like a beautiful place to raise our children." She realized that might be a ticket to a new start and decided to take a leap of faith.
They didn't want to miss a second of her daughter's life. Her older daughter was almost two when they left Colombia.
They packed everything in a van and drove 2,500 miles for 23 days exploring south of Colombia, the coast of Ecuador, and north Peruvian coast before hitting their last stop – Sacred Valley.
"It was an epic road trip! I was pregnant during the 23-day journey, and I did not realize it until we arrived at the Sacred Valley."
"We stopped by my grandparents' house in Cali. It turned out that was the last time we saw each other. I stopped to say hi, without realizing I was saying goodbye to them one last time."
"I felt the magic of the mountains in the Sacred Valley!"
Both Natalia and her husband are rock climbers. As they were taking on different mountains in the Sacred Valley, they were inspired by the "via ferrata" concept and started actively looking for business opportunities based on that concept. (Note: Via ferrata refers to a mountain route equipped with fixed ladders, cables, and bridges in order to be accessible to climbers and walkers.)
"We were eyeing a business that does not require an enormous capital investment."
 "We rented a mountain!"
Almost the entire Sacred Valley is under a preservation order. A local organization sent a team of 5 people to guide them in scouting around the valley for a mountain with solid rocks to build a via ferrata. After a whirlwind site visits and research, they finally found the mountain where they would later build the Skylodge Adventure Suites.
"We rented a part of the mountain from a local who has a permit to exploit the mountain from the local authority."
In 2009, Natalia started a business offering rock climbing and rappel via ferrata. As time went by, she added ziplines in 2010 and built Skylodge Adventure Suites in 2013.
The idea came from portaledge
Portaledge is a raft-like deployable tent designed for rock climbers to sleep on cliff faces during a long climb.
Skylodge Adventure Suites were built in the shape of a portaledge. The suites are made up of 3 exclusive capsules that can accommodate up to 12 guests. The suites were built with aerospace aluminum and weather resistant polycarbonate. Each capsule is furnished with four beds, a private compost toilet, a dining area, a small table with a jar of water infused with local herbs, lamps and a reading light powered by solar panels.
The room package includes a complimentary breakfast, gourmet dinner with wine, transportation from Cuzco and service of professional bilingual guides.
The project mainly aims to provide a once-in-a-lifetime opportunity for rock climbing beginners to have a taste of climbing the vertical face of a mountain.
"Not only you will enjoy luxurious accommodation, you'll have a chance to confront your fear of heights and challenge your limits in a safe environment."
"Your every penny spent is worth the experience that combines adventures with lavishness. You may pay a similar price staying at a luxury hotel in Urubamba or Cusco."
It is safer than you think
"Via ferrata is the safest way to climb a rock face. You are tethered to a safety harness as you ascend the metal ladder. The harness is attached to a steel cable, divided by sections, that goes with you all the way up. It is not a vertical climb all the time. There are platforms where you can walk on foot or take a break."
"The only time when the guests can go without the harness and helmet is when they are inside the capsule. When they arrive at their suite, we will brief them on safety protocols including the right way to put on the harness and safely secure the helmet to the head, how to use the radio to communicate with the guides etc. All the guests must go through the safety briefing and get themselves familiarized with the safety equipment before the climb."
Maintenance works are carried out on a regular basis. Daily inspection of the cable is required or before each use. The structure maintenance is usually scheduled in February – the lowest month for visitors. They also perform other necessary installations and cleaning to keep the suites in pristine condition.
Experience gastronomic indulgence at its finest
"We partnered with a chef from Urubamba. The menu is curated to bring out the best Peruvian culinary experience."
"We also offer a lunch package for visitors to spend a day on a mountain and enjoy a gourmet lunch overlooking the picture-perfect valley."
The lunch menu consists of authentic local cuisine such as alpaca and cuy. All the ingredients are locally sourced and served fresh.
Love is in the air
The serenity of the mountains exudes a palpable air of romance. It presents a perfect setting for one to get on one knee and pop the question. But Natalia has a different opinion.
"There have been many guests taking the opportunity to propose to their loved ones. If you ask me, that might not be the best idea. I mean, what if she says no!? We always love to hear about the outcome of the proposal. So far, there was only one failed proposal. The couple stopped talking to each other at breakfast after the proposal fiasco. I don't know if it is funny or not, but it is certainly very awkward."
Congratulations to the guests who decide to tie the knot and take the plunge, but just don't do it literally at 1,200 feet off the mountain.
"There were also people who asked if they could put on a costume during the climb. For safety reasons, they can only do so when they plant their feet safely on the platform."
Invest in employees' professional development
Natalia understands that a happy employee is a dedicated employee. All the guides and photographers are eligible to enroll in training and development programs such as a full rescue course and Wilderness First Aid course.
"Our goal is to ensure every employee has a fulfilling career growth within the company. We also conduct team building programs to promote teamwork among the employees."
"We offer competitive salary packages and employee benefits. Many of our employees have been staying with us for years. Some of them have been with us for over seven years."
Coming up next
Natalia is excited for her next "STARLODGE" project that consists of six more capsules with an easier access – No via ferrata climbing or zipline required. The guests can access to the suites hanging off a cliff on foot. "STARLODGE" is expected to open in December 2021.
"As an industrial engineer, having my own company is all I ever wanted.  We still have a long way to go and we never know what will happen next. But we will continue to embrace innovation and creativity to stand out from the pack."
Visit https://naturavive.com to learn more about Skylodge Adventure Suites.
All photographs credit: Natalia Rodriguez