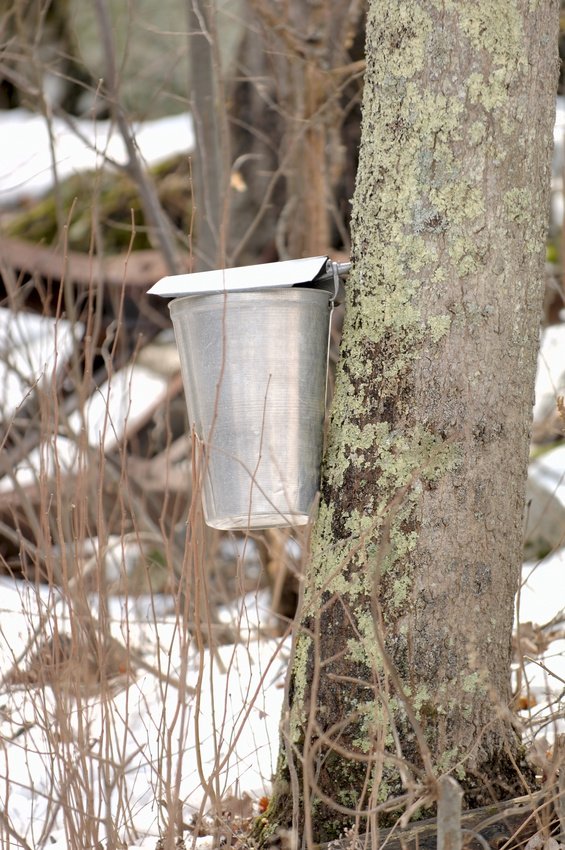 The groundhog predicts an early spring this year, but even if he is wrong, one early sign of spring is certain. Fragrant plumes of steam rising from sugar shack chimneys throughout Western Connecticut always herald the arrival of maple syrup season, New England's traditional signal that winter is on the way out.
As soon as days are above freezing and the sap begins to run, the fascinating process begins: tapping the maple trees, collecting the sap and boiling down the thin watery sap to turn it into thick, fragrant syrup. Clouds of white smoke show that the boiling kettles are in action.
Western Connecticut, where sugar maple trees abound, offers more than a dozen sugar houses in Fairfield County and the Litchfield Hills where visitors are invited for demonstrations and tours, along with sweet tastes and take-home purchases.
While many sugar houses welcome visitors every weekend when syrup is boiling from late February to late March, (see list below), some museums and nature centers in the region plan a special day or weekend to celebrate the season. Many festivities include pancake treats. They are served, of course, with delicious local maple syrup.
A SWEET HISTORY LESSON
Maple syrup making is a long-time tradition in this region and several special sites will offer interesting demonstrations of how methods have changed over 300 years, from the first Native Americans through Colonial times to today. The Institute for American Indian Studies will be showing examples of early techniques at the Flanders Nature Center Sugar House at Van Vleck Farm Sanctuary in Woodbury on March 6 and 13 from 1 p.m. to 4 p.m.. Demonstrations also will take place at the New Canaan Nature Center on March 19 and at the annual Open House at the Great Brook Sugar House in New Milford on March 19 and 20.
TASTY CELEBRATIONS
The first weekend in March brings the annual Maple Sugar Festival at the Stamford Museum & Nature Center. On March 5 and 6 there will be demonstrations at the little red sugarhouse on the museum's Heckscher Farm and many activities for families as well. Saturday's Chef's Challenge features maple recipes and Sunday everyone is invited for the museum's annual pancake brunch.
The 10th annual Maple Festival at Sweet Wind Farm takes place in East Harland on March 12 and the Sharon Audubon Center has its big day on March 19. Pancakes will be served at the New Canaan Nature Center Syrup Saturday festivities on March 19.
VISIT ANY WEEKEND
The Lamothe family started farming in 1971 with a few pigs and a vegetable garden. They began making maple syrup for their own use with a modest 7 taps. As word got around, so did requests from far and wide to purchase the precious maple syrup they made.
Lamothe's has come a long way since their first 7 taps; today, Lamothe's is Connecticut's largest sugarhouse with more than 4,000 taps and a state-of-the-art sugar house.
On weekends, in February and March, Lamothe's offers free tours on their farm from 1 pm to 4:30 pm. Visitors will learn how maple syrup was discovered and how it developed over time and is made today. Visitors will see how maple syrup and sugar are made and enjoy delicious samples. Complimentary coffee and hot chocolate is also served. Store hours are Mon. – Thurs. 10-6, Fri.-Sat. 10-5 and Sun. 12 – 5. Lamothe's Sugar House, 89 Stone Road, Burlington, CT (860-675-5043).
The following locations welcome visitors on any weekend when smoke from the chimney says that the syrup kettles are a-boiling. Many of these sugarhouses are located on scenic farms. The first three weekends in March usually are prime time, but weather can alter schedules and a warm winter means an early season. A call ahead is absolutely necessary to verify openings, hours and directions before making a trip.
For more information about maple syrup destinations and a free copy of Unwind, a full-color, 152-page booklet detailing what to do and see, and where to stay, shop and dine in the Litchfield Hills and Fairfield County in Western Connecticut, contact the Western Connecticut Visitors Bureau, PO Box 968, Litchfield, CT 06759, (860) 567-4506
Maple Syrup Sugar House Sites:
Brookside Farm, 79 East Chestnut Road, Litchfield, 860-567-3805
Brothers and Sons Sugarhouse, 998 Saw Mill Road, Torrington, 860-489-2719
Coolwater Sugarhouse, Great Mountain Forest, Windrow Rd., Norfolk, 860-542-5422
Dutton's Sugarhouse, 28 Sunny Ridge Road, Washington, 860-868-0345
Flanders Nature Center Maple Sugar House, Church Hill Road, Woodbury, 203-263-3711,
Great Brook Sugarhouse at Sullivan Farm, 140 Park Lane (Route 202), New Milford, 860-210-2030. mid-February-March, http://youthagency.org
Kasulaitis Farm and Sugarhouse, 69 Goose Green Road, Barkhamsted, 860-738-9492
Hilljack Sugar Shack, 74 Wilson Rd., Litchfield, 860-482-6052.
Lamothe's Sugar House, 89 Stone Road, Burlington, February 21-March 30. 860-675-5043, lamothesugarhouse.com
Laurelbrook Farm, 390 Norfolk Rd. & Route 44, East Canaan, 860-824-7529
Sweet Wind Farm, 339 South Road, East Hartland, 860-653-2038, sweetwindfarm.net (Saturdays only)
Warrup's Farm, 11 John Read Road off Route 107, Redding, 203- 938-9403, warrupsfarm.com
West Hill Sugarhouse, 525 West Hill Road, New Hartford, 860-379-9672
Woodbury Sugarshed, 41 Washington Road, Route 47, Woodbury, 203-263-4550, woodburysugarshed.com
About Dave's Travel Corner

Dave's Travel Corner is a travel content, resource provider and community (founded 1996) providing travel
Guides
written about Dave's personal travel experiences and
Journals
, pages that contain trip summaries and experiences written by fellow travelers. We spotlight locations and attractions with an article linked directly from our homepage including content across our blog, photo and video galleries. We use a combination of social media, written content, photography and videos to promote locations. Not only does the content appear on this site but we have direct partnerships with other well visited travel sites for placement of the content. Since 1996, we have also established hundreds of relevant link exchanges with other travel sites.
Visitors to Dave's Travel Corner will also find thousands of travel related links organized by categories on the
Resources Page
, a
Photo Gallery
containing International travel photos,
Book Reviews
, and
Product Reviews
focusing on products useful for travelers, fully automated
Forums
,
Tour Bookings
offering over 4400 unique tours around the globe,
Interviews
with those making news in the travel industry and
Videos
- specializing in International travel videos as well as home of the
Dave & Jim Show
.
Dave's own travel blog is
Above the Clouds
which focuses on International Travel & Lifestyle.
For information on advertising please choose from a variety of
advertising options here
.
Contributors are welcome

Learn how you can contribute
About

www.davestravelcorner.com/about