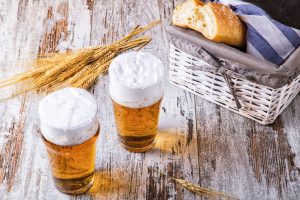 SouthWest Germany, a region known for its variety of beers from cult classics to craft beers, is experiencing a renaissance in beer fashion and production.
Beer lovers and travelers will have to put SouthWest Germany at the top of their bucket list in 2016: Exhibitions, festivals, brewery tours and beer hiking paths are only the beginning of this state's celebration of the 500 Years of Beer Purity! The Technoseum in Mannheim will dedicate an entire exhibition to beer (February 19 to July 24) while countless breweries throughout SouthWest Germany will offer beer-themed seminars and guided tours. Travelers will not be able to resist a sip of SouthWest Germany's beer. With numerous microbreweries and craft beer makers popping up all over the region, the beer just keeps getting better and better!
Known for its beautiful countryside, abundant sunshine, cities filled with luxury, 78 Michelin stars and even two wine regions, SouthWest Germany has yet another ace up its sleeve: liquid gold, or Bier. SouthWest Germany boasts over 180 breweries that create approximately 1,500 uniquely diverse and delicious beers. Breweries adhere to centuries old traditional methods, with of course, the legal ingredients as decreed 500 years ago. With this history, it is no wonder that the region will be celebrating Germany's landmark decision 500 years ago to pass the German Beer Purity Law in 1516. The law requires that the only ingredients in German beer are malt, hops, yeast and water. It is the oldest food law in Germany that is still in effect today.
Starting the year off, the Technomuseum in Mannheim (45 minutes from Stuttgart and Frankfurt) will host an exhibition, "Beer – The Art of Brewing and 500 Years German Purity Law," dedicated to beer production in all of its many facets. The museum explores the technical, cultural and social history of beer up to 4,000 years ago, and shows what used to be mixed into beer before Germany's purity law (you almost don't want to know). Afterwards guests can also lend a hand at experimental stations and take an active part in the fermentation process. Mannheim is a great place to start your SouthWest Germany Beer Tour.
Each region in Baden-Württemberg is immensely proud of its local breweries. Some breweries have been family owned for hundreds of years such as the Fürstenberg Brewery founded in 1238 while other families have recently bought back their breweries, such as the Dinklacker Family. When it started to look bleak for Mannheim's Eichbaum Brewery, the largest brewery in the state, tech company SAP founder Dietmar Hopp invested the money to save it from going under. Overall the number of breweries has increased by two percent in SouthWest Germany.
With over 180 large, mid-sized and micro-breweries in the state, each brewery has found a way to make creative and unique beers. While the large breweries dedicate themselves to only one or two beer varieties, the smaller breweries, became more creative with their varieties. The mid-sized and micro-breweries in Baden-Württemberg make a broad range of beers, including: Export, Pilsner, Pale Ale, Porter, Wheat beer, Craft beer, Zwickel beer, Cellar beer, Bock beer, March beer, Organic pilsner, light beer and non-alcoholic varieties.
In the Black Forest Highlands, right next to Lake Schluchsee, is the Rothaus Baden State Brewery AG, which brews a cult classic known as the Rothaus Tannenzäpfle, or the pine cone beer, known for the pine cone shape of the bottle. Visitors hiking through the Black Forest Highlands can stop for a refreshing beer and brewery tour. At 1000 meters above sea level, it is the highest brewery in Germany. Another, Schnitzer in Offenburg, specializes in gluten-free beers. Hochdorfer Brewery from Nagold grows its own hops. A few years ago, the Härle Brewery in Württemberg's Allgäu became the first brewery in Germany to successfully achieve climate-neutral production.
Many breweries are granting their visitors special, behind-the-scene looks at their expert brewing processes. In Tettnang they have "hands-on hops" experiences, and the town is world renowned for its hops crop. Here visitors can visit the Hops Museum or hike on the beautiful hops trail, where the crop grows up to seven meters high, and learn why Tettnang's hops is so special. In Ehingen an der Donau there is a multimedia tour showing the many faces beer culture in the city. Ehingen is currently home to four breweries and beer culture is pivotal here, from beer-themed city tours to the popular beer hiking tail. The trail ends at the Bergbier Brewery, which has a lovely inn and beer cellar that is open to the public. At Ehingen Schwanen Brewery, a microbrewery in the city, there are beer-making seminars where participants create their own beer and receive it in the mail six weeks later.
Many of the breweries are hosting annual beer festivals, which offer invaluable insights into authentic village and pub culture. There are large and small beer festivals taking place in SouthWest Germany every year, the most famous is the Canstatter Volksfest in Stuttgart. The festival is the second largest beer festival in Germany after the Oktoberfest in Munich. Founded in 1818, it attracts around four million visitors each year. There are seven beer tents and two wine tents and the celebrations go on for 17 September days. Other incredible festivals are the Ulrichsfest in Ehingen, celebrating its 550th anniversary, the Historic Beer Festival in Zwiefalten, where the entire town takes part in the festivities, or the Fischer's Brewery Festival in Mössingen a beer festival for Mother's Day with flowers for all the female guests.
In the Ganter Brewery in Freiburg guests can walk in a fermentation tank with an impressive, video-based brewing simulation. Hirsch Brewery in Wurmlingen has its own adventure forest complete with climbing park and rustic lodge. Brewery World in Alpirsbach, with an incredible monastery, offers exciting tours of its museum and ceremonial cellar. At Kesselhaus Restaurant and Brewery visitors can find out everything about the world of beer with their "Mash, Brewers' Grains, Zwickel Beer" Tour and taste five different beers under the guidance of a beer sommelier.
SouthWest Germany offers travelers and beer lovers a wealth of beer experiences in 2016. From Heidelberg's craft beers to the beer gardens in Lake Constance, there are tours, tastings, festivals and brews to be had. Beer production is on the rise in SouthWest Germany and getting the full recognition it deserves as an ancient heritage and beloved beverage.
For more information on events in SouthWest Germany, the destination and traditions, please visit
www.tourism-bw.com
About Dave's Travel Corner

Dave's Travel Corner is a travel content, resource provider and community (founded 1996) providing travel
Guides
written about Dave's personal travel experiences and
Journals
, pages that contain trip summaries and experiences written by fellow travelers. We spotlight locations and attractions with an article linked directly from our homepage including content across our blog, photo and video galleries. We use a combination of social media, written content, photography and videos to promote locations. Not only does the content appear on this site but we have direct partnerships with other well visited travel sites for placement of the content. Since 1996, we have also established hundreds of relevant link exchanges with other travel sites.
Visitors to Dave's Travel Corner will also find thousands of travel related links organized by categories on the
Resources Page
, a
Photo Gallery
containing International travel photos,
Book Reviews
, and
Product Reviews
focusing on products useful for travelers, fully automated
Forums
,
Tour Bookings
offering over 4400 unique tours around the globe,
Interviews
with those making news in the travel industry and
Videos
- specializing in International travel videos as well as home of the
Dave & Jim Show
.
Dave's own travel blog is
Above the Clouds
which focuses on International Travel & Lifestyle.
For information on advertising please choose from a variety of
advertising options here
.
Contributors are welcome

Learn how you can contribute
About

www.davestravelcorner.com/about