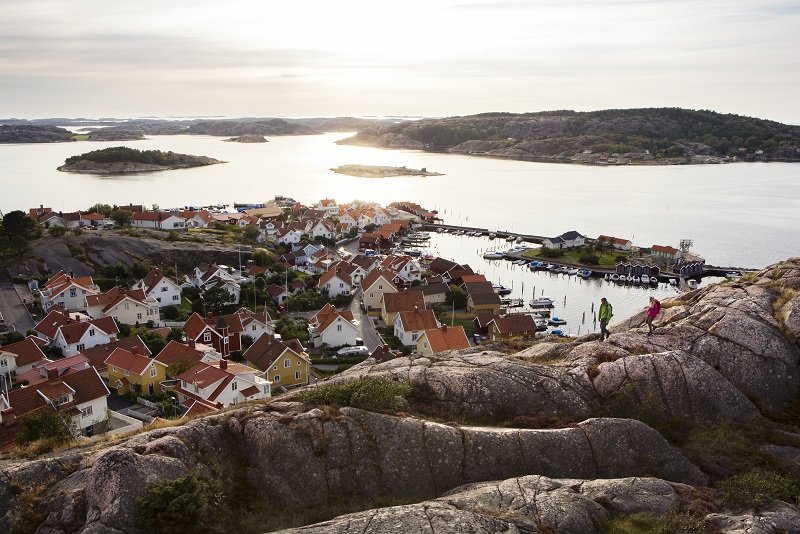 The latest selection of new holiday ideas, travel news and events in Gothenburg and West Sweden – including a new three-day cruise along the Bohuslän coast, a guided Swedish fika tour, Salt & Sill's new biking package, a new walking trip on Marstrand Island, Way Out West's 10 year anniversary as well as a new stand up paddling package in the city's waterways.
NEW for 2016 in Gothenburg…
Culture and music
Gothenburg Green World – a whole year of green experiences
Scandinavia's leading parks are investing heavily in a joint project. Gothenburg Green World promises a full programme of events and fantastic exhibitions for every season. The city has a great variety of parks and gardens – from eighteenth-century parks such as Gunnebo, to historic city parks like Garden Society of Gothenburg with its unique Palm House, and Gothenburg Botanical Garden (ranked among the best in Europe), through to the newly created Jonsered Gardens (Jonsereds trädgårdar). It started in February at Gothenburg Botanical Garden, with Wild Spring. International press trips will be held from 4-5 July.
Street Art project introduced in the city
Artscape is an international street art project in Gothenburg which officially begins in the summer 2016. There will be many international artists participating, creating inspiring pieces of public art on buildings in every district of the city. Artscape is a Swedish street art organisation supplying art for the local people. The artists will start to paint in July 2016 and it will all be finished August 2016.
Way Out West music festival's 10th Anniversary, 11 – 13 August
Some of the biggest names in music will once again take to the stage at one of Europe's leading festivals – Way Out West – which is celebrating its 10th anniversary this year. Held in Gothenburg's centrally-located Slottskogen Park, the festival will see a fantastic line-up which includes Jamie XX, Sia, Seinabo Sey, Massive Attack and PJ Harvey. The eco-certified festival also sees eclectic 'Stay Out West' performances at clubs and culture hubs around the city. A three-day festival ticket costs £149 pp, including access to all Stay Out West gigs. Visit www.wayoutwest.se
Foodie news
AirDine – the new Air B&B for food lovers
AirDine is a social app that is a brand new innovation from Gothenburg. It's a service that invites people to dine in people's homes. The initiative encourages people, who otherwise would never meet, to get together and have a good time over food. AirDine transforms every home into a little restaurant. Hosts make money and meet new people and guests get to socialise and enjoy good meals. The app was made available to download from App Store in Sweden in late February. It will become available to the rest of the world at the end of 2016.
Soft adventure
Stand up paddling through Gothenburg's waterways
From May until September, visitors can discover the beautiful Säveån waterway and all of Gothenburg's channels by riding a stand-up paddleboard from Partille, just outside of Gothenburg, all the way into the center of the city. You'll weave through cosy boathouses in Gamlestaden and continue along the river Göta älv, all the way to Lilla Bommen in the city centre. If you're lucky enough, you might spot fish, seabirds and beavers, so don't forget to have a waterproof camera with you. The trip takes about 2-3 hours and costs £43 pp (490 SEK).
NEW for 2016 in the rest of West Sweden…
Foodie news
Brand new Guided Swedish fika tour in Alingsås
In Swedish culture, fika is simply part of everyday life and means a coffee and cake break with friends. The Café Town, Alingsås, has a flourishing fika culture and is known for its authentic history of long established cafés and bakeries, which date back as far as the 1700s. Today the town is renowned as Sweden's café center, with around 30 cafés, three of which are in the prestigious White Guide Café guide. Join a fascinating guided fika tour (1.5 hours) through Alingsås, learn about the old Swedish tradition of fika, and experience the envious Swedish lifestyle. The tour includes visits to two cafés which are members of the in White guide; Ekstedts bakery & Café and Nygrens Café. Guests will also get to taste cinnamon buns, truffles, pastries and cookies. Guests also get a little goodie bag of samples to take away with them. The tour costs £29 pp (330 SEK) and is available every Saturday at 11.00 from 2 April until 29 October.
Indulgent crayfish safari weekend in Smögen
Treat yourself to a unique culinary weekend this spring at Smögens Havsbad. Start with a tour of the fish market where guests will get to know all about crayfishing and how a fish auction takes place. Then set out to sea with a local fisherman on a crayfish safari (three hours) and then enjoy a feast on your very own island where the fisherman will cook your catch and pair it with a delicious picnic basket. One back at the hotel, indulge in an exquisite three-course supper, perhaps after relaxing in the hotel's soothing spa. This trip costs from £185 pp (two sharing) including overnight B&B at Hotell Smögens Hafvsbad, a tour of the fish market, the crayfish safari (complete with a picnic basket for the boat trip), a three-course supper and use of the spa and fitness centre. The crayfish trips are available every Saturday from now until 17 September. Call Hotell Smögens on +46 523 668450 (www.smogenshafvsbad.se).
Cruise news
New three-day cruise along the Bohuslän coast – from £630 pp with Strömma
On this new three-day cruise, guests get to stay on the classic Göta Canal boat M/S Wilhelm Tham, which dates back to 1912 and still has all of its original features. This is the first time the boat has cruised along the west coast of Sweden, rather than the Göta Canal where guests experience the picturesque journey between Gothenburg and Grebbestad (and vice versa). There will be stop-offs at the quarantine island Känsö, the mythical lighthouse Vinga, Gullholmen – which is one of Bohuslän's oldest fishing communities – the heart of Bohuslän, Smögen, the island of Marstrand – which has become Sweden's great sailing metropolis – and Fjällbacka, where the world-famous author Camilla Läckberg's detective novels are based on.The new cruise costs from £630 pp (two sharing) and includes two nights' full board on the boat, all excursions and coach transfers. Dates available from Gothenburg to Grebbestad are 13 August & 20 August. Dates from Grebbestad to Gothenburg are 16 August & 23 August. Flights extra. Call +46 031806315.
New Salt & Sill biking package and Nordic Watercolour Museum
Salt & Sill – Sweden's first floating hotel, on the island of Klädesholmen (otherwise known as 'Herring Island'), where the restaurant serves a cuisine inspired by the sea and coast – is offering a brand new cycling package. The package will involve great local food (in particular herring), cycling and a visit to the Nordic watercolor museum and Sculpture of Pilane. The Nordic Watercolour Museum is the first European venue to host the new animation exhibition, "Disney's Art of Storytelling", which will showcase not only original drawings and watercolors from the early films of Walt Disney Animation Studios, but also include artwork from more recent films. Pilane is one of Sweden's most beautiful cultural landscapes, where modern sculptures are subtly mixed with traces from the Stone Age and Viking age. The new package costs from £148 pp (two sharing) which includes one-night's B&B, entry to the Nordic Watercolour Museum, bicycle hire for one day, a bicycle map and a three-course dinner. Call +46 304 673480 (www.saltosill.se).
Other events throughout the year to look out for…
Witness 10,000 dancing cranes
Witness the breathtaking display of 10,000 cranes dancing around Lake Hornborga (from mid-March to mid-April), which is one of Europe's most important wetlands. The birds dance as part of their mating ritual in search of their life partner, flying in from Spain to their traditional breeding grounds. Every year, the lively dance steps of the resting cranes attract huge crowds of spectators. Stay nearby in Hotel Andrum's tree-houses, Seventh Heaven and Andrum, with private balconies for star-gazing and breakfast with sparkling wine hoisted up in a large basket every morning. Guests can also combine this with a tasting of delicious local cheeses on a tour nearby, which ends with a delicious cheese buffet. A one-night stay costs from £167 pp (1950 SEK), two sharing). Call +46 10 2245010
…and why not combine this with a tasting of delicious local cheeses?
Falbygdens Osteria combines a tour of Lake Hornborga's dancing cranes with a tour of the renowned cheese region of Falbygden in Västergötland. For more than five generations, Falbygdens Osteria has been passionate about good quality cheese. After both tours, the restaurant will serve a delicious cheese buffet, and a 'Cheese Host' will also be at hand to teach guests all there is to know about the local cheeses, as well as cheeses from other parts of the world. The package costs from £34 pp (395 SEK) and includes guided tours, all transport, tasting sessions and the cheese buffet. Available for stays between 19 March and 16 April. Call +46 515 717230.
Nordic Championships in Oyster Opening, 6 – 8 May
Spring in West Sweden marks the arrival of the oyster season, when the delicacies are at their most divine, thanks to the cold, fresh coastal waters. It's also time for the Nordic Championships in Oyster Opening (6 – 8 May), held in Grebbestad, where 90% of Sweden's oysters grow (90 minutes' drive north of Gothenburg). Watch contestants race to shuck 30 oysters at impressive speeds and present them in the most attractive way.
Dalsland Canoe Marathon, 13 August
Take on the challenge of the annual Dalsland Canoe Marathon, Sweden's largest canoe event, on Saturday 13 August. Glide along the 55km route, crossing sparkling lakes and waterways; all ages and abilities can take part. For the first time this year, there will be a new relay race where a team of four each take in turns to paddle a section of the race. Registration costs from £59 pp (700 SEK) for adults and £17 pp (200 SEK) for juniors (12 – 18 year olds).
Hike or run West Sweden's Bohuslän coast – from £137 with Icebug Xperience
The Icebug Xperience (2 – 4 September) is a three-day 80km outdoor expedition in the stunning region of Smögen in Bohuslän, West Sweden. You can chose either to walk or run along a scenic path, weaving through sparkling pink granite rocks, whilst experiencing fantastic views of the sea's horizon. The challenge is for all abilities, and competitors can stop for lunch, enjoy delicious locally-produced food in the evening and stay at charming accommodation along the way. The race is split into three stages and guests can choose between three packages starting £137 pp (1,600 SEK). Flights extra. Call Icebug Xperience on 00 46 031 81 70 90 (www.icebugx.com).
For more information about visiting West Sweden and Gothenburg, go to www.westsweden.com and www.gothenburg.com
Connect with West Sweden and Gothenburg
On Facebook, Twitter and Instagram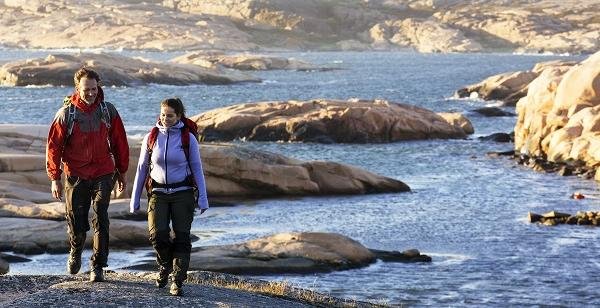 About Dave's Travel Corner

Dave's Travel Corner is a travel content, resource provider and community (founded 1996) providing travel
Guides
written about Dave's personal travel experiences and
Journals
, pages that contain trip summaries and experiences written by fellow travelers. We spotlight locations and attractions with an article linked directly from our homepage including content across our blog, photo and video galleries. We use a combination of social media, written content, photography and videos to promote locations. Not only does the content appear on this site but we have direct partnerships with other well visited travel sites for placement of the content. Since 1996, we have also established hundreds of relevant link exchanges with other travel sites.
Visitors to Dave's Travel Corner will also find thousands of travel related links organized by categories on the
Resources Page
, a
Photo Gallery
containing International travel photos,
Book Reviews
, and
Product Reviews
focusing on products useful for travelers, fully automated
Forums
,
Tour Bookings
offering over 4400 unique tours around the globe,
Interviews
with those making news in the travel industry and
Videos
- specializing in International travel videos as well as home of the
Dave & Jim Show
.
Dave's own travel blog is
Above the Clouds
which focuses on International Travel & Lifestyle.
For information on advertising please choose from a variety of
advertising options here
.
Contributors are welcome

Learn how you can contribute
About

www.davestravelcorner.com/about