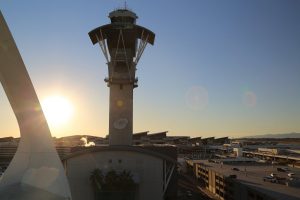 More Than 45 Million People From Around The World Visited Los Angeles In 2015
(Monday, January 11, 2016 – Los Angeles, California) Los Angeles tourism surged to its fifth consecutive year of record-breaking growth in 2015, Mayor Eric Garcetti announced today. A total of 45.5 million tourists visited the city last year, according to the Los Angeles Tourism & Convention Board — an increase of 1.3 million over 2014. These latest numbers keep the city well on pace to reach Mayor Garcetti's goal of 50 million annual visitors by 2020.
Momentum in the local tourism sector is building amid a period of booming infrastructural growth across Los Angeles. As Los Angeles International Airport (LAX) forges ahead with its $8.5-billion modernization program, the downtown skyline continues an unprecedented transformation, and new transportation projects make moving through the city and region faster and easier than ever before.
"Los Angeles is a place where the world comes together for cultural experiences and celebrated attractions that cannot be found anywhere else," said Mayor Garcetti. "Our city can keep setting records in the tourism sector, which is vital to the third largest metropolitan economy in the world. And we are well-positioned for future growth — investing billions at our airport, in mass transit, and other assets that are making L.A. more exciting and accessible than ever."
The increase in tourism from China to L.A. has been particularly pronounced, with more than 779,000 Chinese tourists visiting the City last year — more than 13 percent higher than in 2014. Visitorship from South Korea also spiked, with an increase of 11 percent over the previous year.
Overall, Los Angeles welcomed 6.7 million international visitors last year.
"LA is truly a global city, as this year's numbers demonstrate and confirm," said Councilmember Bob Blumenfield, chair of the Los Angeles City Council's Trade, Commerce and Technology Committee. "We are a destination, not only for our natural beauty, mountains, and beaches, our theme parks and world famous landmarks, but also for those wishing to do business with the third largest metropolitan economy in the world; a global center for content generation, innovation, and more. Last year's record-setting tourism numbers send a message to the world that LA is open for business, and I know that the world will respond in 2016 and in the years ahead."
The growth in tourism was propelled by milestone accomplishments in 2015, including the success of the Special Olympics World Games, the opening of the Broad Museum and the reopening of the Petersen Automotive Museum.
"We want to recognize and congratulate our hospitality community for their passion and dedication which has allowed us to celebrate our fifth consecutive year of record-breaking visitation. It's these individuals and businesses that make Los Angeles such a dynamic destination that 45.5 million people traveled to experience it in 2015," said Ernest Wooden Jr., president & CEO of the Los Angeles Tourism & Convention Board. "These figures help propel us to our goal of welcoming 50 million visitors by 2020."
Los Angeles is matching the growth of its tourism sector with an unprecedented modernization program at LAX, which has become the nation's busiest destination airport, and the second-busiest overall. The modernization, worth $8.5 billion, includes substantial capital improvements to virtually every terminal at the airport. Another $5 billion will be invested in a rail system to ease mobility into and out of the airport, as well as between terminals; and a brand new consolidated rental car facility.
"LAX is the first and last impression of Los Angeles that visitors have," said Los Angeles Board of Airport Commissioners President Sean Burton. "While the major U.S. airlines at LAX are investing more than $1 billion combined to renovate their terminals, Los Angeles World Airports is spending billions to improve the guest experience by rebuilding and modernizing its terminals, making changes to the airport's dining and retail offerings to reflect L.A.'s culture, cuisine and lifestyle; upgrading technology and planning for future transportation enhancements that will significantly improve access to the airport."
"Now is a pivotal time for LAX and for LA," said Los Angeles World Airports Executive Director Deborah Flint. "We are changing and transforming the airport, bringing LAX into the modern era for the modern traveler by providing a world-class experience, in world-class facilities. Visitors to Los Angeles and residents have a lot to look forward to."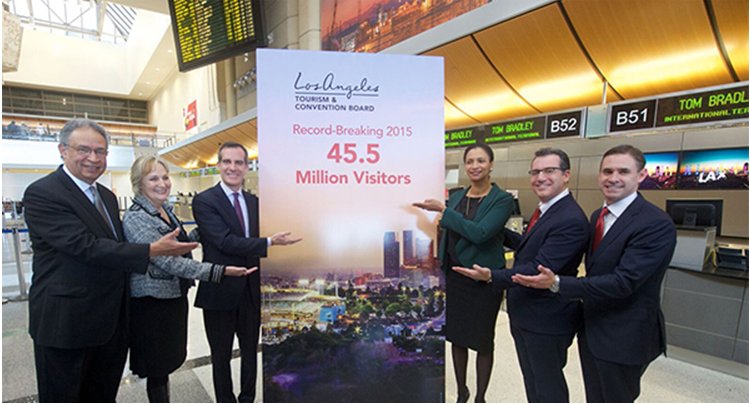 RECORD-LEVEL TOURISM – LA City officials announce a record-breaking 45.5 million visitors to Los Angeles in 2015. From left: LA Tourism & Convention Board President & CEO Ernest Wooden, Jr., LA Board of Airport Commissioners Vice President Valeria Velasco, Mayor Eric Garcetti, LA World Airports Executive Director Deborah Flint, City Councilmember Mike Blumenfield, and LA Board of Airport Commissioners President Sean Burton.
For more information about LAX visit: www.laxishappening.com
About Dave's Travel Corner

Dave's Travel Corner is a travel content, resource provider and community (founded 1996) providing travel
Guides
written about Dave's personal travel experiences and
Journals
, pages that contain trip summaries and experiences written by fellow travelers. We spotlight locations and attractions with an article linked directly from our homepage including content across our blog, photo and video galleries. We use a combination of social media, written content, photography and videos to promote locations. Not only does the content appear on this site but we have direct partnerships with other well visited travel sites for placement of the content. Since 1996, we have also established hundreds of relevant link exchanges with other travel sites.
Visitors to Dave's Travel Corner will also find thousands of travel related links organized by categories on the
Resources Page
, a
Photo Gallery
containing International travel photos,
Book Reviews
, and
Product Reviews
focusing on products useful for travelers, fully automated
Forums
,
Tour Bookings
offering over 4400 unique tours around the globe,
Interviews
with those making news in the travel industry and
Videos
- specializing in International travel videos as well as home of the
Dave & Jim Show
.
Dave's own travel blog is
Above the Clouds
which focuses on International Travel & Lifestyle.
For information on advertising please choose from a variety of
advertising options here
.
Contributors are welcome

Learn how you can contribute
About

www.davestravelcorner.com/about