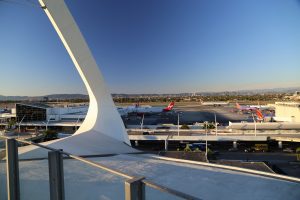 LOS ANGELES —Los Angeles' economy continued to surge in 2017, as tourism, travel through LAX, and Port cargo broke all-time records yet again.
Mayor Eric Garcetti announced the record-breaking numbers today at LAX's Tom Bradley International Terminal, alongside Councilmember Joe Buscaino and leaders from the Los Angeles Convention & Tourism Development Department, the Los Angeles Tourism & Convention Board, Los Angeles World Airports, and the Port of Los Angeles.
"We are powering Los Angeles' economy to new heights every year, because we know that lasting prosperity means investing boldly in jobs, opportunity, and growth," said Mayor Garcetti. "The expansion of our travel and tourism sector, and the success of our Port, tell the story of a city whose moment has arrived — and we will continue pushing forward as we expand our role on the world stage, and prepare to welcome the Olympic and Paralympic Games in 2028."
According to the Los Angeles Tourism & Convention Board, the city welcomed 48.3 million visitors in 2017 — an increase of more than 2 percent over 2016, marking the seventh consecutive year of record-breaking tourism growth and moving L.A. closer to Mayor Garcetti's goal of welcoming 50 million visitors a year by 2020.
"These latest numbers from the Port, LAX and LA Tourism show that Los Angeles is the premier gateway for worldwide trade and the hottest destination for travelers," said Councilman Joe Buscaino, Chair of the Trade, Travel and Tourism Committee. "In the years to come those numbers will only continue to improve with the investment of billions of dollars into LAX, Metro, and numerous cultural, sports and entertainment venues, including the Lucas Museum, LAFC stadium and the LA Waterfront."
Los Angeles is a global city renowned for its diversity, and international tourism holds an important place in the City's identity. This past year began with travel restrictions put in place by the federal government — measures that threatened to jeopardize international travel to Los Angeles.
In light of these actions, the Los Angeles Tourism & Convention Board launched the "Everyone is Welcome" initiative to show that diversity and inclusion have always been — and will continue to be — cornerstones of L.A.'s culture. These efforts paid off with international tourism in Los Angeles growing 0.9% to a record 7.1 million visitors, outperforming both its projected forecast and the rest of the country, which Tourism Economics estimated saw a decline of 0.9% year-over-year for 2017.
"We are humbled that more than 48 million visitors from across the globe chose Los Angeles as their destination of choice in 2017," said Ernest Wooden Jr., President & CEO of the Los Angeles Tourism & Convention Board. "We look forward to extending our message of welcome and hospitality with an open invitation to enjoy our city's celebration of diversity and inclusivity in 2018 and beyond."
LAX also broke its record for the total number of passengers for the fourth consecutive year. In 2017, 84.9 million travelers passed through the airport, an increase of 5% over the previous year. Of those travelers, close to 25 million — or around 2 million over last year — were international. The passenger increase is due to the improving economy, competitive fares, and new and existing airlines adding more flights to LAX. From Acapulco to Shenzhen and Vienna, LAX added 11 new international nonstop flights in the last year alone. These record numbers coincide with LAX's $14 billion modernization project which is helping to cement the airport's place as a world-class transit hub.
"Los Angeles World Airports is excited to continue to embrace and amplify the message that Everyone is Welcome to Los Angeles, and our multi-billion dollar investment in LAX modernization is a testament to our focus on creating a gold-standard airport worthy of our international city and visitors," said Los Angeles Board of Airport Commissioners President Sean Burton. "In 2028, we will welcome the world to Los Angeles through the gateway of LAX, and every day we are taking steps to improve the guest experience, increase our global reach, and welcome more travelers to the Southern California region."
The Port of Los Angeles broke a record of its own, moving more cargo in 2017 than any year in its history. The Port shipped more than 9.3 million Twenty-Foot Equivalent Units (TEUs) last year, the most ever by a port in the Western Hemisphere. These record figures come alongside reductions in key pollutants and greenhouse gases at the Port.
"Achieving record cargo volumes was the result of a concerted, multi-year effort by the Port and its many partners to maximize efficiency throughout the entire supply chain," said Gene Seroka, Executive Director of the Port of Los Angeles. "All the collaborative work by a broad range of global maritime stakeholders has delivered these remarkable results."
Taken together, record tourism, travel, and port figures reflect the strength of Los Angeles' economy. Since Mayor Garcetti took office in 2013, the City has created more than 175,000 new jobs, cut the unemployment rate by more than half, and permitted more than 164,000 new businesses.
About Dave's Travel Corner

Dave's Travel Corner is a travel content, resource provider and community (founded 1996) providing travel
Guides
written about Dave's personal travel experiences and
Journals
, pages that contain trip summaries and experiences written by fellow travelers. We spotlight locations and attractions with an article linked directly from our homepage including content across our blog, photo and video galleries. We use a combination of social media, written content, photography and videos to promote locations. Not only does the content appear on this site but we have direct partnerships with other well visited travel sites for placement of the content. Since 1996, we have also established hundreds of relevant link exchanges with other travel sites.
Visitors to Dave's Travel Corner will also find thousands of travel related links organized by categories on the
Resources Page
, a
Photo Gallery
containing International travel photos,
Book Reviews
, and
Product Reviews
focusing on products useful for travelers, fully automated
Forums
,
Tour Bookings
offering over 4400 unique tours around the globe,
Interviews
with those making news in the travel industry and
Videos
- specializing in International travel videos as well as home of the
Dave & Jim Show
.
Dave's own travel blog is
Above the Clouds
which focuses on International Travel & Lifestyle.
For information on advertising please choose from a variety of
advertising options here
.
Contributors are welcome

Learn how you can contribute
About

www.davestravelcorner.com/about