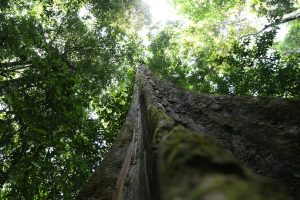 Riveting and Awe-Inspiring Documentary Series, Premiering Wednesday, January 15, 2020, 10:00–11:00 p.m. ET, Features Earth's Natural Wonders and Hidden Gems
ARLINGTON, VA; November 25, 2019 – PBS's new 10-episode series EXPEDITION WITH STEVE BACKSHALL reveals there are still parts of our planet yet to be discovered. Explorer and naturalist Steve Backshall pursues incredible journeys and world firsts — unclimbed peaks, unexplored cave systems and uncharted landscapes — setting foot where no human has been before. As the preeminent destination for engaging, enlightening and entertaining science and natural history programming, PBS continues to deliver with this series. EXPEDITION WITH STEVE BACKSHALL premieres on Wednesday, January 15, 2020 at 10:00 p.m. ET on PBS (check local listings), PBS.org and the PBS Video App.
"In EXPEDITION WITH STEVE BACKSHALL, PBS gives a glimpse into some of the incredible parts of the world that have yet to be explored," said Bill Margol, Senior Director, General Audience Programming & Development for PBS. "The world is full of surprising discoveries and journeys to be made, and we hope to spark viewers' curiosity and ignite their spirit of adventure."
In this global series, adventurer and naturalist Steve Backshall ventures into undiscovered territory, endures extreme physical challenges, encounters extraordinary wildlife and teams up with remarkable people along the way. From free-diving in underground river systems and descending deep into the caves of the Maya underworld, to kayaking Himalayan whitewater and scaling unclimbed Arctic peaks, these expeditions push Backshall and his expert crew to the limit.
"There are still countless expeditions to be conquered and world discoveries to be made, and I am honored to have had the ability to be among the first to set foot in these incredible places," said Steve Backshall, host. "It is thrilling to not know what you will find next. That's what exploration is all about."
EXPEDITION WITH STEVE BACKSHALL debuts its first six episodes beginning Wednesday, January 15, 2020 at 10:00 – 11:00 p.m. ET, followed by the final four premiering in the spring. A brief overview of EXPEDITION WITH STEVE BACKSHALL is outlined below, and a detailed programming show guide is also available.
Episode 1: Oman – Desert Canyon
Premieres Wednesday, January 15, 2020, 10:00–11:00 p.m. ET
World's First: Descent into a new canyon system
Description: Follow Steve Backshall into an Arabian desert canyon that no human has ever explored.
Episode 2: Greenland – Frozen Frontier
Premieres Wednesday, January 22, 2020, 10:00–11:00 p.m. ET
World's First: Kayak through the world's largest fjord in ice break-up season
Description: Join Steve Backshall on his mission to explore the Arctic during its most volatile time of year.
Episode 3: Suriname – Lost World
Premieres Wednesday, January 29, 2020, 10:00–11:00 p.m. ET
World's First: Expedition into the world's last tract of pristine jungle
Description: Travel to the Guiana Shield, where Steve Backshall searches for new wildlife and natural wonders.
Episode 4: Mexico – Flooded Caves
Premieres Wednesday, February 5, 2020, 10:00–11:00 p.m. ET
World's First: Dive into an unexplored flooded cave system
Description: Dive into a network of unexplored underwater caves in Mexico with Steve Backshall.
Episode 5: Borneo – Dark Shadow
Premieres Wednesday, February 12, 2020, 10:00–11:00 p.m. ET
World's First: Exploration of an undiscovered sink hole, only recently spotted from a dark shadow on a satellite image.
Description: Follow Steve Backshall into a Bornean cave system that's accessed by dropping down a sinkhole.
Episode 6: Bhutan – White Water
Premieres Wednesday, February 19, 2020, 10:00–11:00 p.m. ET
World's First: White-water descent of a high-altitude mountain river
Description: Join Steve Backshall on his quest to kayak the last unrun river in Bhutan.
Episode 7: Greenland – Ice Mountain
Premieres Friday, May 8, 2020, 9:00-10:00 p.m. ET
World's First: First ascent of an unclimbed summit in Greenland's remotest peaks.
Description: Climb alongside Steve Backshall as he attempts to summit an unclimbed mountain in Greenland.
Episode 8: Mexico – Maya Underworld
Premieres Friday, May 15, 2020, 9:00-10:00 p.m. ET
World's First: Exploration of a new dry cave to reveal how jaguars inhabit the caves of the Yucatan.
Description: Return to Mexico with Steve Backshall as he discovers Mayan secrets within subterranean caves.
Episode 9: Suriname – Ghost River
Premieres Friday, May 22, 2020, 9:00-10:00 p.m. ET
World's First: First descent of an uncharted river.
Description: Ride along as Steve Backshall kayaks a Surinamese river that's so remote, it doesn't have a name.
Episode 10: Oman – Desert Fortress
Premieres Friday, May 29, 2020, 9:00-10:00 p.m. ET
World's First: First ascent of an unclimbed desert rock face.
Description: Visit Oman's Dhofar Mountains, where Steve Backshall encounters one of Earth's rarest animals.
For more information on EXPEDITION WITH STEVE BACKSHALL, visit www.pbs.org. Viewers are also encouraged to engage in online conversation about the series by tagging @PBS and using #ExpeditionPBS on Facebook, Twitter and Instagram.
Episodes of EXPEDITION WITH STEVE BACKSHALL will be available to stream starting January 15, 2020 on all station-branded PBS platforms, including PBS.org and the PBS Video App, available on iOS, Android, Roku, Apple TV, Amazon Fire TV and Chromecast. PBS station members will be able to view the first six episodes on the night of premiere via Passport (contact your local PBS station for details). The series will also be available on DVD from PBS Distribution at shop.PBS.org, and for digital download.
EXPEDITION WITH STEVE BACKSHALL is a True to Nature Production distributed by FremantleMedia International for PBS. Bill Margol is Executive in Charge for PBS. The series is executive produced by Wendy Darke. EXPEDITION WITH STEVE BACKSHALL was commissioned by BBC and UKTV, with funding for the PBS presentation provided by public television viewers.
About Steve Backshall
Steve Backshall, BAFTA-winning adventurer and wildlife expert, is an experienced and unparalleled natural history producer and presenter. He is hugely popular with young television audiences who are both terrified and delighted to watch his encounters with extraordinary and inspiring predators. Steve is an old-fashioned action hero whose leisure pursuits include mountaineering, kayaking, scuba diving, martial arts and endurance running, which together with his unsurpassed wildlife knowledge, make him a compelling and motivational speaker for a multitude of audiences. In 2011, Steve was recognized with a BAFTA for The Best Children's Television Presenter for his work on Deadly 60, as well as the series itself being honored with a BAFTA for The Best Factual Series. Steve was also an on-air correspondent for the PBS and BBC co-production, BIG BLUE LIVE, which won the BAFTA for a Live Event in 2016. Steve is also a prolific author, having published 13 books, and is a proud ambassador for The Scouts and the Get Outside champion for Ordinance Survey.
About PBS
PBS, with more than 330 member stations, offers all Americans the opportunity to explore new ideas and new worlds through television and digital content. Each month, PBS reaches over 120 million people through television and 26 million people online, inviting them to experience the worlds of science, history, nature and public affairs; to hear diverse viewpoints; and to take front row seats to world-class drama and performances. PBS' broad array of programs has been consistently honored by the industry's most coveted award competitions. Teachers of children from pre-K through 12th grade turn to PBS for digital content and services that help bring classroom lessons to life. Decades of research confirms that PBS' premier children's media service, PBS KIDS, helps children build critical literacy, math and social-emotional skills, enabling them to find success in school and life. Delivered through member stations, PBS KIDS offers high-quality educational content on TV – including a 24/7 channel, online at pbskids.org, via an array of mobile apps and in communities across America. More information about PBS is available at www.pbs.org, one of the leading dot-org websites on the internet, or by following PBS on Twitter, Facebook or through our apps for mobile and connected devices. Specific program information and updates for press are available at pbs.org/pressroom or by following PBS Pressroom on Twitter.
About Dave's Travel Corner

Dave's Travel Corner is a travel content, resource provider and community (founded 1996) providing travel
Guides
written about Dave's personal travel experiences and
Journals
, pages that contain trip summaries and experiences written by fellow travelers. We spotlight locations and attractions with an article linked directly from our homepage including content across our blog, photo and video galleries. We use a combination of social media, written content, photography and videos to promote locations. Not only does the content appear on this site but we have direct partnerships with other well visited travel sites for placement of the content. Since 1996, we have also established hundreds of relevant link exchanges with other travel sites.
Visitors to Dave's Travel Corner will also find thousands of travel related links organized by categories on the
Resources Page
, a
Photo Gallery
containing International travel photos,
Book Reviews
, and
Product Reviews
focusing on products useful for travelers, fully automated
Forums
,
Tour Bookings
offering over 4400 unique tours around the globe,
Interviews
with those making news in the travel industry and
Videos
- specializing in International travel videos as well as home of the
Dave & Jim Show
.
Dave's own travel blog is
Above the Clouds
which focuses on International Travel & Lifestyle.
For information on advertising please choose from a variety of
advertising options here
.
Contributors are welcome

Learn how you can contribute
About

www.davestravelcorner.com/about