I briefly met Tori earlier this year at a travel blogging conference (Traverse) 16 in Cardiff, Wales where she gave the opening welcome speech. Her adventures are nothing short of amazing, reaching the summit of Mt. Everest at age 25, participating in the first ever all-female team in a 360 mile race to the Magnetic North Pole (successfully reaching the pole), and significant cycling, kayaking and other outdoor adventure feats. She is an accomplished speaker correlating her adventures and challenges to the business world. And this year she is one of a select few Adventure Ambassadors promoting 2016 as the year of adventure in Wales. Our questions focus on some of her adventures and insights gained from a career of inspirational achievements.
Q. At age 25, you became the youngest British woman at that time to summit Mt. Everest. Did anything on your previous adventures prepare you for both the mental and physical challenges that you faced on the world's highest peak?
Before Everest I was part of the Pink Lady PoleCats team, an all-female team who became the first all-female team to complete the Polar Challenge, a 360 mile race to the Magnetic North Pole. This was the expedition that encouraged me to aim higher than ever before and set myself bigger and bigger challenges. I developed a huge amount of confidence and self-belief during that race not to mention the cold weather skills and endurance.
Q. Why do you climb mountains?
For the views, for the feeling of being in a completely natural environment (as opposed to being indoors or in my car) and for the physical challenge & sense of achievement. I feel alive in the mountains. I love the feeling of being completely self-sufficient and able to cope with whatever the conditions and terrain might throw at me.
Q. Tell us about one of your most memorable moments while mountain climbing.
Climbing to the summit of Ben MacDui, UK's 2nd highest peak in Scotland, with the Beeline Britain team. On this occasion it was not about my own personal achievement but instead it was the admiration I felt for my team mate Nick Beighton (heading for Rio Paralympics in September 2016) who climbed to the summit on his stumps, taking a massive 15 hours in total. Nick is a double amputee who lost both legs just above the knee in an IED explosion. When he lost his legs he had no idea whether he would return to the mountains he climbed in as a boy. What he overcame to reach the summit was simply incredible. It was an inspirational day which reminded me that anything is possible.
Q. This is the The Year of Adventure in Wales – and you are one of their Adventure Ambassadors. You grew up in Wales; please tell our readers why they should consider a trip to this beautiful part of the U.K. – especially for outdoor enthusiasts.
I grew up in the county of Pembrokeshire in west Wales which is home to the only coastal National Park in the UK and beaches which are voted as some of the best in the world e.g. Barafundle Bay. A trip to Wales will not disappoint; adventure enthusiasts can find spectacular backdrops for mountain biking, road cycling (Tour of Pembrokeshire 2017), SUP Boarding, canoeing, kayaking (sea & white water), climbing (sea cliffs in Pembrokeshire are some of the best in the world and they host the Red Bull Cliff Diving Championships), mountaineering, coasteering (see www.tyf.com/guest-blog-tori-james-dofe-diamond-challenge ) sailing, adventure racing, trail running & hill walking. Even some bog snorkelling if that's your thing, or the annual Man vs Horse race.
I have so many things that are still on my Wales Adventure tick list. I think it will take me a lifetime to complete them all! This year I'm walking the entire Pembrokeshire Coast Path (186 miles) with my dad. It is breathtaking, it makes me appreciate how lucky I am to live here.
Q. You have been on so many adventures. Has there been one adventure or activity that truly scared you?
Yes, being in the Khumbu Icefall on Everest when an avalanche came down the west shoulder of Everest. For a few seconds I feared for my life, not knowing whether the avalanche was going to cause a catastrophic collapse of the ice towers around me. I was petrified. I thought it might have been my time to go.
Q. You offer motivational speaking – what is the typical focus of your talks?
"Achieving success against the odds" is one of the key themes. I'm a true believer that every single one of us can achieve more than we think that we can. My talks encourage individuals and businesses to aim high, manage the fear of failure and create high performing teams that can overcome multiple obstacles and set-backs to achieve success. "Altitude & Attitude" is about my climb to the summit of Everest and combines the mental preparation of this challenge with the physical.
This year is my 10th year of professional speaking and last month I delivered my 250th talk.
Q. Because of your adventures you have traveled to numerous destinations. "Perspective" is one of the most important words in travel – what type of perspective or insights have you gained from all of your travels and adventures?
I'm a Geographer by degree and I have always had an interest in the way that people and places are interconnected as well as the flows of people and commodities around the world. I guess that travelling to so many different places and looking at the landscape or cityscape around me almost always prompts the question "why are we not getting any better at looking after our planet?"
The visible reminders are all too common: litter, polluted sea & rivers, soil erosion – I see these more frequently than the positive things that individuals and countries are doing. If we don't care for our surroundings, how can we expect them to sustain us. As the world population grows then I believe that "sustainability" needs to be something which everyone understands and acts. I guess this starts with sustainable travel.
Q. Since you currently call Cardiff home – what are some of your favorite places to visit in the city and local activities?
A typical week in Cardiff for me will include a run around Cardiff Bay (8km) or Bute Park (10km), climbing or yoga at Boulders Indoor Climbing centre, and a visit to Cardiff International White Water Centre to SUP Board or kayak.
I must mention food as there are great options, including the summer Street Food Circus and all-year Street Food Depot with some fantastic Welsh dishes as well as influences from around the world.
Just a short drive from Cardiff (45 mins) I can be in the Brecon Beacons National Park for hill walking or trail running, or I can be on the coast amongst the Merthyr Mawr sand dunes watching kite surfers speed through the surf.
Next month, the World Explorers Summit comes to Cardiff, attracting some of the world's top adventurers and explorers. If ever there's been a time to visit, it's now!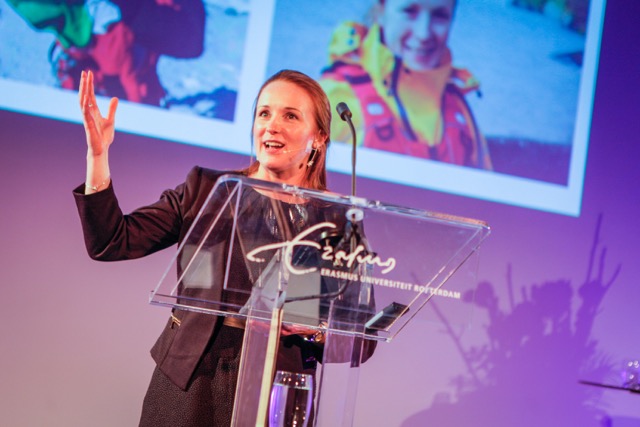 Biography:
Tori James, at the age of 25, became the youngest British women (at that time) and the first Welsh woman to climb to the summit of Mount Everest. Tori stars in the BBC documentary 'On Top of the World' which was produced using video footage which she shot and directed whilst climbing Everest. She is also the author of 'Peak Performance' which describes her record-breaking climb to the summit.
Tori lives in Cardiff and works across Wales and internationally. She is a motivational speaker and consultant delivering leadership training, team and youth development projects. Tori has led teams in both corporate and charitable organisations in sectors including aviation, entrepreneurship and sport. Tori is an ambassador for the Duke of Edinburgh's Award in Wales, Girl Guiding UK and the Visit Wales Year of Adventure.