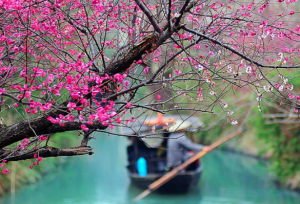 International Tea Expo, Cartoon and Animation Fair, Spring Festival Temple Fair, Winter-sweet and Mume Blossoms Show and the Wild Monkey Festival
Hangzhou, China — The winter bloom of China's distinct Mume flower, or "Plum Blossom," marks the first signs of a Spring full of festivals and events in the ancient city of Hangzhou, described by Marco Polo as "the most beautiful and splendid city in the world" for its ancient temples and the UNESCO World Heritage-listed West Lake.
Tourists traveling to China this spring will find the incomparable natural beauty of the West Lake, experience distinct local culture at folk fairs and markets, and celebrate nature with the wild monkeys of Hangzhou, one of the country's top tourism destinations just a one-hour train ride south of Shanghai.
Different from most flowering trees, the Mume Blossom – related to plum and apricot trees – begins to flower, and is most vibrant, during the snows of mid-winter; imparting its heavy fragrance and color throughout the region until the end of spring. The Winter-sweet and Mume Blossom Show is best seen throughout the spring in the XiXi Wetlands (pictured left), Lingfeng (Ling Peak) and Chaoshan Hill.
Famous as the tea capital of China for being the home of Longjing tea, the highlight of the spring calendar of festivals and events will be the West Lake International Tea Culture Expo to kick off the official beginning of the tea harvest in March.
Below is a collection of Hangzhou's Spring Festivals, Events and Highlights:
West Lake International Tea Culture Expo
Hangzhou, as the tea capital of China, has a time-honored history in tea cultivation and tea drinking. Chartered buses transport visitors to local tea attractions such as the China Tea Museum where they can learn about tea-growing and tea-drinking in China, and the Meijiawu Tea Culture Village, to visit the tea plantation, tea processing area, and learn how to hand-fry tea, as well as how to identify the true West Lake Dragon Well tea from the fake one. Dates: March-May 2014
The International Cartoon and Animation Festival
China's largest cartoon and animation event has been held annually in Hangzhou since 2004. The festival begins with a grand opening ceremony including a cartoon parade. Over the six-day festival, animators and cartoon lovers can enjoy the original cartoon and animation works, online games, cartoon parades and many other shows and plays. In addition, the festival features a series of seminars and forums on topics such as animation talent training and new trends in animation development. Dates: April – May 2014
Spring Festival Temple Fair at Wu Hill
The Spring Festival Temple Fair started with the Song Dynasty over 1,000 years ago to celebrate the Lunar New Year with colorful parades and traditional dancers to wish for a prosperous future. The Temple Fairs at Wu Hill are some of the largest and oldest in Hangzhou and occur year-round, each with their own characteristics. From February to March, pilgrims from nearby counties come to Hangzhou and Wu Hill for the Spring Festival Temple Fair, which includes various folk artists, performances, and markets to keep the area's local culture and traditions alive. Dates: February – March 2014
Winter-sweet and Mume "Mei" Blossoms Show
Mume (includes winter-sweet and mume blossom), is a distinct flowering plant of China related to plum and apricot trees. Different from other flowering trees, it starts to flower in mid-winter, and the flower blooms most vibrantly during the time of the winter snow through the spring. It is frequently depicted in Chinese art and poetry as a symbol of perseverance and hope. Chaoshan Hill, XiXi Wetlands and Lingfeng are known as China's top three areas for enjoying mume blossoms. Lingfeng (Ling Peak) has about 6,000 winter-sweet blossoms made up of 50 species, filling the air with a heavy fragrance of Mume flower and a kaleidoscope of colorful Mei flowers. Dates: January – April
The Wild Monkey Festival at Taihu Lake Source
Explorers can trek the canyon trails and shake hands with the wild monkey of Taihu Lake Source to celebrate Spring and get closer to nature as monkeys play on swings, seesaws and log bridges. In March, tourists will receive traditional pastries for free, while an offbeat wedding ceremony will be held for the Monkey King. Dates: February 18th – March 31st.
– ###-
About Hangzhou
Hangzhou is one of the six oldest capitals in China and an integral part of the world's sixth largest economic center – the Yangtze River Delta. Offering 5,000 years of rich culture, it was established as an important city in Chinese civilization by 221 BC. When Marco Polo visited 800 years ago, he declared it "the finest and most splendid city in the world."
The city is located on West Lake, a UNESCO World Heritage Site. The Grand Canal, the world's oldest and longest man-made canal, begins at Hangzhou and ends at Beijing and incorporates 132 heritage sites (seven of which are in Hangzhou). The city has a well-known heritage in the production of fine porcelain, silk and tea, and tourists may visit museums dedicated to each and learn how these skills have impacted civilization generally.
Hangzhou is at the center of stunning natural landscape with the West Lake encompassed on three sides by hills. The lake, a fusion of culture and nature, has inspired famous poets, scholars and artists since the 9th century. Ten scenic sites have been given poetic names such as Autumn Moon, Twin Peaks Piercing the Clouds, etc. There are two causeways and three islands with picturesque pagodas, pavilions, lush gardens and historic temples. Hangzhou is the political, historical and cultural center of Zhejiang Province on the southeast coast of China, only 45 minutes from Shanghai on the bullet train. To facilitate connectivity within the city, use of bicycles is encouraged as a means of transportation and may be rented by the hour.
About Dave's Travel Corner

Dave's Travel Corner is a travel content, resource provider and community (founded 1996) providing travel
Guides
written about Dave's personal travel experiences and
Journals
, pages that contain trip summaries and experiences written by fellow travelers. We spotlight locations and attractions with an article linked directly from our homepage including content across our blog, photo and video galleries. We use a combination of social media, written content, photography and videos to promote locations. Not only does the content appear on this site but we have direct partnerships with other well visited travel sites for placement of the content. Since 1996, we have also established hundreds of relevant link exchanges with other travel sites.
Visitors to Dave's Travel Corner will also find thousands of travel related links organized by categories on the
Resources Page
, a
Photo Gallery
containing International travel photos,
Book Reviews
, and
Product Reviews
focusing on products useful for travelers, fully automated
Forums
,
Tour Bookings
offering over 4400 unique tours around the globe,
Interviews
with those making news in the travel industry and
Videos
- specializing in International travel videos as well as home of the
Dave & Jim Show
.
Dave's own travel blog is
Above the Clouds
which focuses on International Travel & Lifestyle.
For information on advertising please choose from a variety of
advertising options here
.
Contributors are welcome

Learn how you can contribute
About

www.davestravelcorner.com/about