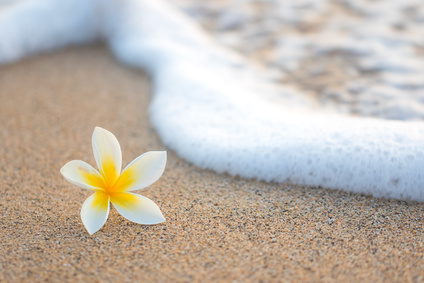 (June 2010) LIHUE, KAUAI- Kauai's tropical summer breezes are here and the days continue to lengthen, adding a rich warmth to the spectacular natural beauty of the Garden Isle. It's a perfect time to sail along the magnificent Napali Coast, tour majestic Waimea Canyon, or kayak along Kauai's waterfall-fed rivers.
"With our multitude of outdoor activities the abundance of special deals available island-wide, visitors will find many new ways to immerse themselves in the enjoyment of Kauai," commented Sue Kanoho, executive director for the Kauai Visitors Bureau. 'Escaping into Kauai's beauty is always such an inspiring experience."
Following are events and news items that are 'blooming' on the Garden Isle of Kauai, including a host of special offers that will make a visit even more rewarding:
WHAT'S NEW
Poipu Ranks High With TripAdvisor
A longtime favorite of beach lovers, Poipu on Kauai's south shore is ranked #3 in the 2010 TripAdvisor Travelers' Choice Top 10 Beach and Sun Destinations in the United States. The popular travel advice website recognized the beautiful beaches, spa treatments and spectacular sunsets that can be enjoyed when staying in Poipu.
Outrigger Waipouli Beach Resort Adds New Restaurant and Spa
A new restaurant and spa can be enjoyed at the Outrigger Waipouli Beach Resort. The Oasis on the Beach Restaurant features dishes created by Chef Zack Sato that are made exclusively with organic ingredients, 80 percent of which are locally grown. Spa by the Sea is a new full-service day spa with an extensive array of organic pampering treatments. Guests can enjoy unique-to-Hawaii spa options like the volcanic clay facial or a noni body wrap.
Josselin's Tapas Bar & Grill Opens in Poipu
Jean-Marie Josselin, one of the 12 original Hawaii Regional Cuisine chefs, has opened his newest restaurant, Josselin's Tapas Bar & Grill, at the new Kukuiula Village in Poipu. Josselin's new menu features a mix of country French, seasonal Provencal and Asian dishes. 808-742-7117.
Kayak Kauai Now Offers Stand Up Paddling Lessons
Kayak Kauai has added stand-up paddle boarding lessons and rentals in Hanalei. Stand up paddling is gaining popularity in Kauai – and Hollywood. Kauai regulars Pierce Brosnan and Jennifer Aniston are two of the celebrities that have been spotted enjoying stand-up paddle boarding while on island. It's fun and a great workout.
New Combo Adventure Tour at Princeville Ranch Adventures
Princeville Ranch Adventures is Hawaii's first tour provider to combine horseback riding and ziplining. Starting in June, the outfitter will offer a three-hour scenic tour of Kauai's beauty in which guests ride horseback for 30 minutes, then zip across three lines through a forest, before ending with another 30-minute horseback ride over open fields.
Grand Hyatt Kauai Resort & Spa Receives Accolades
The Grand Hyatt Kauai Resort & Spa was recently recognized with two distinctive honors. The State of Hawaii presented the resort with its Green Business Award recognizing the efforts made to promote sustainability and cut down on energy consumption and waste. In addition, Conde Nast Traveler recognized the resort's ANARA Spa as one of the 'Top Spas' in Hawaii. Spa rankings were based on reader surveys.
Koloa Rum Wins Three Medals in International Competition
Koloa Rum Company was recently honored for the quality of its rum by winning three medals at the 5th Annual Polished Palate International Rum Competition in Florida. Located at Kilohana Plantation in Lihuee and Kauai's first commercial rum company, Koloa Rum earned silver medals for its Gold Hawaiian Rum and Dark Hawaiian Rum, and a bronze medal for its White Hawaiian Rum. Winners were based on appearance, aroma, taste, and finish.
9-Hole Course Reopens at Makai Golf Club
On Kauai's north shore, the Makai Golf Club has reopened its popular 9-hole Woods Course at The St. Regis Princeville Resort following an extensive renovation. No major changes were made to the course layout, but the design has been redefined and restored to its original shape. Also, new golf carts equipped with GPS systems have been added. The renovation included a refurbishing of the adjacent tennis complex.
KAUAI SPRING DEALS
'Awaken' Package at Grand Hyatt Kauai Resort and Spa
Pamper yourself with the Awaken package at Grand Hyatt Kauai Resort and Spa. The package includes daily breakfast for two and a 20% discount on treatments at the hotel's ANARA Spa. Offer valid till June 30, 2010.
50% Off Rates at Sheraton Kauai Resort
The Sheraton Kauai Resort is offering a special rate of $285, with a fifth night free when booking five nights or more, along with a special $50 daily food and activity credit, and two for one surf lessons in Hanalei Bay. This 'Special 5050' discount is valid through December 25, 2010.
Deals and Discounts at Westin Princeville Ocean Resort Villas
Westin Princeville Ocean Resort Villas is offering a variety of special deals for guests, including up to 50% off room rates, 5th night free, $50 food or activity credit, and two-for-one price for a Hawaiian Surfing Adventure in Hanalei Bay. Special offers valid through December 31, 2010.
Special Savings at Koa Kea Hotel and Resort
Receive a special discounted rate of $269 per night at the Koa Kea Hotel & Resort when staying five nights or more. Located beachfront in sunny Poipu, this luxurious boutique resort opened in 2009.
Special Deals at Outrigger Kauai Properties
Outrigger Hotels & Resorts is offering special deals on two oceanfront Kauai properties – the Outrigger Waipouli Beach Resort & Spa and Outrigger Kiahuna Plantations.
The Outrigger Waipouli Beach Resort & Spa is located in Kapaa and offering a discounted rate on 1- and 2-bedroom suites, starting at $215. Each suite comes with a full kitchen, washer and dryer, private lanai, and daily housekeeping.
The Outrigger Kiahuna Plantations is located in Koloa and offering special rates starting at $169 for 1-and 2-bedroom condos with full kitchen and large lanai.
Aston Offering 20-45% Savings on Kauai Resorts
Aston Hotels & Resorts is offering special savings for vacation bookings at its Kauai properties.
Aston Waimea Plantation Cottages is offering a hidden romantic getaway special starting at $229, a savings of 20%, for a 1-bedroom garden view cottage.
Aston Poipu Kai has discounted rates starting at $165 for its 1-bedroom garden view suites, a savings of 25%.
Aston Islander on the Beach is taking reservations with savings up to 42% off, starting at $99 for a garden view hotel room.
Aston Kauai Beach at Makaiwa is offering rates up to 45% off, starting at $97 for a garden view hotel room.
'Springtacular' Savings at Castle Resorts & Hotels
Castle Resorts & Hotels is offering special savings on its Kauai properties through June 30, 2010.
Castle Kaha Lani Resort is offering a 55% discount on a 2-bedroom, 2-bath oceanfront suite, now valued at $188.
Castle Poipu Shores is offering 50% off its 2-bedroom, 2-bath deluxe oceanfront suites with rates starting at $269.
Castle Kiahuna Plantation & The Beach Bungalows is offering 1-bedroom,1-bath ocean view suites for $213 per night.
Castle Makahuena at Poipu is offering 2-bedroom, 2-bath ocean view suites for $224 per night.
Kids Stay Free, Eat Free, and Play Free at Kauai Beach Resort
Kauai Beach Resort has a summer savings special that provides a 5th night free when 4 nights are booked at the best available rate. In addition, children age 17 and under stay for free and 12 and under eat for free, and everyone plays for free at the swimming pool with games for the whole family
25% Off Bookings Through Condominium Rentals Hawaii
Condominium Rentals Hawaii is offering a 25% discount on bookings at Wailua Bay View and Pono Kai Resort through December 20, 2010. Daily rates for Wailua Bay View begin at $122, and $108 at Pono Kai Resort. Rental car promotions are also available.
Half-price rates at Whaler's Cove in Poipu
Save up to 50% off on an oceanfront 2-bedroom condo at Whaler's Cover in Poipu. Each condo sleeps up to six and comes with lanai and full kitchen. Rates start at $295 per night. Guests save $20 more per night when booking for seven nights or more.
Spring Discount at 17 Palms Kauai
17 Palms Kauai Vacation Cottages in Wailua is offering a 20% discount for reservations booked within 30 days of the arrival date when mentioning the 'KVB Special.' Rates have been reduced to $120 per night.
Banyan Harbor Resort 2-Bedroom Condo Special
Banyan Harbor Resort is offering a special rate of $99 per night for a 2-bedroom condo equipped with a full kitchen, air-conditioning, washer and dryer, complimentary wireless Internet access, and more. Minimum two-night booking is required.
Save $20 per night at Kauai Inn
Kauai Inn is offering special rates of $99 per night for rooms with one king-size bed and lanai and $109 per night for rooms with two double beds. The special offer includes free continental breakfast, Internet, and more.
Special Rate at Garden Island Inn
Steps away from Kalapaki Beach, the Garden Island Inn is offering rates of $89 per night. Rooms include kitchenettes, free beach gear, and WiFi.
UPCOMING EVENTS
25th Annual Koloa Plantation Days: July 17-25
Enjoy a weeklong tribute to Kauai's plantation heritage on the south shore with this popular summer festival, July 17-25. Highlight events of the Koloa Plantation Days include Sunset Hoolaulea, paniolo rodeo, hapa road walk, Hawaiian Olympics, craft fair, and cooking demonstrations. The parade and festival held in Koloa Town features great island entertainment, local food, and crafts.
Kauai Music Festival: July 28-31
Join the four-day celebration of singing and songwriting at the Kauai Music Festival taking place at the Kauai Beach Resort, July 28-31. The daylong events will provide lots of opportunities to learn from some of Hawaii's best songwriters and Grammy-winning producers. Participants music will be heard in small group seminars and in the songwriting competition.
Heiva I Kauai: July 31-August 1
The 9th Annual Heiva I Kauai Iorana Tahiti is a showcase of Tahitian culture at Kapaa Beach Park, July 31-August 1. This international Tahitian dance competition features solo and group performances, as well as traditional and contemporary drumming. General admission is $5, and free for children under age 6. 808-822-9447
The Kauai Marathon 2010: September 5
Enjoy one of the world's most beautiful settings for a running race, featuring the sights of sparkling blue water, pristine white-sand beaches and lush rainforests. The Kauai Marathon and Half-Marathon treats runners to all this with a scenic, but challenging USTAF and AIMS certified course that begins at Poipu Beach.
Kauai Mokihana Festival: September 19-25
This weeklong festival at the Kauai Beach Resort is a wonderful showcase for those who love the culture of Hawaii, featuring a Hawaiian instrumental competition, composers contest, hula competition, lectures, and workshops. Cost: $20.
14th Annual Coconut Festival: October 2-3
Everyone goes nuts for coconuts during this two-day weekend festival held at Kapaa Beach Park, an area once known as the Royal Coconut Coast. Entertainment, cultural displays, children's games, crafts, hands-on activities, Kauai products for sale, workshops and lots of delicious food make it fun for everyone in the family. 808-651-3273
Kauai – Hawaii's Island of Discovery
Nicknamed the Garden Island, Kauai is green and flourishing with lush flora that runs from the mountains to the ocean. Kauai offers more than 50 miles of white sand beaches – more beach per mile than any other island in Hawaii. Other natural wonders include the 3,567-foot deep Waimea Canyon, dubbed 'The Grand Canyon of the Pacific,' and the 3,000-foot towering mountain cliffs overlooking the Napali Coast along the northwest shoreline.
For information about Kauai – Hawaii's Island of Discovery – visit www.KauaiDiscovery.com or call the Kauai Visitors Bureau toll-free at 800-262-1400.
Follow updates about Kauai via Twitter (@kauaidiscovery) and as a fan on its Facebook page as Kauai Visitors Bureau.
About Kauai Visitors Bureau
The Kauai Visitors Bureau is a division of the Hawaii Visitors and Convention Bureau, which is contracted by the Hawaii Tourism Authority (HTA), the state of Hawaii's tourism agency, for marketing management services in North America. The HTA was established in 1998 to ensure a successful visitor industry well into the future. Its mission is to strategically manage Hawaii tourism in a sustainable manner consistent with the state of Hawaii's economic goals, cultural values, preservation of natural resources, community desires, and visitor industry needs.
About Dave's Travel Corner

Dave's Travel Corner is a travel content, resource provider and community (founded 1996) providing travel
Guides
written about Dave's personal travel experiences and
Journals
, pages that contain trip summaries and experiences written by fellow travelers. We spotlight locations and attractions with an article linked directly from our homepage including content across our blog, photo and video galleries. We use a combination of social media, written content, photography and videos to promote locations. Not only does the content appear on this site but we have direct partnerships with other well visited travel sites for placement of the content. Since 1996, we have also established hundreds of relevant link exchanges with other travel sites.
Visitors to Dave's Travel Corner will also find thousands of travel related links organized by categories on the
Resources Page
, a
Photo Gallery
containing International travel photos,
Book Reviews
, and
Product Reviews
focusing on products useful for travelers, fully automated
Forums
,
Tour Bookings
offering over 4400 unique tours around the globe,
Interviews
with those making news in the travel industry and
Videos
- specializing in International travel videos as well as home of the
Dave & Jim Show
.
Dave's own travel blog is
Above the Clouds
which focuses on International Travel & Lifestyle.
For information on advertising please choose from a variety of
advertising options here
.
Contributors are welcome

Learn how you can contribute
About

www.davestravelcorner.com/about