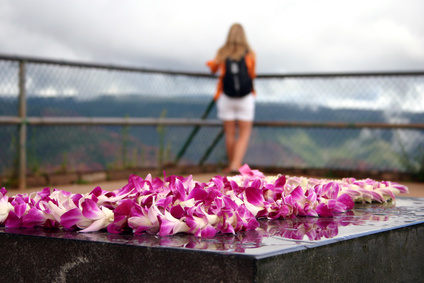 LIHUE, KAUAI – Kauai's ever-present tropical breezes rustle the trees in its mountains and valleys, adding rich warmth to the lush natural beauty of a place revered as the Garden Island. Inspired by Kauai's beautiful year-round weather, fall is an ideal time of year to experience the rejuvenation of being outdoors and active on an island that readers of one prominent travel publication have deemed to be the very best island in Hawaii.
"Kauai is a place to come relax and rejuvenate, to not only discover an island rich in history, culture and breathtaking beauty but to also re-discover oneself and the joy of being with nature," said Sue Kanoho, executive director of the Kauai Visitors Bureau. "Coming here during fall can be especially rewarding because Kauai's warmth and bright, tropical beauty creates such a striking contrast to the chilliness that is taking hold in the U.S. mainland."
Following are events and news items that are 'blooming' this fall on the Garden Isle of Kauai, including a host of special offers that add even more value to a visit during the off-peak travel season.
WHAT'S NEW
Kauai Named Best Hawaii Island, #2 Island in the World
The readers of Travel + Leisure magazine have spoken – Kauai is the Best Hawaii Island. This is the second straight year and third year out of the past five that Kauai has earned this honor from Travel + Leisure as part of its annual World's Best Awards. Kauai once again earned the highest score after the magazine's readers rated all the Hawaiian Islands on the following qualities: natural attractions, activities and sights, restaurants and food, people, and value. In addition, Kauai earned the second-highest scores of all islands worldwide.
Princeville Ranch Adventures Opens New Tour
Princeville Ranch Adventures has introduced Ride N' Glide, a new tour combining horseback riding and ziplining. The first tour of its kind in Hawaii, Ride N' Glide begins with a horseback ride to enjoy the magnificent mountain and ocean vistas of the North Shore, followed by a thrilling bird's-eye view of the area soaring on three ziplines. The tour concludes on horseback in the secluded valleys of Princeville Ranch.
Outfitters Kauai Creates New Stand Up Paddle Boarding Tour
Outfitters Kauai has introduced a new tour that lets guests experience the hottest trend in water sports – stand up paddle boarding. Led by experienced guides and outfitted with a state-of-the-art SURFTECH board, guests paddle along a tranquil tropical stream, while enjoying the spectacular scenery of the Haupu Mountains and Huleia National Wildlife Refuge.
22 North Restaurant Opens at Kilohana Plantation
22 North, a new 'farm-to-table' restaurant featuring freshly grown products from Kauai, has opened at Kilohana Plantation on the site formerly known as Gaylord's. The restaurant's interior has been completely refurbished and the new menu is utilizing fresh produce grown next door at the 60-acre Kilohana Farm and Orchards.
New Weekly Kauai Culinary Market
Kukuiula Village has introduced Kauai Culinary Market, featuring live music, live cooking demonstrations, ocean views from the wine and beer garden, and locally grown produce and other foods. This special new Market is open every Wednesday from 4:00 to 6:00 p.m.
Kauai Marriott Resort Completes $50M Renovation
Kauai Marriott Resort on Kalapaki Beach recently completed a nine-month, $50 million renovation that has brought improvements to all areas of the hotel. Among the highlights were a transformation of the 356 guest rooms with a timeless island elegance, a refurbishment of Kukui's restaurant and Aupaka Terrace lobby lounge, a newly built children's pool with a slide and water spout features, and an expanded porte cochere and improved main lobby. The 800-acre oceanfront resort also offers the island's most impressive swimming pool with five saunas, as well as a Jack Nicklaus signature golf experience at the Kauai Lagoons Golf Club.
Grand Hyatt Kauai Resort & Spa Completes First Phase of Renovation
The Grand Hyatt Kauai Resort & Spa has finished its first phase of guest room renovations inspired by the ambiance of the island, featuring new mahogany furniture, with marble entryways, and upgraded bathrooms that have marble counter tops, double sinks, and rain-style showers. The renovation will be completed in April 2011.
KAUAI FALL DEALS
'Free for Fall' Rates at Kauai Marriott Resort on Kalapaki Beach
Kauai Marriott Resort on Kalapaki Beach has introduced a special 'Free for Fall' rate starting at $209 per night for a pool view guestroom and includes free Internet access, free golf for children at Kauai Lagoons Golf Club, and discounts on dining, outdoor activities, and shopping. Offered through Dec. 25, 2010, based on availability.
Savings at The Westin Princeville Ocean Resort Villas
The Westin Princeville Ocean Resort Villas is offering discounts of 50% from its regular rates. Enjoy savings on an island-view deluxe villa studio or one-bedroom villa with the 5th night free, $50 daily food and activity credit, and 2-for-1 surfing lessons in award-winning Hanalei Bay. Available through the holidays with the special HOT5050 rate plan.
'Isle See you at Poipu' – Koa Kea Hotel & Resort
Koa Kea Hotel & Resort is offering a special 'Isle See You at Poipu' rate of $299 per night (regular rates start at $445) to reserve a garden view room and enjoy this property and its prime location on the beautiful oceanfront of the sunny south shore.
$500 Resort Credit Offered by Sheraton Kauai Resort
Book a minimum five-night stay at Sheraton Kauai Resort and receive a $500 resort credit that can be used for a variety of services, including food and beverages, upgrades, island activities, spa services, and beach activity. Offer valid through Dec. 25, 2010. For information, call toll-free at 800-782-9488 and ask for the 'Resort Credit Promotion.'
Free Vow Renewals at Outrigger Kiahuna Plantation
Couples staying at the Outrigger Kiahuna Plantation in Poipu this fall can re-affirm their love for each other in a free vow renewal ceremony. Held every other Thursday at 4:00 p.m., the non-denominational ceremony takes place amidst the resort's beautiful garden settings. The special moment begins with couples exchanging complimentary fresh flower lei. A conch shell sounds and the kahu (Hawaiian priest) performs a Hawaiian chant with English translation. Couples learn the meaning and significance of 'ha' (breath of life) as they renew their vows. Call 808-742-6411 or email kpr@outrigger.com for details. Available through Dec. 21, 2010.
UPCOMING EVENTS
Eo E Emalani I Alakai Festival: October 9
This colorful festival steeped in Hawaiian culture annually recreates the trek of Queen Emma to Kokee in 1871. Enjoy Hawaiian music, hula, exhibits and Hawaiian craft making. Free to the public. For information, call 808-335-9975
Royal Paina 2010: October 23
Celebrate Kauai Historical Society's 96th anniversary with this gala affair at Smith's Tropical Paradise. It begins at 5:30 p.m. and is highlighted by a traditional Hawaiian luau with entertainment. For information, call 808-245-3373
Veterans Day Parade: November 6
Kauai honors its men and women who have served in America's Armed Forces with its annual Veterans Day parade on Saturday, November 6. The parade winds through Kapaa Town and ends at Kapaa Ballpark for food, entertainment, special recognitions, and a viewing of military vehicles. For information, call 808-826-1469.
18th Annual Hawaiian Slack Key Guitar Festival: November 14
Come hear the music of Hawaii's renowned slack key guitar artists at the Hilton Kauai Beach Resort, while enjoying local foods and island crafts. The festival runs from 12:00 to 6:00 p.m.
The Annual Festival Of Lights Parade: December 3
Bring the kids and watch the lighting of Christmas decorations at the historic Kauai County Building. This family-oriented celebration features entertainment, Christmas caroling, and a parade of floats through the heart of Lihue on Rice Street before concluding on the grounds of the Kauai County Building. The parade begins at 6:30 p.m. For information, call 808-241-4925.
Christmas Craft Fair At Kauai Museum December 4-5
Enjoy the annual Christmas Craft Fair at Kauai Museum and help support the island's artisans. The daylong event will feature delicious food, Hawaiian music, and hula performances and run from 10:00 a.m. to 9:00 p.m. For information, call 808-245-6931.
Easter Seals Hawaii Gingerbread Festival: December 11
Easter Seals Hawaii on Kauai will be selling gingerbread houses for the annual Gingerbread Festival at Kukui Grove Shopping Center. Participants are invited to build a gingerbread house with family, friends and co-workers. Gingerbread Festival packages must be pre-ordered and can be reserved by calling 808-245-7141. All proceeds raised will benefit Easter Seals Hawaii for the Kauai Early Intervention Program.
Annual Boat Parade of Lights: December 12
Boats and vessels adorned with lights and decorations for the holidays will light up Nawiliwili Harbor and Kalapaki Bay for the Nawiliwili Yacht Club's Annual Boat Parade of Lights. The boat parade sets sail at 6:00 p.m. and the public is invited to watch from the harbor area or jetty next to the U.S. Coast Guard's Nawiliwili Moorings. For information, call 808-742-2512.
Waimea Town Parade: December 18
Waimea Town will deck the streets with holiday cheer to celebrate the fun and festivities of its annual parade, which starts at 6:00 p.m. Come early and enjoy refreshments and stay afterwards for entertainment following the parade. For information, call 808-338-9957.
New Year's Eve Celebration: December 31
Celebrate the end of 2010 and welcome the New Year by enjoying an evening fireworks show at Poipu Beach Park. The fireworks show is free and open to the public.
Kauai – Hawaii's Island of Discovery
Nicknamed the Garden Island, Kauai is green and flourishing with lush flora that runs from the mountains to the ocean. Kauai offers more than 50 miles of white sand beaches – more beach per mile than any other island in Hawaii. Other natural wonders include the 3,567-foot deep Waimea Canyon, dubbed -The Grand Canyon of the Pacific,' and the 3,000-foot towering mountain cliffs overlooking the Napali Coast along the northwest shoreline.
Kauai's abundance of outdoor activities, including kayaking, snorkeling, hiking, mountain tubing, horseback riding, ATV adventures, zipline tours, and helicopter and boat tours, offer memorable vacation experiences for the whole family.
For information about Kauai – Hawaii's Island of Discovery – visit www.KauaiDiscovery.com or call the Kauai Visitors Bureau toll-free at 800-262-1400.
Follow updates about Kauai via Twitter (@kauaidiscovery) and as a fan on its Facebook page as Kauai Visitors Bureau.
The Kauai Visitors Bureau is a division of the Hawaii Visitors and Convention Bureau, which is contracted by the Hawaii Tourism Authority (HTA), the state of Hawaii's tourism agency, for marketing management services in North America. The HTA was established in 1998 to ensure a successful visitor industry well into the future. Its mission is to strategically manage Hawaii tourism in a sustainable manner consistent with the state of Hawaii's economic goals, cultural values, preservation of natural resources, community desires, and visitor industry needs.
About Dave's Travel Corner

Dave's Travel Corner is a travel content, resource provider and community (founded 1996) providing travel
Guides
written about Dave's personal travel experiences and
Journals
, pages that contain trip summaries and experiences written by fellow travelers. We spotlight locations and attractions with an article linked directly from our homepage including content across our blog, photo and video galleries. We use a combination of social media, written content, photography and videos to promote locations. Not only does the content appear on this site but we have direct partnerships with other well visited travel sites for placement of the content. Since 1996, we have also established hundreds of relevant link exchanges with other travel sites.
Visitors to Dave's Travel Corner will also find thousands of travel related links organized by categories on the
Resources Page
, a
Photo Gallery
containing International travel photos,
Book Reviews
, and
Product Reviews
focusing on products useful for travelers, fully automated
Forums
,
Tour Bookings
offering over 4400 unique tours around the globe,
Interviews
with those making news in the travel industry and
Videos
- specializing in International travel videos as well as home of the
Dave & Jim Show
.
Dave's own travel blog is
Above the Clouds
which focuses on International Travel & Lifestyle.
For information on advertising please choose from a variety of
advertising options here
.
Contributors are welcome

Learn how you can contribute
About

www.davestravelcorner.com/about