La Carmina is a multi-talented lifestyle blogger, TV host and an author of 4 books including the upcoming "The Little Book of Satanism: A Guide to Satanic History, Culture, and Wisdom," published by Simon & Schuster on October 25, 2022. I recently managed to get hold of her and asked her a couple questions.
 Q. You started as a blogger and slowly moved towards becoming an author and TV host. What has your journey been like to get to where you are today and what are the things that you wish you would have done differently if you could turn back the clock?
I was intrigued by the emergence of blogging in the mid-2000s and started my La Carmina Blog for fun in 2007. It was the pre-social media era (other than MySpace), and the word "influencer" did not yet exist in this context. It was thrilling to ride this first wave, as blogging led to opportunities to travel to over 70 countries, write books and host TV shows — things I never imagined were possible. There's a larger free will discussion about whether it would even be possible to do things differently, if I were to go back in time. But I think I'd better appreciate the "Wild West" days of early blogging / social networks before the field got commercialized and competitive, and social media turned into something addictive and omnipresent.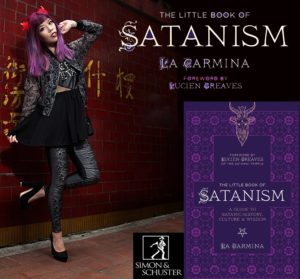 Q. Can you give us a little peek into your new book  – "The Little Book of Satanism" that is slated to hit the shelves in October 2022? This is a thought-provoking book providing a fresh perspective on Satanism – an ideology that most people steer away from, what inspired you to author this book with this unique and somehow controversial genre?
I'm excited to release my fourth book right before Halloween. I've long been interested in modern Satanism and have investigated and written extensively about it over the years. Many people have a negative and misinformed view of Satanism due to the influence of horror movies and Satanic Panic propaganda, which falsely paint Satanists as Devil-worshippers in the pursuit of evil. I hope my nonfiction book helps to illuminate the rich history and culture of Satanism, a nonviolent and nontheistic religion that brings purpose and community to a large number.
"The Little Book of Satanism" has a foreword by Lucien Greaves of The Satanic Temple and covers everything from the Devil's literary and artistic roots, to historical events linked to Satan worldwide, to pop culture and the religion today. It's published by Simon & Schuster worldwide, and readers can find out more and pre-order my book here.
Q. Bizarre Foods with Andrew Zimmern is one of my favorite travel shows. How was your experience like co-hosting with Andrew and how adventurous your palate is?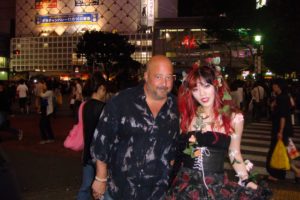 Andrew is such an open-hearted person — he was kind and generous to everyone who took part in my episode of Bizarre Foods (I co-hosted the segment and took him to a haunted monster theme restaurant in Tokyo). His curious, compassionate approach to food and travel has made a powerful impact on me and shaped the work I do today in shining a light on global subcultures.
I love to try local specialties wherever I go — I recently went to Puerto Rico and was enthralled by rice and beans, mofongo (a plantain mash), chichaíto (an anise and rum liquor), and plantain lasagna. However, I don't go out of my way to eat strange foods just for the sake of it.
Q. What do you do to keep up and stay abreast of pop culture and the latest lifestyle trends, and how do you challenge your status quo after your last achievement?
I don't feel I put directed effort into staying on top of these matters — I just naturally gravitate towards certain alternative subcultures or movements as they emerge. When something piques my interest, I like to dive in and share these experiences with my readers. For instance, I was drawn to Tokyo's Goth and Lolita culture in the mid-late 2000s and wrote about Synthwave in the late 2010s. If this were the 1960s for example, I could see myself reporting on hippie festivals, or hanging at an ashram in India!
Q. How did you take advantage of the down time of the pandemic period to stay productive and creative, and,  if there's one good thing that came out of the pandemic for you, what is it?
Before the pandemic, I was constantly on the go with travel projects; I visited an average of 12 countries per year and spent my downtime on fulfilling these deliverables. When I was grounded at home in Vancouver starting in March 2020, I got the chance to focus on writing again, and published in Time Magazine and Architectural Digest for the first time and was interviewed in The New York Times.
Writing articles about Satanism also helped me to get the book deal with Simon & Schuster for my upcoming "The Little Book of Satanism." Thanks to the pandemic, I am more aware of the fleetingness of things, and the acceleration of what I call "The Collapse" (life is going to be harder and more restricted from here on out, due to climate change and other triggered consequences) — so I'm keen to make the most of opportunities and see the people that matter to me, while I still can.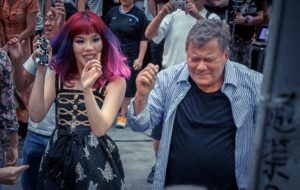 Q. What have been some of the fun aspects and challenges in running your own fixing company to arrange the segments for TV shows?
I love being able to feature my creative and talented friends in these TV shows, whenever the opportunity arises. For instance, my business partner Naomi Rubin and I filmed with a German TV show in Tokyo, and we staged a performance at Department H — the long-running fetish and subculture party that we adore.
We also had Dr. John Skutlin, body modifications expert, demonstrate a "bagelhead" saline forehead inflation for our National Geographic Taboo shoot in Tokyo, and contribute his own blood to a blood-drinking segment in Hong Kong. It's a challenge to put together productions in a short time and with a limited budget, but we're always able to pull it off with teamwork.
Q. Why do you think shining a light on marginalized cultures matters and what are some of the unique Japanese subcultures that you find most fascinating but haven't had a chance to showcase them through your platforms?
Far too often, those on the fringes — who don't 'fit in' or conform to social standards — are miscast in a negative light by mainstream media and treated like second-class citizens.
As someone who's always felt most at home outside these norms, I feel my work is most meaningful when it can present an alternative perspective and diffuse such misunderstandings. I've written about Japanese style tribes since starting my site in 2007, and it's been a joy to report on Visual Kei bands, steampunk parties, Satanic shops, and more. Tokyo's drag queen culture has blossomed over the past years, and I'd love to report more on it firsthand — particularly the events run by Gothic drag diva Yukiro Dravarious and her Haus von Schwarz.
Q. Having been named as the Lady Gaga of the Japanese underworld, you are known for your bold and eccentric fashion style heavily influenced by Gothic and Harajuku. Where is your source of inspiration and how do you strike the harmony between these two styles (Gothic and Harajuku) while reinventing yourself through fashion? 
I've always felt most "myself" when I dress in this way — my style signatures include colorful hair (currently long and purple, pink), 90s style platform boots or sandals, giant sunglasses, and accessories such as a McQueen skull handbag. I like to play with a variety of styles, and influences range from Victorian corsets to cyber kimonos, vintage puff skirts, and "kawaii" elements (I'm a huge fan of Miffy the bunny).
I don't over-analyze it; I simply have loved expressing myself through alt/Goth styling since I was a teen. I post outfit photos regularly on my La Carmina Blog and @lacarmina social media, and it's amusing to see how my friends and I have shape-shifted over the years.
Q. You are a TV presenter, fashion blogger, travel journalist and author, are there other roles you want to take on to diversify your career experiences in future?
If there's anything that I've learned over the years, it is that it's impossible to predict how the future will look. However, I'm keen to keep writing books, and sharing my experiences with alternative and underground cultures worldwide in a variety of media. I think people should also realize the inevitability of "The Collapse" as my friends and I put it, and do the things they want to do now, while they are still possible. It's going to be hellish in the next years and decades, so I encourage everyone to do their best to be informed, prepared and agile for whatever hits.
 Go to www.lacarmina.com/blog or www.lacarmina.com to learn more about her and her latest work.
– Instagram
– Twitter
– Facebook
All photographs credit: La Carmina
Biography: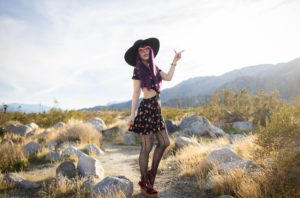 La Carmina is known for her firsthand reports on Goth and alternative travel particularly in Japan. She started her award-winning travel blog in 2007; now, she is a journalist honored by the Society of American Travel writers, and the author of 4 books with Penguin Random House and Simon & Schuster – including the upcoming "The Little Book of Satanism."
Carmina also works as a TV host and local producer on major shows, particularly travel TV series set in Japan ("Bizarre Foods" on Travel Channel, "World's Weirdest Restaurants" on Food Network, "Better Late Than Never" NBC with William Shatner and Henry Winkler, Discovery TV "Oddities," National Geographic "Taboo," and many more). More bio info at lacarmina.com/blog/bio