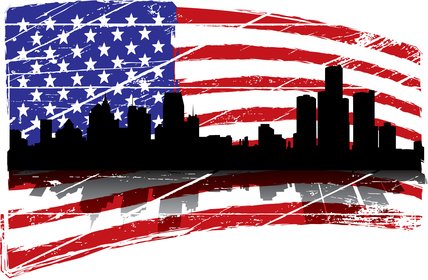 Detroit, or America's great comeback city, as it is so commonly referred to these days, is a beacon of tenacity and fortitude. We're the real deal with our ever growing selection of restaurants, music festivals, entertainment and sports venues not to mention some very live local character. A ton of new development is taking place in The D, from a renovated convention center to new hotels, restaurants and a light rail on the way. The coming months are filled with exciting holiday events and new exhibits at our world-class museums. Come check it out for yourself.
New Developments in The D
Cobo Center's new Grand Riverview Ballroom and Atrium opened in grand style this September. Construction began in February 2012 to transform the 12,000 seat Cobo Arena into the new, glass enclosed events spaces that open up the facility to floor to ceiling views of the Detroit River and Windsor, Ontario. The new 40,000 square foot Grand Riverview Ballroom has a capacity of 3,500 for theater style and 2,250 for banquets and offers 21,000 square feet of meeting space directly below. The Atrium can host a 600 person seated meal, 1,000 people seated theater-style and 1,200 people standing. It offers 30,000 square feet of contiguous space, 16,000 square feet on the main floor between the columns and provides a direct connection between the new riverfront entrance and main concourse. The entire $279 million renovation of Cobo Center began in September of 2010 and is expected to be completed by 2015. The final phases of the Cobo Center transformation will include: a TV broadcast studio with satellite up-link capability; giant exterior video walls for event information and advertising; a state-of-the-art Scala wayfinding system; and an open air terrace overlooking the river for event and community programming.
Plans are in place to break ground on a $137-million, 3.3-mile Woodward light rail system by the end of this year. The M-1 RAIL will include 11 stations, with connections to Campus Martius, Comerica Park, the Detroit Medical Center area and Wayne State University. Service is expected to begin in late 2015.
Ilitch Holdings, who have already invested more than $1.9 billion in Detroit, recently announced its plan to develop a new innovative district made up of residential, retail and office facilities in Detroit's downtown core. This $650 million project will be anchored by a new multi-purpose arena that will be the new home for the Detroit Red Wings. More details coming soon.
The penguins at the Detroit Zoo will soon have a new home thanks to a recent $10 million donation from the Polk Family Fund. The Polk Family Penguin Conservation Center will be a $21 million, 24,000-square-foot facility featuring a penguin "deep dive" with views above and below water as the birds dive and soar through a chilled 310,000-gallon, 25-foot-deep aquatic area. Visitors will have the opportunity to see penguins deep-water dive–something that cannot be seen anywhere else, even in nature. The Penguin Conservation Center will be home to 80 penguins of four species: rockhopper, macaroni and king – which currently reside in the Detroit Zoo's original Penguinarium – as well as gentoo, a species which will be new to the Zoo. The entry plaza will include a water feature that will be a splash area in the summer and a skating rink in winter. The new facility will open in 2015 and is expected to have an economic impact of more than $3 million per year.
Detroit's Midtown is one of its fastest developing neighborhoods, featuring an abundance of restaurants, galleries, community gardens and markets. Local entrepreneurs have made Midtown a hub for small businesses such as Hugh, Nora, Maccabee's at Midtown and Great Lakes Coffee Roasting Company. Detroit's first Whole Foods also opened in Midtown earlier this year, as did Shinola, which makes American-made bicycles, watches, leather goods and journals. Midtown is also at the core of the M-1 Rail development and non-motorized transportation plans that will connect the district to Eastern Market and other neighborhoods via greenways and bike paths.
Construction is underway transforming the Globe dry dock along the Detroit River to a DNR Outdoor Adventure and Discovery Center. This one-of-a-kind facility will provide visitors with opportunities to see, feel, hear and touch Michigan's outdoors. Outdoor recreation experiences will be provided through various simulated recreation experiences. Displays and exhibits will tell about the natural and cultural resources that can be found throughout Michigan. Through exhibits, displays and simulators visitors can experience the thrill of reeling in the big fish that almost got away, climb high above the treetops and see how a fire tower keeps the forest safe, explore ways to help the environment and conduct experiments involving soil, water and other natural resources.
Hotel News
Directly across the street from Cobo Center, the new Crowne Plaza Detroit Downtown Convention Center Hotel opened this past summer. The upscale property is a 25-story, 371-room hotel that caters to business travelers and the meetings and conventions market. Hotel amenities include concierge service, on-site restaurant and bar, a state-of-the-art fitness center, an indoor pool, free Wi-Fi Internet, a 24-hour Business Center and valet parking available 24/7 with in and out privileges.
Also across from Cobo Center, the historic firehouse built in 1929, was sold to a local developer with plans of transforming the building into a 75-80 room boutique hotel. More details coming soon.
Metro Detroit's suburban convention center also added a new hotel this August. The attached Hyatt Place Detroit/Novi is a 124 room hotel featuring a 24-hour StayFit Hyatt fitness center, 24/7 Guest Kitchen, complimentary Wi-Fi, an interior pool and an upscale exterior courtyard that will provide first-class ambiance to accommodate weddings and other elite social events. The Suburban Collection Showplace is a 215,000 square foot exposition center. Along with the new hotel, the Center's Diamond Banquet and Conference Center added approximately 20,000 square feet, including 9,260 square feet of meeting space, creating an additional 10 meeting rooms and 8,754 square feet of pre-function space.
The Detroit Marriott at the Renaissance Center recently announced that it will begin a $30 million renovation project in February 2014, transforming 1,329 guest rooms and 100,000 square feet of meeting space. The Detroit Marriott is one of the tallest hotels in the western hemisphere and its massive makeover will take about a year to complete. The 70-floor hotel will remain open throughout the project with a few floors undergoing reconstruction at a time. Given Marriott's commitment to Detroit, the corporate design team created a one-of-a-kind look specifically for the Detroit Marriott incorporating the city's vibe and personality into the new, comfortably modern décor theme. As part of the overall brand transformation, Detroit Marriott guests will enjoy many new amenities and technological innovations including a new line of personal care items, as well as new bedding and linens. Meeting renovations include an extensive remodeling of the ballroom and exhibit hall space to allow greater functionality of the meeting space.
Construction is underway on Michigan's first Aloft Hotel, located along Woodward Avenue in in the historic David Whitney Building. The Aloft hotel will offer 136 rooms and is scheduled to open in July 2014. The building will also feature retail, restaurants and apartments.
The Townsend Hotel, located in downtown Birmingham, recently earned the 2013 Forbes Travel Guide Four-Star Award. According to the publication, the Forbes Travel Guide Four-Star Award indicates The Townsend Hotel is an outstanding establishment, offering guests a truly exceptional level of luxury and service. The Townsend is one of only two hotels in all of Michigan to receive a Four-Star Award, and is one of only 264 worldwide to meet Forbes' four-star bar-setting service standards. The hotel's restaurant, The Rugby Grille, also earned an exclusive Forbes Travel Guide rating – a 2013 Recommended Award, naming the restaurant as one of the best establishments in its destination. The Rugby Grille is the only restaurant in Michigan to receive a 2013 Forbes Travel Guide Recommended Award, and is one of only 28 Forbes Travel Guide recommended restaurants in the world.
Upcoming Festivals, Events, Exhibits and more
Downtown Detroit transforms into a hockey winter wonderland this December in preparation for the 2014 Bridgestone NHL Winter Classic® that will take place Jan. 1 at Michigan Stadium on the University of Michigan campus in nearby Ann Arbor. Long-time rivals the Toronto Maple Leafs will go head to head with the Detroit Red Wings in what's sure to be an exciting matchup. In weeks prior to the game, Detroit will host the SiriusXM Hockeytown Winter Festival™, an outdoor celebration of hockey at Comerica Park beginning in mid-December. The festival is expected to attract more than 250,000 to the city. It will feature an outdoor rink placed on the infield of the ballpark that will host games between teams representing every level of hockey and opportunities for open skating for the public. The showcase events at the festival promise to be the two games featuring notable alumni of the Red Wings and Maple Leafs – the 2014 Red Wings vs. Maple Leafs Alumni Showdown™ – on New Year's Eve, Tuesday, Dec. 31. Other scheduled games include the Great Lakes Invitational on Dec. 27 and 28, Ontario Hockey League Double Header on Dec. 29 and American Hockey League on Dec. 30.
Two hundred years of service have made metro Detroit's Westview Orchards the third oldest farm in Michigan. Nothing screams fall like apple picking and cider tasting at a family-owned orchard. Not to mention picking pumpkins: great for those jack-o-lanterns, Thanksgiving decorations and of course pie. Take the kids for some fun activities, like climbing Straw Mountain, navigating a corn maze, carving pumpkins, jumping on huge inflatable pillows and making friends at a petting zoo.
Watch Me Move: The Animation Show, an eccentric compilation of artistic masterpieces from the last 150 years, will be on display at the Detroit Institute of Arts Oct. 6, 2013 – Jan. 5, 2014. It includes characters from over 100 animated films across several generations including Betty Boop and a number of Pixar creations. Keep an eye out for Walt Disney and Tim Burton animations.
The DIA's newly transformed Kresge Court provides a comfortable place where visitors can eat, drink, relax, socialize and meet informally. Kresge Court's food and beverage service integrates an elegant dining atmosphere into the new layout with an upgraded menu offering new shareable items such as gourmet snacks, cheese and charcuterie, as well as sandwiches, salads and desserts, using the best seasonal ingredients from local markets. Beverages include Starbucks coffee, lattes and blended frozen drinks, as well as beer and wine. A special menu on Friday nights offers a variety of tapas and a full bar from 5-9 p.m., with specialty drinks. Tall library tables were installed with iPads and all the furniture contains power outlets to facilitate use of personal electronic devices.
Starting Oct. 11, Greenfield Village celebrates Hallowe'en, an interactive, spooky event just in time for the haunting time of year. The exuberant staff members are costumed in ghoulish flair with attitudes to match. It's a fantastic venue for building memories with the kids while reveling in the unique opportunity to immerse in a world of old time Halloween.
James Cameron's AVATAR: The Exhibition will take Henry Ford Museum visitors on a dive deep into the world of Pandora and the making of this extraordinary film. On display Oct. 26, 2013 – Jan. 26, 2014, the exhibit will explore Pandora's Na'vi inhabitants, the groundbreaking technology that brought the blockbuster film to life, and the creative inspiration that fueled it all. Interactive displays will allow museum-goers to direct the three-dimensional orientation of a virtual camera and shoot a computer-rendered scene, interact with touch tables to explore concept art used in creating AVATAR, create their own plant life based on scientific/biological principles used in the film and much more. AVATAR the Special Edition: an IMAX 3D Experience will also be shown at The Henry Ford IMAX theatre.
Featuring more than 45 giant animated displays and more than one million lights, the Wayne County Lightfest will illuminate Hines Drive Nov. 14-Dec. 31 (closed Christmas Day). The Wayne County Lightfest is the Midwest's largest and longest light show and runs each night from 7-10 p.m. Bikers will have the opportunity to bike through the lights on Nov. 13 before the Lightfest opens to the public.
Join in the holiday spirit at Detroit's Tree Lighting Ceremony in Campus Martius Park on Nov. 22. Each year there is a hunt for the perfect tree to fill the big shoes of park holidays past. Watching the 60 foot high tree being lit has become a true Detroit tradition for metro Detroiters and visitors alike.
Detroit's city center, Campus Martius Park, morphs into an ice rink that makes for a fantastically frigid family getaway, fun time for friends or romantic date night. The rink opens for all your ice skating needs Nov. 22.
Metro Detroit is your one-stop shop for holiday shopping. From Great Lakes Crossing Outlets, the Somerset Collection and the Mall at Partridge Creek to multiple downtown shopping districts, such as Birmingham, Royal Oak, Plymouth and Rochester, metro Detroit has got you covered. Be sure to take advantage of all the great deals on Black Friday, Nov. 29.
This Thanksgiving Day marks the 86 year tradition of a Detroit favorite, America's Thanksgiving Parade. Parade goers of all ages will line Woodward Avenue to see the floats, balloons, marching bands, clowns, Big Head Corps and the long awaited arrival of Santa Claus. One of the country's oldest parades, American's Thanksgiving Parade starts at 9:05 a.m. on Thursday, Nov. 28 and will be broadcast live on WDIV Local 4 and on WJR 760 AM.
Don't miss out on handmade gift items from more than 60 Michigan artists and historical museum gifts from the Motorcity Marketplace at this year's Christmas Wonderfest. The festival runs Dec. 5-8 and has a new location at the Suburban Collection Showplace. Also be sure to enjoy tasty snacks like roasted chestnuts and shortbread while you meander from vender to vender.
The Detroit Zoo will light up the night this holiday season with Wild Lights, a spectacular holiday light display of more than a million LED lights illuminating trees, buildings and animal sculptures throughout the front of the zoo. Take in the lights and the sights while enjoying holiday entertainment and activities for guests of all ages, including live performances, arts and crafts, storytelling, ice carving and a holiday train display.
More than 1.4 million holiday lights will illuminate the streets of Downtown Rochester for the Big, Bright Light Show on display Dec. 2, 2013 – Jan. 4, 2014 from 6 p.m.-midnight each night. Breathe in the holiday cheer and be dazzled by some seriously festive decorations.
Create lasting memories at one of the many special events hosted by the Edsel & Eleanor Ford House this holiday season. Enjoy tasty treats and warm holiday drinks at a nutcracker tea, sing carols, enjoy hot chocolate and holiday desserts, and listen to a Christmas story favorite in the Ford House Gallery next to a twinkling tree at Christmas story time, or enjoy a candlelight stroll at the Ford Family Home.
Celebrate the season at Meadow Brook Hall all aglow with historic and holiday treasures. The great estate presents its 42nd annual Holiday Walk Nov. 29 – Dec. 23. Be sure to stop by the 3/4-scale playhouse built for Frances Dodge. Other special events are also scheduled this December, such as a starlight stroll, holiday high tea, holiday shops and visits with Santa.
Join in the Christmas celebration this December at Holiday Nights at Greenfield Village. Watch as costumed presenters do Charles Dickens proud with a round of caroling in top hats, cravats and petticoats. Holiday Nights takes place December 6-8, 13-15, 19-23 and 26-28, from 6:30–10 p.m. No classical Christmas would be complete without a horse-drawn carriage ride, ice skating, live reindeer, and of course Santa. Also true to the Motor City, take a ride in a Model T.
Explore Midtown Detroit's Cultural Center area this Dec. 7 for the 41st Annual Noel Night. For one evening cultural center institutions such as the Detroit Institute of Arts, The Michigan Science Center, The Charles H. Wright of African American History, The Detroit Historical Museum, The Detroit Public Library and many others offer free access to visitors. Other activities include horse-drawn carriage rides, holiday shopping, family craft activities, live performances and a community sing-along on Woodward Avenue led by the Salvation Army Band—a long-standing Noel Night tradition.
For the third consecutive year in a row, the Detroit Lions will host Monday Night Football at Ford Field. On Dec. 16 the Super Bowl XXXV Champion Baltimore Ravens will challenge the Detroit Lions. Also don't miss the traditional Thanksgiving Day Game where the Lions will take on the Green Bay Packers at home.
Celebrate Kwanzaa with friends and family at the Charles H. Wright Museum of African American History Dec. 26 – 29, nightly from 6 – 9 p.m. Each evening will feature a candle lighting ceremony beginning at 6 p.m., followed by that night's festivities, including storytelling, musical and dance performances and a Kwanzaa marketplace.
Fireworks are a big deal in Detroit, and there is no shortage of them on New Year's Eve for the end of the year celebration at Campus Martius Park. Don't miss DJ performances by Tom T, Bruce Bailey, and rising star Vin Amori. What would a New Year's Eve party be without a shimmering beacon counting down the last seconds of the year? Detroit challenges New York with its very own big D Ball drop. The drop is dedicated to the spirit of Detroit and its inhabitants. Nothing screams Detroit like its blazing cursive emblem counting down the last few seconds of the year; celebrate a great city's fortitude and determination by joining in the tradition.
Stay connected with what's going on in The D
Get connected and stay connected with what's going on in metro Detroit through social media. Follow Visit Detroit on Twitter and Instagram, join the conversation on Facebook and check out our videos on You Tube. Enter your best pictures of The D in the Depict The D photo contest. For easy access to our online communities simply go to http://www.visitdetroit.com and click on the icons at the top of the page.
About Dave's Travel Corner

Dave's Travel Corner is a travel content, resource provider and community (founded 1996) providing travel
Guides
written about Dave's personal travel experiences and
Journals
, pages that contain trip summaries and experiences written by fellow travelers. We spotlight locations and attractions with an article linked directly from our homepage including content across our blog, photo and video galleries. We use a combination of social media, written content, photography and videos to promote locations. Not only does the content appear on this site but we have direct partnerships with other well visited travel sites for placement of the content. Since 1996, we have also established hundreds of relevant link exchanges with other travel sites.
Visitors to Dave's Travel Corner will also find thousands of travel related links organized by categories on the
Resources Page
, a
Photo Gallery
containing International travel photos,
Book Reviews
, and
Product Reviews
focusing on products useful for travelers, fully automated
Forums
,
Tour Bookings
offering over 4400 unique tours around the globe,
Interviews
with those making news in the travel industry and
Videos
- specializing in International travel videos as well as home of the
Dave & Jim Show
.
Dave's own travel blog is
Above the Clouds
which focuses on International Travel & Lifestyle.
For information on advertising please choose from a variety of
advertising options here
.
Contributors are welcome

Learn how you can contribute
About

www.davestravelcorner.com/about