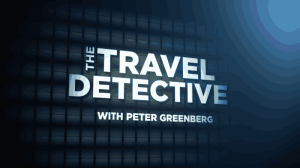 New Public Television Series, The Travel Detective with Peter Greenberg, Premieres Fall 2013 (check local listings)
Travel guru offers tips and tricks for traveling like an insider
Tired of feeling like a helpless traveler? In the new series The Travel Detective with Peter Greenberg, premiering nationwide beginning Monday, September 30, 2013 on public television (check local listings), CBS News Travel Editor and The Royal Tour co-host Peter Greenberg empowers audiences with travel news, must-have information and insider secrets known only to a select few in the industry. The series features 42, half-hour episodes and is distributed nationally by WLIW21. In the New York metropolitan area, the series premieres Saturdays at 7 a.m. on THIRTEEN and 6 p.m. on WLIW21 beginning October 5.
The Travel Detective reveals the process of travel from the inside, giving viewers access to hard-to-find information — from some of the best minds in the travel industry. Every week, Greenberg and a team of acclaimed experts — including editors from The Wall Street Journal and Travel Weekly — share the tools and information needed to take charge of every trip and deconstruct travel myths from the facts every traveler needs to know.
"How you travel is just as important as where you travel," says Greenberg. "Even paradise gets painful when the airline loses your bag, you're being overcharged on your hotel room and you spent half a day on a tour bus, or the cruise line won't refund your money after a cancellation. I've traveled the world for 30 years as an investigative reporter, and The Travel Detective allows me — for the first time on a weekly basis — to share that necessary information.
Greenberg, a multiple Emmy Award winner, reports on the potential fraud and financial truth of airline frequent flyer programs, and shows how to redeem your miles for that coveted frequent flyer seat — even when the airlines say there are no seats available. You'll learn how and when to book a hotel room, how to avoid nickel-and-diming fees, and how to navigate airport security lines no matter what the signs say. The series also advises travelers where not to go, raising a red flag on must-miss cities, highways, airports and more. The Travel Detective goes behind the scenes of cruise lines, rental car companies and trains around the world to reveal the good, bad and sometimes even the ugly sides of travel.
The Travel Detective is produced each week from a different location around the world. From the wilds of Tasmania to roadside food stands in Mexico, from the cockpit of a wide-body jet in Abu Dhabi to hidden coffee plantations in Costa Rica, Greenberg's signature "Hidden Gems" segments highlight experiences beyond the realm of traditional guidebooks. Each week, reports on the latest volunteer vacation opportunities around the world show viewers how they can help local communities every time they travel. For those traveling by car, The Travel Detective also suggests "one-tank trips:" great, affordable places reachable on just one tank of gas.
The Travel Detective with Peter Greenberg is a production of Peter Greenberg Worldwide / Check Six Productions for WLIW21 in association with WNET. The Travel Detective is made possible by InsureMyTrip, Virtuoso and Norwegian Cruise Line.
About Peter Greenberg
Peter Greenberg, who logs more than 400,000 miles a year reporting for CBS News and for his nationally syndicated radio program, is considered the world's most credible front-line travel news journalist. He is a multiple Emmy Award-winning investigative reporter and producer, and a New York Times best-selling author. He spent 14 years as the Travel Editor for NBC's Today and 8 years as Travel Correspondent for ABC. He has been a featured guest on CNN, The Oprah Winfrey Show, The View, Late Night with Conan O'Brien, Dr. Phil, Extra, The O'Reilly Factor, and Larry King Live. He was the creator, co-executive producer and host of CNBC's acclaimed specials "Inside American Airlines: A Week in the Life" and "Cruise Inc: Big Money on the High Seas." Greenberg also produces and co-hosts The Royal Tour, a series of national public television specials in association with WLIW21 for WNET, in which his tour guides and co-hosts have been the King of Jordan, the Prime Ministers of Jamaica and New Zealand, and the President of Mexico. Israel: The Royal Tour premieres December 2013 on public television (check local listings), featuring Prime Minister Benjamin Netanyahu as tour guide.
About WNET
In 2013, WNET is celebrating the 50th Anniversary of THIRTEEN, New York's flagship public media provider. As the parent company of THIRTEEN and WLIW21 and operator of NJTV, WNET brings quality arts, education and public affairs programming to over 5 million viewers each week. WNET produces and presents such acclaimed PBS series as Nature, Great Performances, American Masters, Need to Know, Charlie Rose and a range of documentaries, children's programs, and local news and cultural offerings available on air and online. Pioneers in educational programming, WNET has created such groundbreaking series as Get the Math, Oh Noah! and Cyberchase and provides tools for educators that bring compelling content to life in the classroom and at home. WNET highlights the tri-state's unique culture and diverse communities through NYC-ARTS, Reel 13, NJ Today and MetroFocus, the multi-platform news magazine focusing on the New York region. WNET is also a leader in connecting with viewers on emerging platforms, including the THIRTEEN Explore iPad App where users can stream PBS content for free.
About Dave's Travel Corner

Dave's Travel Corner is a travel content, resource provider and community (founded 1996) providing travel
Guides
written about Dave's personal travel experiences and
Journals
, pages that contain trip summaries and experiences written by fellow travelers. We spotlight locations and attractions with an article linked directly from our homepage including content across our blog, photo and video galleries. We use a combination of social media, written content, photography and videos to promote locations. Not only does the content appear on this site but we have direct partnerships with other well visited travel sites for placement of the content. Since 1996, we have also established hundreds of relevant link exchanges with other travel sites.
Visitors to Dave's Travel Corner will also find thousands of travel related links organized by categories on the
Resources Page
, a
Photo Gallery
containing International travel photos,
Book Reviews
, and
Product Reviews
focusing on products useful for travelers, fully automated
Forums
,
Tour Bookings
offering over 4400 unique tours around the globe,
Interviews
with those making news in the travel industry and
Videos
- specializing in International travel videos as well as home of the
Dave & Jim Show
.
Dave's own travel blog is
Above the Clouds
which focuses on International Travel & Lifestyle.
For information on advertising please choose from a variety of
advertising options here
.
Contributors are welcome

Learn how you can contribute
About

www.davestravelcorner.com/about