Free and open to all, groundbreaking all-night arts event shines light on beach city's innovative and creative spirit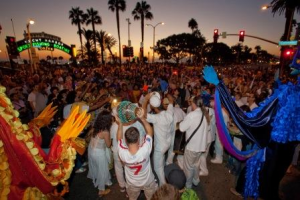 SANTA MONICA, Calif. (Sept. 20, 2013) – On Sept. 28 2013, from 7 p.m. to 3 a.m., Santa Monica will host the third incarnation of Glow, the city's signature cultural event and the nation's only nighttime arts celebration focused exclusively on original artwork. Inspired originally by Paris' Nuit Blanche, Glow has commissioned 15 site-specific, interactive art projects to illuminate Santa Monica's iconic pier and beach. For a single night, the heart of Santa Monica will be transformed into a massive outdoor museum, where art exists not just to be seen, but to be experienced.
Like Santa Monica itself, Glow represents a union of technology, creativity, and natural splendor. With a distinguished roster of keynote artists that includes Mathieu Briand, Janet Echelman, Glenn Kaino, Victoria Vesna, and Rebecca Mendéz, Glow is a veritable survey of contemporary art practices, ranging from large-scale earthworks to customized, participatory apps for mobile devices. Despite their wildly diverse techniques, media, and physical manifestations, all of the works in Glow reflect the event's core mission: to re-envision both urban and natural landscapes through the eyes of contemporary artists.
"Glow is a demonstration of Santa Monica's profound commitment to the arts and its willingness to break the mold," says Jessica Cusick, manager of the Cultural Affairs Division for the City of Santa Monica, noting that more than 40 percent of the city's adult population works in the arts or related fields. "The City, residents, and businesses all come together to make Glow possible – for the benefit of the community and visitors alike," Cusick says.
Organizers expect over 150,000 people to attend, making Glow one of the largest public art events in the world. "Glow is a magnet for art lovers and cultural travelers from around the world because it is a uniquely Santa Monica event," says Misti Kerns, president and CEO of the Santa Monica Convention and Visitors Bureau, which is a sponsor of Glow. "Creativity and innovation are vital components of the Santa Monica experience and Glow provides an incomparable opportunity for locals and visitors alike to create an unforgettable art-inspired beach getaway."
To welcome visitors to Glow, many Santa Monica restaurants will offer drink and menu specials, as well as extended hours, to mark the occasion. For out-of-town visitors, many local hotels have special rates and packages, not to mention coveted Oceanside locations in the heart of the festivities. To help visitors ignite their inner glow, several of Santa Monica's best spas and salons are offering specials on facials, messages, and other beauty treatments, with additional specials on yoga classes to maintain the after-glow.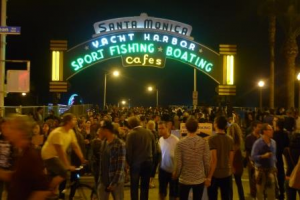 Additionally, many of Santa Monica's cultural destinations and galleries have organized special programming or discounts for Glow. At 2:30 p.m. the day of Glow, the Santa Monica Pier Aquarium is presenting a unique, marine-themed demonstration on bioluminescence. The Santa Monica Museum of Art welcomes all to participate in a guided group bicycle ride from the museum to Glow. Bicycle rental is widely available in Santa Monica, and several vendors are offering specials for Glow, including Bike Attack, Pedego Santa Monica, and the Santa Monica Bike Center. In fact, it is so easy to visit Santa Monica's main cultural attractions, including 90 art galleries and 40 permanent public art installations, that more than 70 percent of hotel visitors do not use a car once they arrive in Santa Monica. Glow is free and open to the public, with readily accessible bike valet. For more information about Glow, visit www.glowsantamonica.org. For a complete list of special discounts and offers for Glow, as well as other helpful information to plan your visit, go to: www.santamonica.com
About Glow
Glow, the first all-night arts event in the United States to emphasize the commissioning of new work, transforms Santa Monica into a world of interactive and engaging contemporary art installations. Santa Monica hosted the first Glow in 2008, attracting an estimated 250,000 participants, followed by another in 2010. The third Glow will take place on the night of Saturday, Sept. 28. It is free and open to the public.
Glow is produced by the City of Santa Monica and the Santa Monica Arts Foundation in partnership with the Santa Monica Convention & Visitors Bureau, Downtown Santa Monica, Santa Monica Pier and KCRW. The Glow leadership team includes Jessica Cusick, Santa Monica's Cultural Affairs Manager, a nationally recognized authority in public art, and Marc Pally, Glow Artistic Director and a highly regarded artist, curator, and public arts professional. The large team that makes Glow possible includes its curatorial committee, which select artists for major commissions from an open call, and the Glow Network, which includes several regional arts organizations that organize projects for Glow. For 2013, the curatorial committee includes David Familian, artistic director, Beall Center for Art and Technology, University of California, Irvine; Meg Linton, director of galleries and exhibitions, Otis College of Art and Design; Stephen Nowlin, director, Alyce de Roulet Williamson Gallery, Art Center College of Design; and Pilar Tompkins Rivas, director of residency programs, 18th Street Art Center.
About Dave's Travel Corner

Dave's Travel Corner is a travel content, resource provider and community (founded 1996) providing travel
Guides
written about Dave's personal travel experiences and
Journals
, pages that contain trip summaries and experiences written by fellow travelers. We spotlight locations and attractions with an article linked directly from our homepage including content across our blog, photo and video galleries. We use a combination of social media, written content, photography and videos to promote locations. Not only does the content appear on this site but we have direct partnerships with other well visited travel sites for placement of the content. Since 1996, we have also established hundreds of relevant link exchanges with other travel sites.
Visitors to Dave's Travel Corner will also find thousands of travel related links organized by categories on the
Resources Page
, a
Photo Gallery
containing International travel photos,
Book Reviews
, and
Product Reviews
focusing on products useful for travelers, fully automated
Forums
,
Tour Bookings
offering over 4400 unique tours around the globe,
Interviews
with those making news in the travel industry and
Videos
- specializing in International travel videos as well as home of the
Dave & Jim Show
.
Dave's own travel blog is
Above the Clouds
which focuses on International Travel & Lifestyle.
For information on advertising please choose from a variety of
advertising options here
.
Contributors are welcome

Learn how you can contribute
About

www.davestravelcorner.com/about