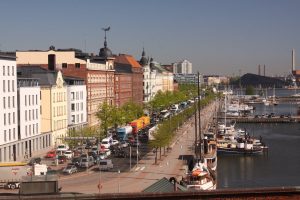 Summer is finally here and there's nowhere better to make the most of the warmer weather and longer days than in Finland – the Land of the Midnight Sun. The most iconic of Finnish phenomena, also known as the nightless night or polar day, the Midnight Sun sets Finland apart from any other summer holiday destination, where almost endless summer days mean that there's twice as much fun to be had in the open air.
When nights are almost as light as day, visitors can continue their activities long into the night, just with a stunning golden glow over the landscape. Below are some suggestions for making the most of the long, light summer nights this year.
Sailing in the Åland Archipelago
Exploring Finnish coastal waters is beautiful at the best of times, but when everything is bathed in an incredibly warm, bright light, a Midnight Sun sail is a whole other experience. The Åland Archipelago is a unique collection of more than 6,500 islands at the entrance to the Bothnian Gulf in the Baltic Sea between Sweden and Finland. Only around 65 of the islands are inhabited and the archipelago's outer reaches are only accessible by boat, but with the extended daylight hours, there's more sailing time to reach the more remote islands.
How: Midnight Sun Sailing has a fleet of over 30 yachts with sizes varying from 26 to 51 feet, with the option of a skipper. A week's charter for a 27 foot yacht with two cabins (sleeping six) starts from $ 1,150 (850€) without a skipper / $ 3,040 (2,250€) with a skipper. www.midnightsunsailing.fi/
Horse Riding in Northern Lapland
Far north of the Arctic Circle, in the depths of the Sami land of Lapland, the Midnight Sun creates a fairy-tale-like scene across the forested hills and fells. Exploring the Lappish wilderness on horseback is one of the most peaceful and invigorating ways to feel the effect of the Midnight Sun. A two day riding tour from Kamisak Farm leads through the Lappish countryside, across the varying landscape of the Samis, to a wilderness cabin complete with a Finnish sauna to be enjoyed under the golden glow of the Midnight Sun.
How: Kamisak offers overnight Midnight Sun riding tours from 1 June to 31 October for groups between 2 and 6 people. The excursion, priced from $ 560 (420€) per person, includes helmet, guide service, liability insurance, all meals during the tour and one night's accommodation in a cabin.
A Round of Golf in Oulu
Although golf isn't the first sport associated with Finland, the game has been growing in popularity since the 1980s with thanks in part to the growth of Midnight Sun tournaments held each summer. Oulu Golf Club, on Finland's western coast, is the northernmost 36-hole golf course in the world and it's not uncommon to see players starting their round at 9pm in the evening and playing throughout the night under the Midnight Sun. During the midsummer months, the sun rarely goes below the horizon so the light only dims slightly and since it's a countryside course, the area is remarkably quiet around midnight, with only the occasional bird singing. Bears have even been spotted during midnight games.
How: Oulu Golf Club is located in the town of Sanginsuu, 11 miles east of Oulu, and is open 24 hours a day during the midsummer months. Green fees are $ 67 (50 €) a day, which allows you to play as many rounds as you wish in a 24 hour period.
Wildlife Watching in Wild Taiga
During the nightless nights, nocturnal animals still wake up to prey in the evening but don't have their usual shelter of darkness, providing one-of-a-kind opportunities to observe and photograph rarely-seen animals, such as bears, wolves and wolverines. The untouched forests and lakes of Taiga in Eastern Finland are one of Europe's last great wilderness areas, attracting both wildlife and landscape photographers under the Midnight Sun.
How: Taiga Spirit offers overnight excursions to a special hide in the heart of Wild Taiga, where bears, wolverines, white-tailed eagles and owls are among the wildlife that can be observed and photographed in their natural habitat. Excursions are priced from $ 108 (80€) per person for a night in a hide equipped with a bed, sleeping bag, dry toilet and picnic blanket.
Sunset Paddling in the Lakeland
Finland is not only known as the 'Land of the Midnight Sun', but also the 'Land of a Thousand Lakes' (although there are actually over 180,000 of them) so combine the two on a sunset kayak trip in the Lakeland region, which occupies most of central and eastern Finland. Lake Saimaa, the largest lake in Finland and the fourth largest in Europe, represents Finland's Lake District at its best. With hundreds of islands and broad open waters to explore, the extended daylight mean more time to make the most of the area, while watching the sunset over the watery landscape is a breathtaking experience.
How: Kolovesi Retkeily Canoe Outfitters rents canoes and sea-kayaks and offers independent and guided trips, both pre-planned and tailor-made, across the protected lake areas. Kayak rental costs from $ 47 (35€) for one day and includes life jackets, one dry bag, and a map for the self-guided routes.
Visit Finland USA: Tel. 1-917-863-5484
About Dave's Travel Corner

Dave's Travel Corner is a travel content, resource provider and community (founded 1996) providing travel
Guides
written about Dave's personal travel experiences and
Journals
, pages that contain trip summaries and experiences written by fellow travelers. We spotlight locations and attractions with an article linked directly from our homepage including content across our blog, photo and video galleries. We use a combination of social media, written content, photography and videos to promote locations. Not only does the content appear on this site but we have direct partnerships with other well visited travel sites for placement of the content. Since 1996, we have also established hundreds of relevant link exchanges with other travel sites.
Visitors to Dave's Travel Corner will also find thousands of travel related links organized by categories on the
Resources Page
, a
Photo Gallery
containing International travel photos,
Book Reviews
, and
Product Reviews
focusing on products useful for travelers, fully automated
Forums
,
Tour Bookings
offering over 4400 unique tours around the globe,
Interviews
with those making news in the travel industry and
Videos
- specializing in International travel videos as well as home of the
Dave & Jim Show
.
Dave's own travel blog is
Above the Clouds
which focuses on International Travel & Lifestyle.
For information on advertising please choose from a variety of
advertising options here
.
Contributors are welcome

Learn how you can contribute
About

www.davestravelcorner.com/about