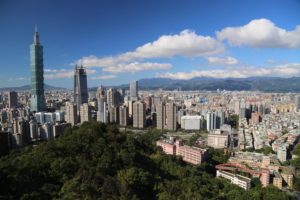 Announces International Partnership with LA Clippers with rights through NBA's innovative international team marketing program
Taipei, Taiwan, Los Angeles, California – March 16, 2023 – STARLUX Airlines, a Taiwan-based luxury carrier, today announced the launch of its inaugural Taipei-Los Angeles transpacific flight debuting on April 26. Initially starting with five weekly flights, the service is expected to ramp to daily in June. STARLUX also announced the establishment of its first US office based in Los Angeles and its new designation as the "Official International Airline Partner of the LA Clippers" as part of a multi-year partnership with the NBA team.
"As a brand-new airline to the US market, STARLUX is excited to help create memorable journeys by providing unique and exquisite service to customers traveling to and from Los Angeles to Taipei, and other Asian cities," said STARLUX CEO Glenn Chai. "With Los Angeles being the sister city of Taipei, along with our partnership with the LA Clippers, the city of angels is our airline's perfect starting US destination."
Luxury Service and a Taste of Taiwan
While the last few years have seen a plethora of budget airlines come onto the scene, STARLUX is bucking the trend — a luxury airline expanding in a world of no-frills carriers. With a philosophy that luxury should not be the exclusive experience of the elite but readily available to everyone, the company is experiencing impressive growth.
With eyes to the skies and "luxury" embedded in its brand, STARLUX strives to achieve the highest standards in operations, service, safety, and management. The airline operates the TPE-LAX route with its new-generation Airbus A350 configured in a premium four-class layout, with four seats in First, 26 in Business, 36 in Premium Economy, and 240 in Economy. Travelers in First and Business will have a cozy private space with a sliding door and seats with full-flat and Zero G mode for full relaxation. The extra-legroom Premium Economy section features a 40-inch Recaro seat with a leg rest and footrest bar. Economy Class seats are also built for utmost comfort, equipped with leather headrest and wide seat pitch. In addition, the A350 offers nose-to-tail seatback entertainment featuring 4K personal large screens.
The new flights will provide exquisite dining including Taiwanese signature dishes and amenities prepared for all-class passengers to enjoy an at-home experience in the air. STARLUX will be offering First and Business guests a selection of the best top chef's creations and local Taiwanese delicacies. Premium and Economy passengers can also enjoy top-notch delicacies and on flights departing from Taipei to Los Angeles, the popular STARLUX signature yakiniku donburi is served onboard. And to bring greater individuality to their air travel experience, all passengers can pre-order meals online so they can enjoy the meal they want.
International Partnership with the LA Clippers
The Clippers are an innovative global brand with an international fan base and reach, and STARLUX is the latest international company to join Clipper Nation. In addition to in-arena activations and hospitality elements in Los Angeles, STARLUX's partnership with the Clippers includes international rights through the NBA's international team marketing program. The airline will activate in-flight branding, international sweepstakes, and other digital and in-person activations featuring Clippers elements and personalities.
Starting June 1, Clippers-themed amenities will be provided on STARLUX TPE-LAX flights, such as themed meal packaging including paper placemats, napkins, towelettes, inflight meal foil covers, mini food flags, burger wrapping paper, and kids meal boxes. Other niceties include playing cards, eye masks, paper cups, stirrers, rice cracker packages, luggage tags, boarding passes, and stickers will be distributed at check in.
"We're thrilled to partner with STARLUX Airlines to celebrate their new flight route to Los Angeles, and work together to reach new global audiences," said Scott Sonnenberg, LA Clippers Chief Global Partnerships Officer. "Clipper Nation is made up of diverse fans in Los Angeles and around the world, and this new partnership will literally help us bring Clippers fans to L.A. I can't think of anything better."
STARLUX and the Clippers marked the partnership and upcoming new service with a celebration, jersey presentation, and the debut of STARLUX's in-game assets last month.
According to Chai, "STARLUX is proud to be the Official International Airline Partner of the LA Clippers. We hope many Clippers fans will choose to fly with us on their next trip to Asia."
STARLUX Tickets Open for Booking
Airline ticket reservations for departures from April 26, 2023, onward can now be booked through travel agents and on www.starlux-airlines.com. Flights will depart Los Angeles for Taipei on Tuesday and Thursday through Sunday at 00:50 hours. Flights will depart Taipei for Los Angeles on Monday and Wednesday through Saturday at 23:40 hours.
About STARLUX Airlines
Launched in 2020, STARLUX is a luxury airline based in Taipei now serving 15 Asian destinations: Tokyo, Osaka, Fukuoka, Okinawa, Sapporo, Sendai (to be launched on 4/1), Macau, Penang, Kuala Lumpur, Bangkok, Singapore, Ho Chi Minh City, Da Nang, Hanoi, Manila, and Cebu. STARLUX is dedicated to providing exquisite services and utmost comfort for each passenger to enjoy an unforgettable journey. After the TPE-LAX route launches, STARLUX will be able to serve passengers traveling between Asia and North America with an easy transfer in Taipei. The STARLUX fleet consists of three types of new-generation Airbuses which are extremely efficient—A321neo, A330neo, and A350—to provide the finest and eco-friendly journeys. STARLUX's Los Angeles office is located at 2101 E El Segundo BLVD., Ste. 303, El Segundo, CA 90245. Its hotline number is +1-833-971-0012. For more information, visit https://www.starlux-airlines.com/en-US.
About the LA Clippers
Led by Chairman Steve Ballmer, the LA Clippers have competed in 52 NBA seasons and appeared in the Playoffs in nine of the past 11 seasons. They have 11-straight winning seasons, the longest active streak in the NBA. The Clippers are committed to the City of Los Angeles and through the LA Clippers Foundation provide resources and opportunities that make a positive difference toward leveling the playing field for youth in Southern California. Visit the Clippers online at www.clippers.com or follow them on social media @LAClippers.
About Dave's Travel Corner

Dave's Travel Corner is a travel content, resource provider and community (founded 1996) providing travel
Guides
written about Dave's personal travel experiences and
Journals
, pages that contain trip summaries and experiences written by fellow travelers. We spotlight locations and attractions with an article linked directly from our homepage including content across our blog, photo and video galleries. We use a combination of social media, written content, photography and videos to promote locations. Not only does the content appear on this site but we have direct partnerships with other well visited travel sites for placement of the content. Since 1996, we have also established hundreds of relevant link exchanges with other travel sites.
Visitors to Dave's Travel Corner will also find thousands of travel related links organized by categories on the
Resources Page
, a
Photo Gallery
containing International travel photos,
Book Reviews
, and
Product Reviews
focusing on products useful for travelers, fully automated
Forums
,
Tour Bookings
offering over 4400 unique tours around the globe,
Interviews
with those making news in the travel industry and
Videos
- specializing in International travel videos as well as home of the
Dave & Jim Show
.
Dave's own travel blog is
Above the Clouds
which focuses on International Travel & Lifestyle.
For information on advertising please choose from a variety of
advertising options here
.
Contributors are welcome

Learn how you can contribute
About

www.davestravelcorner.com/about