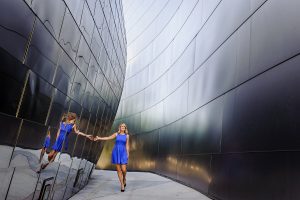 I first discovered Sarah's Ask a Concierge website when reviewing the list of speakers at the annual Los Angeles Travel and Adventure Show (held every February).
I was intrigued by her impressive background including extensive international travel experience especially in Europe and the Middle East. She is a prolific writer, creates entertaining travel videos and is a well-regarded concierge. In 2015 Les Clefs d'Or named her "The World's Most Up and Coming Concierge".
Here are a number of questions for Sarah including a focus on her concierge work as well as an entertaining story associated with some impromptu dancing in Prague.
Q. Introduce yourself and tell us about Ask a Concierge.
Hi there! I'm Sarah Dandashy. I'm an award-winning concierge based in Los Angeles. I've been a concierge for over 12 years, and in 2015 I won the award for Best Young Concierge in the World. Pretty cool stuff!
Ask A Concierge is a video series and blog I created a few years back that features the best in life, style, and travel inspiration. I cover where to stay, what to do, and where to eat all while sharing travel tips and insight from local to luxury travel destinations.
For me, Ask A Concierge has been a way reach reach travelers and locals well beyond my traditional concierge desk. My goal is to help people to curate their best life.
Q. What is Les Clefs d'Or and tell us how one becomes a concierge through them.
Les Clefs d'Or is the organization of professional hotel concierge. And it's not just any hotel concierge, but it really is the best of the best. You will know you're speaking to a Les Clefs d'Or concierge if you are at a hotel and you see they are wearing to golden crossed keys on their lapels.
The reason Les Clefs d'Or are considered the best of the best is because of the strict requirements it takes to become one! You have to have been a hotel concierge for a minimum of 5 years, have two current members sponsor you, complete an intense test, ace a test call, and pass an in depth professional background check. Les Clefs d'Or is serious about the concierge profession, maintaining it's integrity and keeping it's standards to a high level. In an age where technology is increasingly being used in all areas of our lives, Les Clefs d'Or is passionate about keeping the profession relevant.
Q. What is one of the more challenging concierge requests that you have received?
Ok, so one of my favorite stories is when I was presented with the challenge of finding a guest's road bike that he left at a random storage unit facility nearby LAX. He didn't know the name or the place, nor it's location. He had no claim ticket. Nothing. All he remembered is that he gave his bike to some guy named Jose. Which in LA, there are a lot of Joses.
Anyway, it only took me three phone calls and I found the bike. Even I was impressed! The guest was appreciative, but to this day I don't think he really understood the "needle in the haystack" request he gave me. Sometimes that the downfall of making things look easy, people think they actually ARE easy. Hah!
Q. Noted adventurer and writer Richard Bangs once titled an article on Saudi Arabia, "the hardest place in the world to visit' – I see you lived in Jeddah before – what was that like?
Saudi Arabia IS hard to visit. You have to be invited by a resident in order to obtain a VISA.
That being said, I lived in Saudi Arabia for the first six years of my life. My memories are fond and positive. But of course, it was my only world reference at that age. My mother was born and raised in the States so it was more of a transition for her. To this day I will always remember her response to people asking her how it was to live in Saudi Arabia as a female. She would always say, "Yes, it is different to live in Saudi Arabia than in the United States. But I don't go in with the attitude of comparing it. I went to Saudi Arabia with an open mind to understand the history and the culture. And once I understood that, I understood why they had certain rules in place. I didn't go there to change their culture, but to assimilate to it."
Of course, my mother, always the rebel, did find herself dressed up as a man to drive on a few occasions. And of course, there were always private parties where people would drink. (Both of which are illegal there.) So she made do.
But I love her attitude of acceptance. I think far too often people go to a country and immediately judge it as being "so different from home." I always find that so weird. It's like "DUH! You are traveling to be away from home." But hey, it's all perspective!
Q. What are some of the most important attributes for being a concierge?
Goodness, there are many. And it's not a job anyone can do. You have to have patience, be able to read people VERY well, have significant knowledge of the local area, be a natural problem solver, and most of all you have to care. Being a good concierge is caring for people. You have to care for strangers that come up to you with a ridiculous problem, that maybe you don't want to solve, but you do it any way. Not because it is your job, but because you care. Oh and being organized also helps!
I always say, it's not about knowing the answer. It's about knowing how to find the answer.
Q. You are the head concierge at the The London West Hollywood. What is a typical day like for you working there? Or is there a typical day?
First of all, in the concierge world, no two days are the same. I can have says where I easily assist over 100 guests, and then other days where it's not so demanding. I help people plan their vacation or figure out the place to host a business dinner. I work closely with my team to ensure that guests have a seamless experience, no matter who is working.
There might be a day where I have to help someone tie a bow-tie, or source a specific type of alcohol to give as a house warming gift.
I think that's the beauty of the profession… it's NEVER the same.
Q. Was there a particular trip or time in your life when you realized you wanted to travel or build a career around travel.
I am half Lebanese, so half of my family lives in Europe and the Middle East. Growing up, I had lived in three and traveled to nearly 10 countries by the age of 8. Travel is in my DNA, literally.
I went to Georgetown University and earned a degree in Foreign Service. So my world view has always been a global one. The world was my backyard, not just my neighborhood.
I fell into the hotel world when I picked up a side job at the Four Seasons in DC while going to school. Because of all my travels as a child, I had a natural understanding of people… from all walks of life.
Building a career around travel was just… natural. And extension of who I have always been.
Q. Can you give us a description of a specific humorous moment (story, happening or other) from some of your travels?
OK, so recently, I have been on this quest to dance randomly in front of pretty street murals. In fact, I have a secondary Instagram page dedicated to just that. I was in Prague last year and stumbled upon the Lennon Wall.
I was with friends and as soon as we saw it they said to me, "You have to dance in front of it!" I'm a little shy (believe it or not), and dancing in public in a country where I don't speak the language isn't exactly my comfort zone. But I did it!
I started dancing to a Justin Timberlake song. Immediately, everyone stopped taking selfies and photos and turned their phones on ME! I was now making an appearance on everyone's Instagram and Snap Chat!
I was dying inside, but I kept dancing. Then I see out of the corner of my eye, three people dancing towards me. One of the guys said, "I'm from Italy, can we dance with you?" I said "Absolutely!"
I was partially relieved from having the spotlight solely on me, but I was also so touched by the human connection. We didn't have to speak the same language to bond over music and just letting loose in front of a pretty mural in a country that neither of us were from.
It was a pretty powerful moment!
Q. Since you live in Los Angeles, what are some of the more unique experiences that you can recommend to our readers who might live in the city or have a trip planned to Los Angeles.
Well, for those that might know me, they won't be too surprised, but I would suggest to go on an "Instagram Wall Crawl." There are so many fun walls and iconic street art destinations.
But for wine lovers, I suggest to check out Malibu Wine Safaris! Drinking wine… in Malibu… while seeing giraffes and zebras? Yes please!
And then I also think people should check out Skyspace LA. It's in Downtown LA, which is a new hot spot in the city. 360-degree views from the city from 1000 feet up! You can't beat that!
Biography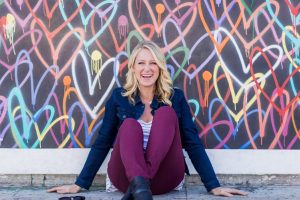 Sarah Dandashy is recognized as one of the leading concierges in the world.
The gold keys she wears on her lapels reflect her status as a Les Clefs d'Or Concierge, and guarantee her exclusive international access to little known treasures in cities worldwide.
Sarah has worked at some of the most prestigious hotels, including The London Hotel, Four Seasons Washington DC, and The Peninsula and L'Ermitage in Beverly Hills.
Sarah's education and travels make her an extraordinary concierge.
A graduate of Georgetown University with a degree in Foreign Service, she has lived in Jeddah , Saudi Arabia; London, England; Atlanta, GA; Washington, DC; and New York City. She has also traveled extensively throughout Europe, The Middle East, and US. Conversation in both French and Arabic, she can comfortably navigate the streets of Paris and negotiate her way through a Bedouin bazaar.
For more information about Sarah's concierge services, visit: www.askaconcierge.tv
[photos and bio provided by Ask a Concierge]