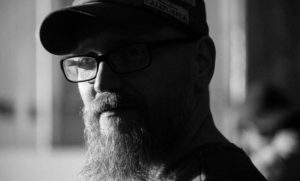 "Ghost House" is one of the best horror movies I have seen in a long time. The horror elements are so original and raw  – the jump scare, the atmosphere, the soundtrack etc, everything is done completely right. The movie does not throw in excessive unnecessary special effects or follow the Hollywood's formulaic scare tactics. It hit me in a way that most horror flicks hadn't. I remember when the movie was over, I immediately pulled out my phone and looked up the director of this movie – Rich Ragsdale.
Recently, I reached out to Rich for an interview. Despite being busy wrapping up his latest movie "The Long Night", he made himself available and went out of his way to answer my questions.
Q. I remember you said in one of your interviews that the idea of Ghost House came from a visit to your sister-in-law's family in Thailand. You and your girlfriend accidentally stumbled across a place where the locals discarded their old ghost houses. Tell us how did that moment turn into a movie idea about an  innocent American couple falling prey to a nefarious trap and downward spiraling into a series of haunting episodes?
Yes, we were staying in Hua Hin, and on a walk one day, my girlfriend and I came across a spot where a bunch of old ghost houses had been discarded. It was like a ghost house graveyard. We were taking pictures and looking inside them and joked that this is the kind of thing dumb tourists would do in horror movies. After learning more about spirit houses, my brother and I began spitballing ideas and landed on a basic structure for a movie. Our goal was to synthesize American horror sensibilities with Thai legends and locales, bringing in the best of both worlds.
Q. Why did you decide to direct this movie?
My brother and I had produced a number of films together under our production company – KNR Productions, and I was feeling the bug to direct my own movie. After landing on the idea of shooting a film in Thailand, we were off to the races. I had been amassing as much technical skill as I could by directing videos and working alongside many talented filmmakers, so I felt I was ready to take it on. In retrospect, flying halfway around the world to make a low-budget ghost movie in a country where we couldn't speak the language was a crazy idea, but I'm glad we did it. It was the biggest adventure of my life.
Q. Your brother, Kevin Ragsdale, is a producer of Ghost House. What was it like working on a movie with your brother, and were there times when disagreements arise?
I am sure there were some minor disagreements here and there, but to be honest, I can't remember any. We grew up together, so our sensibilities are very similar. We came up with the basic story beats and then hired a pair of writers to build it into a fully fleshed-out script. (By the way, Kevin not only produced Ghost House but also played the character Cal.)
Q. You are an experienced and highly skilled composer. I love the score and the choice of music in the movie. They are all very well done and set the right tone for the overall atmosphere. Tell us a bit of your composing process for Ghost House and how did you put the score together?
I took a three-tiered approach to scoring Ghost House. I used a lot of traditional Thai sounds and vocals to create a sense of place. My brother took a Zoom recorder to a temple and recorded monks chanting, which made it into the score where Julie is being prayed over in Gogo's village. Another was to use some synthetic sounds to give it that sinister retro vibe we associate with horror films from the 80s. This played exceptionally well when our British bad guys were on screen. And lastly, I wrote and recorded a number of cues with an orchestra in Budapest to enhance the scarier scenes and more romantic moments.
Here is a video we put together about composing the score – https://vimeo.com/223246403
Q. There are quite a handful of well-crafted jump scare scenes in the movies. A jump scare needs to be done right or it will come off exaggerating or even awkward. What are your jump scare techniques?
The best jump scares are like magic tricks in a way. You have to misdirect the audience. You try to build up the suspense and make the viewer think something scary will happen, but then… nothing happens. You give the audience a few moments to feel comfortable and safe again, then – BOOM! It happens. People think jump scares are just a quick cut and a loud noise, but if you really want it to work, you have to earn it by building the scene in the right way.
Q. I noticed a few scenes in the movie where you held the camera still and zoomed in on the darkness behind the small door of a ghost house.  I love the spookiness that comes out of it. What does that scene mean to you?
Well, I think we are all afraid of the unknown. When Julie is staring into the Ghost House, I wanted the audience to be with her, looking for something in the darkness. The moment draws our attention away from the noise of the "real world" and makes us focus on what lies hidden in the blackness. Hopefully, it creates a sense of unease and dread in the audience.
Q. Ghost house was filmed entirely in Thailand. What were the challenges you faced and how would you describe the overall experience of working in a totally foreign environment in terms of culture and customs?
Honestly, it was amazing. The crew in Thailand was one of the best I've ever had the pleasure of working with. The set had a real family vibe. That said, there was a lot of pressure on us. When shooting a low-budget film, the conventional wisdom is to keep everything in one or two locations, but we moved locations almost every day. So, if anything went wrong, we were in trouble – there was no going back to do reshoots. But everyone pulled together, and we got it done. It was pretty magical!
Q. Most of the horror movies have an antagonist, some are so classic and timeless for instance – Valak (the nun) in Conjuring and Kayako in the Grudge. Tell us how you came up with Watabe's character in Ghost House?
Watabe is a variation on a classic folklore archetype – a scorned ghost hellbent on revenge. It's an idea that has deep roots in all sorts of world myths. I think connecting your character to something familiar helps the audience connect with them.
 Q. Ghost House did very well in Asia. How has this movie changed you?
Yes, Ghost House screened theatrically all over the world but did especially well in Asia. It definitely made me more confident in my abilities as a director. I have another film I am putting the finishing touches on right now called The Long Night. I wouldn't have gotten that opportunity if I hadn't done Ghost House first.
Q. What inspired you to start a career as a composer and move into a director's role later? Tell us a  bit about your journey. (Note: You were one of the composers of Eight Legged Freaks, one of my favorite monster movies back in college time!)
I love music, and I love movies, so it was a natural place for me to start. I began playing music in bands as a kid in Tennessee, then went off to music school, where I learned to compose. After I graduated, I moved to LA. I eventually got a job composing for TV shows and writing music for video games and the occasional film. And yeah, Eight Legged Freaks was the first studio film I ever wrote music for. The composer John Ottman needed someone to write some heavy metal cues for the film, and a mutual friend recommended me. I wrote the music where the spiders attack the kids on motorcycles. It was a lot of fun!
Q. You spent a great deal of time in Thailand. What are some of your favorite things to do in Thailand and did you have a chance to visit other South East Asia countries?
I LOVE Thailand! It's a magical place. The people are so warm and generous. My favorite thing is probably the street food in the city, especially when visiting the night markets. My girlfriend and I also checked out a lot of local music while in Bangkok. There is a great music scene there, and we made friends with many of the bands. Northern Thailand is exceptionally beautiful. The countryside is so lush.
I haven't had a chance to visit any other countries in South East Asia yet, but Vietnam and Cambodia are on the top of my must-visit list.
Q. What can you tell us about your new movie "The Long Night". I know you cast Scout Taylor-Compton from Ghost House in that movie.
The Long Night is a horror film, this time set in South Carolina. Scout plays Grace, a woman trying to trace her roots to a forgotten past by returning to her birthplace. She and her fiancé's trip takes a bizarre turn when a sinister, masked cult surrounds the house they are staying in. Of course, mayhem ensues. We are putting the final touches on it this week, so it should be released in the next month or so. Keep your eyes peeled!
BIOGRAPHY:
Rich Ragsdale is a talented Hollywood director, composer, producer and writer. He started his early career as a film composer and has composed for many popular movies and TV series including "Eight Legged Freaks", "The Giant Mechanical Man", "Will & Grace",  "The King of Queens", "According to Jim" etc. Rich has worked as a director of several short films and videos. In 2017, He directed "Ghost House" with a setting in Thailand. He is currently working on his next horror flick "The Long Night" which is slated for release in the second half of 2021.
All photographs credit: Rich Ragsdale