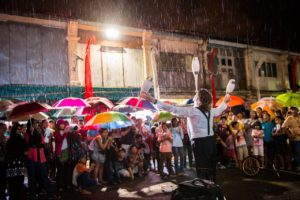 I met Stuart Every about two years ago at China House in Georgetown, Penang. He struck me as humble and unassuming, with a naturally calm demeanor. He is very knowledgeable and passionate about street arts industry. At the end of our meet up, I knew in my heart that I needed to interview him one day. Stuart has been a producer for 30 years. Since the age of 18, he has worked across multiple production genres including music, theatre, ballet, visual arts, and comedy. He founded Dolphin Creative in 2009.
Q. You founded Dolphin Creative 10 years ago with the main hub based in Dubai, are there any reasons you chose to take root in UAE?
There are a number of reasons. Firstly, I really like the entrepreneurial energy of the UAE. It has a good 'buzz' and very culturally diverse.  The other reasons were pragmatic: After 20 years living in London and New York, I REALLY needed some sun. Dubai is very central to the markets I was looking to enter and has direct flight routes with Emirates and Etihad. The UAE has no corporation tax, which gives me a competitive advantage of not having to tax artists at source, and thus being able to pay them more money.
Q. I remember through our conversation, we found out that we both share the same personality – "The Advocate" –  that is characterized as 72% introverted. As an introvert yourself, what spurred you to pursue a career in event planning and public relations that conventionally require heavy interpersonal skills?
It's true I lean heavily towards the introvert spectrum. On the outside, it might appear a disadvantage not being gregarious or 'loud' in an industry dominated by egos and bluster. However, I find that my introvert strengths give me huge benefits: I listen. I observe. I think. I plan. When you're creating a festival, it is not about 'me'. My roles are split between artist curation and organizational skills to ensure the festival visitor get the best experience. It is the festival and the artists that take center stage. No one should even know my name. (Apart from my clients and artists)
Q. As the world's largest producer of street arts events, Dolphin Creative represents over 1,000 artists. What does it take for an artist to make the cut and be represented by Dolphin Creative? What specific talents are you looking for?
Empathy. Above all else, the best shows connect with people. Honestly, the skills and content of the shows are secondary. Sure, you need to have the base of some skills, whether it be circus based, musical, magic, aerial, or any one of the dozens of 'finales' that good artists have, but the one thing an artist needs is very hard to teach: the ability to read an audience and to take them on a journey. For that you need empathy.
Q. What would you like the audience to walk away with from the street performances and festivals?
Joy. Street Theatre is unique in that it is upfront and raw. There is nowhere to hide. When you see a show that really clicks, it is an unforgettable experience. I've had meetings with clients where they recall seeing a street show in Covent Garden 20 years ago. They remember the experience like it was yesterday. If you see a great show, you're unlikely to ever forget it.
Q. Many believe that there are competitive advantages in China's emerging market. Is establishing a presence in China part of your business strategies?
Yes, China is a fascinating challenge. I have been there a number of times and met with a number of potential venues. One of the challenges is trying to explain the difference between Street Theatre artists and Circus performers. A client might look at a photo or video of a street artist juggling and presume it is a display of juggling. China has, without doubt, the best circus schools and circus artists. "Why would I fly over a circus artist when we have the best here?" … that is the challenge.  I try to explain the difference but putting it into English language is hard enough. I am hopeful we'll get an opportunity to present soon.
Q. How badly has the pandemic hurt the street art industry, and what are your predictions for the outcome after the pandemic?
It is obviously a hard time for all the arts community. Street arts event has been hit especially as the genre dictates large crowds gathering. We are hopeful of a full return by the end of next year.
Q. There are many struggling street artists who have no platforms to showcase their talents, or their skills are not up to the required level to be successful, what advice can you give to them?
I don't want to give glib advice. Most artists are honing their physical skills and staying healthy both physically and mentally. It is a case of waiting and patience.
Q. What motivates you to stay in this industry with a unique niche?
I make a living giving people joy. What a time to be alive.
Q. When in Key West, I had a chance to watch an acrobat juggling on top of a high unicycle. The performance was not perfect, with a few failed attempts. He made a joke out of it and the audience laughed. Sometimes, you don't have to pull off a flawless performance to win applause. What matters most is to get the audience involved in the show through constant interaction, your thoughts?
I chuckled at this question. Though I can't be certain, I am pretty confident the artist you saw made no mistakes. They meant to 'fail'. If an artist fails at something, it is the perfect way to bring together the audience and artist. The audience is engaged and willing the artist to succeed. They are united. It is not a display of skills but something more personal. That is the way the artist connects with his audience. Fun fact: Faking mistakes is probably the hardest skill an artist can learn. Once you master a routine, it is very hard to undo it and make it look like you can't do it. It's very hard to make it look natural. I think you saw a very good artist.
Click here to see the video or head over to his website to learn more about Dolphin Creative.