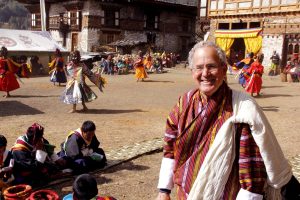 Joseph has enjoyed an accomplished and lengthy career not only as a travel journalist but also in other media forms including Television, radio and the online world of broadcasting. This interview focuses on his time in the industry, advice to those interested in making a career of travel, the often trying amounts of time that go into producing a show including securing various permits, visitor/cultural activities focusing on Los Angeles and California and he even shares an embarrassing story involving nudity on a ship!

How did you originally discover your interest in travel?
In 1969, I was a 23-year-old graduate student in Theater at UCLA and I was cast in a musical that was touring the U.S. army bases in Europe for the U.S.O. At the end of our tour I was able to spend an additional two weeks traveling on my own. I spent time skiing in Germany, stopping off in Milan, Italy, several days exploring Barcelona and Madrid, Spain and finally a few days in Paris. I was impressed by everything, but foremost the people and their different perspectives on life and ways of living. I was thrilled by Europe's culture, traditions, customs and celebrations. Everywhere I went my attitude was "Whatever this is I want more!" So, I was hooked. That trip was the beginning of my passion for travel and that passion evolved into my career in travel journalism, broadcast radio, television and all the rest.

You are very accomplished and certainly have had a successful career that has spanned a number of decades and incorporated work in various disciplines (author, radio, television, etc). What do you personally value as "success" in your diverse career?
I'm blessed to have been honored by various tourism organizations, governments and my peers. The television show has won 29 Telly Awards, 4 Emmys and many Lowell Thomas travel journalism awards. Personally, I have won Emmys for Directing and Outstanding Host, a number of SATW (Society of American Travel Writers) awards and Lowell Thomas Awards. In addition, we were recognized with the Canadian Tourism Commission's Northern Lights Award and TIAC's Globe and Mail Journalism Award. I'm very proud to have been granted the Médaille d'Or du Tourisme from the French Government at a time when Americans were dumping French wine and eating "Freedom Fries." Yet, I am more thrilled by the phone calls, emails and letters we receive every day from our readers, listeners and viewers thanking us for our efforts. Our audiences understand and appreciate in a meaningful way what we are strive to do on Joseph Rosendo's Travelscope. They are touched by the stories we tell and the people they meet on the show. It's most satisfying to know that our endeavor makes a positive difference in their lives. It's good to know that sensitive story telling which emphasizes people and culture is still highly valued.

For viewers who are not familiar with Travelscope, (your travel show on PBS), please tells us the focus of this show.
Since 1985 every radio show, podcast, audio feature and television show has ended with the quote from Mark Twain," Travel is Fatal to Prejudice, Bigotry and Narrow-mindedness." It's the truth that first turned me on to travel and has kept me hooked for 45 years. Joseph Rosendo's Travelscope's mission is to introduce people to people and in that way bring them together. I am endlessly grateful to all the people that I have met in my worldwide travels that have fearlessly and honestly shared with me their joys, trials and tribulations. By sharing their stories with my viewers I believe we make the world a smaller and kinder place. Hey, I'm a child of the glorious 1960s and still believe that we can change the world for the better, one person at a time.

With all your time on the road, you must have a few humorous stories – can you share one for us here.
Well, this is a little embarrassing, but what the heck, I'll tell it anyway. Obviously I've got nothing to hide and this story illustrates that. I was aboard a Regent Cruise Line ship shooting a show on Alaska's Inside Passage. It's a great trip and we managed to make a great Season 2 show out of the experience covering everything from stopping in Ketchikan, Juneau, Sitka and Skagway, as well as sailing into ice-covered Tracy Arm. On our last night on board I was running around in my cabin getting everything packed up to leave the ship the next morning. I was organizing things in my room into piles: equipment, clean and dirty clothes, press material, as well as laying out my clothes for the next morning. In order to make a fresh start so to speak, I had taken everything off, put it in the appropriate pile and was preparing for bed when I realized that I needed to put my bags in the hallway for the morning pickup. So there I was stark naked, but I thought well, I'll just sneak out and drop off the bag before anyone comes down my hallway. Sure enough, no one was in the hallway, so I slipped out quickly pulling the equipment bag behind me. As soon as I stepped out of the room with the bag – the door shut. So there I was in the hall without clothes, all of them being inside my room in my other bags along with my room key. Yikes! Fortunately there was a phone near the elevator outside my room and darting around and hiding in corners I was able to get to the phone and call for a bellman to come help me. You can imagine his reaction when he saw me cowering in a corner completely naked. He burst out in laughter and instead of just walking away and leaving me there, actually opened my door. I am forever indebted to Regent Cruise Line for saving me from public humiliation.

I have a few friends making travel documentaries and I've heard their stories of headaches trying to secure permits and other cross country challenges that are related to filming. How long does it take to produce one of your travel shows and how do you decide which destination/cultural activities to focus on?
Permits, permissions, rights, etc. are major issues that we face. And the true saint who handles this giant job and spends hundreds of hours on endless phone calls and emails dealing with all of these issues is my wife and Joseph Rosendo's Travelscope's producer, Julie Rosendo. It is very often a frustrating business just getting the help we need to do our job. The length of time it takes to prepare for a shoot including Julie getting all the permissions, etc. needed and designing a JRTS itinerary varies from destination to destination. The minimum time it takes her is six months, while shows like Bhutan, Papua New Guinea and Korea took almost two years for Julie to arrange. And while you might think shows closer to home would be easier to manage, that's not always the case. This year's Ontario, Canada shows were in the works for over a year and many sites that were part of our San Francisco show were permit-less up to the last minute before we departed for the shoot. It really depends on how difficult it is for Julie to get to the people who can make the decisions. In addition, often our Western bureaucracies trump foreign destinations by a long shot for difficultly and complexity of planning.
Secondly, if by "produce a show" you mean from start to finish including researching, shooting, editing, all the post-production work (voiceovers, color correction, sound mixing, quality control checking) now you're talking about a three-year process. I am often amazed by the fact that, after this season, we will have produced 13 shows a year for eight years (104 shows, 91 which are presently still airing on PBS and public television stations throughout the United States and Canada) and we are still going strong. The destinations we cover are determined by how well they fit our general theme, exciting destination information that comes to us unsolicited and fires our imagination and our personal interests and desires. You know, we still have a passion for travel and have places we want to go just like any other travelers.

In your opinion, what are one or two under rated International travel destinations and why?
I don't hear a lot being said about Bhutan, except by everyone who has been there and loved it. Once having been, you will never forget it. It is an amazing destination, which offers the traveler as many life-changing possibilities as a destination like India (which I also recommend). It is a Buddhist country and their beliefs affect the experience anyone has who comes with an open mind and heart. Besides that being a country of 24,000-foot mountains, rivers, streams, amazing wildlife and welcoming people, it is beautiful in a multitude of ways. On my journey through Bhutan what impressed me the most was the people's fearlessness and willingness to share their lives with me. As an added bonus, in the 1970s Bhutan adopted the concept of Gross National Happiness. It is founded on the proposition that a nation's true prosperity is based on more than its material wealth. Preservation of culture, conservation of the environment, sustainable and equitable development and good governance are the four pillars of GNH. This is an idea that they could export if any country was willing to accept it.
Rwanda, Africa is an under-rated destination, because most westerners have only heard of Rwanda as the site of the 1994 genocide, which killed almost a million people in ninety days. Those horrifying images of death and destruction are still associated with the country when, in fact, it is a country which has gone a long ways towards healing itself. It is also one of the few countries in the world where you can visit Mountain Gorillas in the wild – a true once-in-a- lifetime experience. In addition, in order to bring people together and expunge the causes of the genocide, they have instituted Umuganda, which means "Community Work." The last Saturday of every month everyone in the country is obligated to participate in some form of community work. There are projects that help communities and people planned all over the country and everyone participates. It's a practice that builds community that we could incorporate in the United States.

California has a hodge podge of cultures from all over the world. Pooling from all these various cultures that call California home, what are your top five "cultural" related activities to do in California?
1. Celebrate Internationally. Take advantage of the many cultural festivities that grace the calendar of almost every town and city in California. We are an inclusive state. Not only have we welcomed people from all over the world, we love celebrating their culture with them. For example, there are more than 100 different languages spoken in Los Angeles and we have populations of people in our cities that are larger than the population in most of the cities in their home country. You can always find a German Oktoberfest, Greek Food Fests, Irish celebrations, as well as Cambodian, Japanese, Chinese and Vietnamese celebrations. These are just a few of the cultures celebrated in festivals.
2. Eat internationally. Once again, in most every town and city you will find a smorgasbord of ethnic foods. Since we are the new Ellis Island, predominantly welcoming people from Latin American and Asian cultures, in our major cities you can sample foods from all over the world. Cities like Los Angeles and San Francisco are particularly rich in ethnic culinary opportunities. And my preference for a beverage to accompany those foods is a good glass of California wine. Everyone knows about our state-wide wine culture (there are literally dozens of wine regions) and there are many festivals that celebrate the fruit of the vine. In a few weeks, I'm going to explore a festival in Northern California that I've never experienced before. No, it's not the Napa Valley Wine Festival (a stellar one), but the Livermore Valley Harvest Wine Celebration. It's smaller and more intimate with real opportunities to meet the winemakers, yet I bet it's going to be fun, and I like discovering festivals that other travel shows may overlook.
3. Explore Los Angeles. Go to the new Downtown Los Angeles — in a five-mile radius you can have a significant experience in three different cultures – Chinese, Japanese and Mexican. In addition, Los Angeles' new downtown now has a street culture. After many decades of trying, downtown is now attracting young professionals, artists, performers, couples; in short, it finally has a viable residential community. As we all know, people are the lifeblood of any community and with the influx of people, Los Angeles' Downtown is buzzing with new clubs, cafes, restaurant and lots of entertainment. Hollywood's stepsister has finally come into its own. And note, that although I call Los Angeles the new Ellis Island, and with the immigration from the south and the far west it certainly is that, Los Angeles is not a melting pot; it's actually a giant salad bowl where all the ethnic cultures in the city while blending together do not lose their distinct flavor. Along with Randy Newman and several million others, I love L.A.!
4. Get Spiritual. During my worldwide travels one of the most fascinating and touching cultural experiences I have is joining the local culture in worship. If you are looking for a way to understand the heart and soul of a people the best way is to go to the cathedral, church, temple, mosque, synagogue or other place of prayer and participate in the experience as much as you can. Worshippers will normally respond to your presence by sharing with you their beliefs. It makes for an enlightening time. Without even leaving the country, you can have this soulful experience throughout California's many ethnic communities.
5. Hit the Markets. If you've seen almost any Joseph Rosendo's Travelscope show you know I love markets. Why? It's where people of a community come together. There is no quicker way to meet the locals and learn a bit about them. I'm not just speaking about the vendors who often represent the area farmers, but the shoppers. Throughout the ages markets have been gathering places for people, and often a source of entertainment. The idea of the European market caught on in a big way in California in the '70s and has continued to grow. Every little community will have at least one a week. Check them out wherever you are in the state. They reflect the spirit and the culture of the people who live there.

Since you call near Los Angeles "home" when you are not traveling – what are some of your favorite activities that you would recommend to a first time visitor to this often-overwhelming city? And more specifically, activities and experiences that are unique to the Los Angeles area.
There's Downtown L.A.: See my comments above under California cultural activities for this one.
There's the Beach: For decades I have run on the beach in the mornings and then taken a dip in our chilly Pacific Ocean. In fact, any day on our miles and miles of beaches is a good day, no matter what the activity.
There's Mountains: I love hiking in our Santa Monica Mountains. Many people think that Los Angeles is just a "great big freeway" (curses to that Burt Bacharach song). Well, yes, we have plenty of freeways and yes, we have traffic, but we also have miles and miles of wild spaces. Topanga State Park is the largest wildland within the limits of any metropolitan city in the country. Hiking in Topanga State Park is one of my favorite activities.
There's Food: As noted above, with more than 100 different languages being spoken in Los Angeles, you know there is some great food around. There is any kind of cuisine you fancy and much of it is better prepared with better ingredients than you would get in the native country. I love trying out all the different tastes that Los Angeles has to offer.
There's Entertainment: Los Angeles is indeed the entertainment capital of the world. I love movies, but I had my career start as an actor so I love plays. I try to see as much as I can, whenever I can. We are fortunate to have Will Geer's Theatricum Botanicum in Topanga. They have been here for more than 40 years producing a full range of theater with an emphasis on Shakespeare. And their setting under the oaks is an added pleasure.
And apart from the traditional forms of entertainment there are sporting events, free concerts, dance performances, etc., etc. As I mentioned before, Los Angeles is the entertainment capital of the world.

What advice can you give those looking to make an Independent career out of travel (those with an entrepreneurial spirit and interest in creating their own brand, personal or otherwise) – whether it is through consulting, the challenging world of running an online travel community, or any of a number of self-sustaining jobs in the world of travel. And related to this, how does one gain credibility in whatever field they are in?
You have to have a dream. You have to figure out what it is that you are passionate about and are willing to do whatever it takes to make it happen. Do that! Once you know the What of your dream, you probably also know the Why – you love doing it, for instance – but, where most people get stuck on is the How.
Fortunately, I've always loved reading quotes from the world's great men and women. The walls of my office are plastered with their words. I mean, a lot of smart people have passed this way, and they've left enough pearls of wisdom to fill all the repositories of treasure that have ever existed.
So, at the right moment in my life, I came across a quote from Henry David Thoreau, which I share to all those with an entrepreneurial spirit interested in creating anything of quality:
"If one advances confidently in the direction of their dreams and endeavors to live the life they have imagined, they will have a success unexpected in common hours."
The key word in that quote is "endeavors." Every day you must do something toward achieving your dream.
And those endeavors will cause the universe (I really believe this) to move in your favor and all kinds of meetings and circumstances will take place that you could have never imagined in order to allow you to move confidently toward your goals.
The tricky part is to pick endeavors that are in integrity with your highest self and your most creative self. Don't do anything soddenly. Do the best you can so you can be proud of what you do. And, guess what, that attitude answers the last part of your question. You build credibility in your chosen profession by producing work that is of quality and by meeting your deadlines and delivering what you promise.
Biography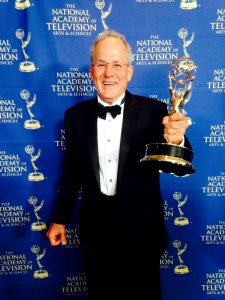 Emmy-award winning director Joseph Rosendo has been a travel, food and wine journalist and travel broadcaster for more than 30 years. Since 2007, he has hosted, directed and written Joseph Rosendo's Travelscope®, the award-winning travel television series. Now in its eighth season, the series reaches 96% of the US market and 286 million viewers on more than 500 PBS stations nationwide as well as airing in numerous international markets. With four National Emmys, 11 Emmy nominations, 29 Telly Awards and 91 shows currently airing on PBS, Joseph Rosendo's Travelscope® persists to persevere in creating one of the most entertaining, informative and thoughtful programs on television. "We close each show with a quote from Mark Twain: 'Travel is fatal to prejudice, bigotry and narrow-mindedness,'" says Joseph. "It's a truth that first turned me on to travel and has kept me hooked for more than thirty years."
Since his first travel story appeared in The Los Angeles Times in 1980, Joseph has been published in countless publications worldwide and was the Consulting Editor for DK Eyewitness Travel Guides' Where To Go When and Where To Go When—The Americas, as well as the author of a Guide to Los Angeles. For twenty-four years, as the creator and host of Travelscope Radio, he created features for numerous electronic media outlets including Discovery Channel Radio and the Associated Press. For ABCnews.com he produced a series of Business features that taught readers the cultural dos and don't's of international travel.