Q. Please introduce yourself to our readers. What drew you to work for Riviera River Cruise?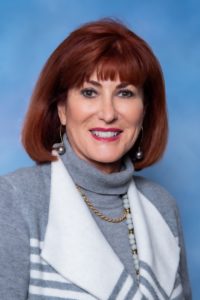 Good day, everyone,  I am  Marilyn Conroy,  Executive Vice President of Sales and Marketing.  I have been in the cruise industry for 40 years working up until a few years ago with the ocean liners.
For 8 years, I had my own sales and marketing company.  I was asked to represent Riviera River cruises and after six months I was very impressed with the product and the price/value Riviera offered. When they asked me to join them exclusively full time, I accepted the position with pride.
Q. Many people may be familiar with ocean cruise, but maybe not so much with river cruise. Tell us what are the distinct differences between river and ocean cruise?
Ocean cruises take guests to the country while River Cruises take guests into the heart of the country docking in the individual towns and villages.
Q. Why should one take a river cruise with Riviera?
One of the factors that drew me to Riviera were the way they took the traditional itinerary on any given river and 'tweaked' it to make the experience more  immersive and therefore more enjoyable and worthwhile.
For instance, most river companies when they operate a very popular itinerary such as Amsterdam to Basil offering clients the opportunity to see Switzerland. In reality, the guests don't see Switzerland at all unless they take a post tour because our competitors dock in Basil the day of departure, so what all guest see is the ride to the airport.
We start this cruise in Cologne, saving a day and a half transit from Amsterdam to Cologne, that part of the river is industrial with nothing to see so the guests on Riviera lose nothing by starting in Cologne and gain two nights and a full day in Basil.
We start our cruises in cities that are close to airports.  For instance, our Danube cruises start in Budapest, not Passau – Passau is a two-and-a-half-hour ride from the closest airport – we don't want our guests to have to take a two-and-a-half-hour transfer after long flights – by starting the trip in Budapest, it's  just a 20-minute transfer.
Q. For those who have never been on a river cruise. What are the tips for them, for example, what to expect, what to avoid, what to bring?
River cruising is generally more casual in terms of dress code – rarely do you see men with jackets – maybe one night when the captain hosts the dinner but no ties.  The best way to describe the dress code is country club casual.
Riviera includes an in-depth shore excursion every day but if there is something specific our guests want to see, then our travel concierge will arrange this for them on a cost basis. We don't mark up the cost, we only charge the actual cost.
Some river cruises have more features on board than others.  Riviera has a gym, sauna/steam room, water element be it a plunge pool or jacuzzi, beauty salon, alternative restaurant, Wi-Fi with no additional charge – everything is included except the spa, boutique, and alcohol.
River boats are generally smaller than ocean cruises holding in our case a maximum of 169 guests.  Clients should always look at how many guests the river boats hold as the higher number of guests, the smaller the cabins will be and less public features included for guests enjoyment.
Q. Describe a typical day on a river cruise with Riviera?
Getting up in the morning, making tea or coffee in the room as we have this facility in every cabin. Or ordering complimentary room service in every category or going to the restaurant for breakfast.
Restaurant opens for dining during a two-hour period for breakfast, lunch, and dinner.  Disembarking the boat for an included tour of the town.  Returning to the boat for luncheon,  then either taking a bicycle to explore the countryside or stroll into town to sit at a wine bar or café and enjoy the local scenery.
Guests often bring back wine to sit up on deck and enjoy the scenery.  Guests can bring alcohol on board, but we ask them not to bring it into the dining room. We have an inclusive beverage package of unlimited wine, beer and soft drinks for lunch and dinner on a seven-day cruise of $179 per person. However,  our bar prices are very reasonable – $3 for a 6 oz glass of superior wine.
We have light entertainment in the evening. Sometimes we bring in local entertainment if we are staying late in port or overnighting.  The next day shore excursion description will be given by the cruise director in the evening.
Q. I undertstand that Riviera cruise is ideal for solo travelers too. Can you tell us about that?
We recognize this growing marketplace. On every departure, we offer at least 5 cabins with no single supplement.  We also operate about 12 departures each year which are exclusively for the solo traveler where there is no single supplement across all grades.  The information on these departures can be found on our website www.rivierarivercruises.com 
Q. What makes Riviera stand out from other river cruise lines? What are some of the exciting European destinations that Riviera travels to?
Riviera offers value for money cruises.  We have 11 beautiful young boats that offer 20 itineraries on 10 European rivers.  Our itineraries are always innovatively tweaked to ensure we offer guests a more immersive experience. Our ships are operated by Scylla who also operate a luxury competitor.
Our food and service are held to the highest standards. We are positioned as top of the premium lines with less than premium pricing.  We have many pre/post land tours and added next year – the Lake Geneva and Golden Pass excursion on to our Provence cruises.
Q. What are the upcoming plans for Riviera?
We took a new ship this year – the Geoffrey Chaucer and will probably add a new ship every year – we are not striving to be the largest,  just the best in terms of value.  We added a new 10-day itinerary for 2023 a 10-day round trip Lyon – we also added several pre or post stay options.
Q Have there been any specific memorable moments on a cruise that you'd like to share?
During one of our Christmas market cruises, which of course was held during the cold weather, a guest arrived and realized she had left her coat on the airplane.  She advised the Travel Manager who contacted the airlines.  The Director then went to the airport herself to get the coat – of course the guest was thrilled as the cruise would not have been enjoyable without a winter garment.  This type of service shows how Riviera goes above and beyond for its clients.
Q. Your message to our readers and travel community on  behalf of Riviera?
We are the only river cruise company that supports our travel partners 100%.  We don't take direct bookings – when a consumer calls us directly, we take the booking and hand it over to an agent at full commission – no one else does that.
Our message is – "Try us" – you will come home happy – we guarantee that – not just with words but we have a happiness guaranteed program.
If by day clients are not happy with the cruise, they tell us, and we will bring them home with a full refund and reimburse them any additional air costs involved – how is that for confidence in our outstanding product!
For more information, visit www.rivierarivercruises.com
All photographs credit: Riviera River Cruises