Their events are excellent opportunities for networking with other travel writers, DMO's, those in PR and travel marketing and others. Online networking is great but in person networking such as at these events is invaluable; I have directly seen the benefit of attending these events on more then one occasion – resulting in several projects and work with various clients. In this interview, Ian shares insights about Travel Massive, startups, and travel experiences.
Q. For those who have not heard of Travel Massive – can you tell us more about this (there is so certainly more than the meet ups) and what was the inspiration for starting it?
Travel Massive is the world's largest connected and open community dedicated to building and developing the future of travel. Our community organizes events all around the world for members to connect, share ideas and learn from each other. We were originally founded on the principles of creating open events for all members of the travel industry, and now we've grown to be a platform for the entire industry as a whole to connect and share both online and offline.
Q. When you started the first chapter of Travel Massive, did you have any idea it would go global – was that the initial intent to do so?
Our first meet ups were on the rooftop of the YHA hostel in Sydney, because I'd just moved to Sydney at the time, and was living in the hostel. The intent was to meet with like-minded people in the travel industry and explore ideas around startups, content (such as blogging), and meet anyone with a cool new idea. A couple of regular members returned to their home cities of London and Toronto, and then we used social media to share photos and videos of our events with each other. That was the accidental start of going global I guess.
Q. With the community as the core of Travel Massive and the in person meetups an integral part of the community – how important is social media for growing Travel Massive's membership and reach?
It's hard to measure but certainly in the first few years of growing, we were very dependent on social media to reach out to new members. Actually a big part of attending our events is to meet your online connections in real life. When you meet someone in person that you've been following on social media – it's a much more powerful way of connecting. And that builds a huge amount of trust in our community because those bonds are forged in person and are stronger than online connections.
Q. Your background is in tech and creating a number of travel related startups. Where did your interest in travel first come from?
I grew up in Tasmania and after studying I co-founded a software business which became really successful but was also a huge amount of work that kept me based in Hobart. I had always dreamed to visit San Francisco and Silicon Valley and when I finally visited, I came back glowing with enthusiasm for what was possible but also a realization that I was missing out on seeing the world. When I came back from Hobart I fired myself as CEO from my software business, packed my bags, and started my next adventure.
Q. What has been one of the more unique Travel Massive meetup locations that you have personally experienced?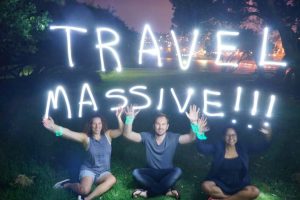 One of the most unique events I've attended was a week-day camping trip on Sydney harbor last year. We caught the ferry after work to Cockatoo Island and ran an outdoor film screening of Ric Gazarian's film "Hit The Road India" (www.hittheroadindia.com). We had the entire island and outdoor cinema to ourselves, right in the middle of Sydney harbor!
Speaking of islands, we also created an unconference on the Greek Island of Ios last year which was a lot of fun, and hopefully one day we can do something like that again!
Editor's note: it was at an event in Bangkok hosted by Ric where I first met Ian. I also met Ric earlier this year in Armenia.
Q. In addition to Travel Massive can you tell us about one of your other travel startups that you are the most proud of.
I created the answers forum for World Nomads (http://answers.worldnomads.com), which is still running (although these days it probably needs a bit of upkeep). If World Nomads hadn't acquired my startup company back then and given me an opportunity to move to Sydney and work on that project, Travel Massive might not have started.
Q. What advice can you give those looking to make an Independent career out of travel (those with an entrepreneurial spirit and interest in creating their own brand, personal or otherwise) – whether it is through creating startups (as you have done), consulting or any of a number of self sustaining jobs in the world of travel. And related to this, how does one gain credibility in whatever field they are in?
I think it's important to bring your existing knowledge and skills to the game. For me it was technology – so I could keep one foot firmly in something I knew (software development), and place the other foot in something I knew nothing about (travel). If you have both feet in something you don't know about, the risk is much greater.
Quite frankly, I think you can gain credibility in your field by always seeking to help others and not being a dickhead (that's "asshole" in Australian). Some people build their credibility on ego alone, which is a shaky foundation to any form of success. I think if we can all learn to help each other, the chances of success go up for everyone.
Q. Can you give us a description of a specific humorous moment (story, happening or other) from some of your travels?
I once sailed from Tasmania to Melbourne to help my friends with a boat delivery for a racing yacht, and after heading into enormous seas with giant waves the GPS system broke and we had to sail by compass for three days with no sight of land. After we finally reached Melbourne, we berthed the yacht at the loading dock at the marina and went to the pub to have a few beers to celebrate. When we returned, the tide had gone out and the yacht was sitting on it's keel. The only option was to sleep on the grass at the yacht club and wait until the tide came up! But it's an experience I will never forget and if you ever get the chance to help with a sailing boat delivery I recommend the adventure!
Q. Bangkok is one of my two favorite cities along with Los Angeles – you've set Bangkok as your travel hub for about a year and a half now. What are some experiences you would recommend for first time visitors to what can quickly be an overwhelming city based on its sheer size and usually very hot and humid climate.
I recommend to get out of the city and explore some other areas of Bangkok. I recently discovered Bang Krachao (and I'm extremely late – this is well discovered) which is also known as the Bangkok Green Lung. It's a cool area by the river with elevated bicycle tracks, local eateries and cafes, craft, temples, and a true local market. You can rent bikes for the day and explore at your leisure. Check Shayan Naveed's article from A Dose Of Life for a good write up – www.doseoflife.com/bang-krachao-escape-from-bangkok-within-bangkok
Biography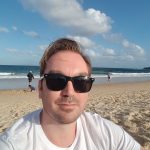 Ian Cumming is the global founder of Travel Massive. With a passion for travel by day and tech by night, he's worked tirelessly to create the world's largest connected travel industry community that is completely open to anyone in travel.
Ian has developed businesses in Australia, Asia, and the US, and is also a micro-angel investor and travel industry super connector.
Click here for more information and to join Travel Massive or view Ian's Travel Massive bio here.
I have attended select Travel Massive events in Los Angeles for several years now (Los Angeles has a healthy community of such startups) and was pleasantly surprised to meet the founder, Ian Cumming in Bangkok earlier this year. I highly respect Ian's work in creating this organization and what it now offers for those in the travel industry holding monthly meetups in more then 70 cities world wide.