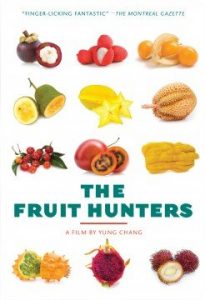 I have enjoyed fruit for as long as I can remember. My early childhood memories involve visiting Asian markets with my father – scouring the shelves for mostly canned fruit in the absence of the real thing. Over time this changed – demand increased within these communities and USA agricultural laws changed to allow the import of a wider variety of fruits. In the last 4-5 years where I live – depending on the time of year, you can now find fairly fresh Mangosteens, Dragon fruit, Rambutan, Lychees, Cherimoya, Longans, Jakfruit and Durian.
Films like the Fruit Hunters help open ones' eyes to the incredible diversity of fruit there is world wide – still much of it never reaching "western markets" for a variety of reasons (agricultural approval, limited shelf life, limited demand, limited availability commercially etc). This film in part chronicles the obsession that often comes when individuals have a passion towards a particular subject matter – in this case rare and exotic fruits. Watching the movie, at times I felt myself laughing and relating to the fruit fanatics – fruit dripping out of their mouths. I know the feeling well!
Ground Zero in the continental United States for rare and exotic fruit is Homestead Florida. However, California is also home to a passionate group of individuals who cultivate rare and tropical fruit for their own use as well as commercially. Founded in California in 1968, the California Rare Fruit Grower's Society is now the largest amateur fruit-growing organization in the world.
I first heard about "The Fruit Hunters" when I was driving down Sunset Blvd earlier this year. The film was released on DVD July 16th and can be purchased here. Here is our interview with the film's director, Yung Chang.

Q. Introduce yourself and tell our audience how you first became interested in film making?
I'm a filmmaker currently based in Montreal where I studied filmmaking at Concordia University graduating in 1999. Then moved to NYC for a couple years studying at the Neighborhood Playhouse School of the Theatre. In 2007, I completed my first feature documentary called "Up the Yangtze". It did pretty well critically and in the box-office. I traveled with the film for a couple years to international festivals. In 2009, I started making my next film "China Heavyweight" about a boxing coach and his kids in rural South Central China. Premiered at Sundance and is doing the festival rounds. DVDs out via Zeitgeist Films, our distributor.
I've always been into filmmaking from a very young age when my father would show my brother and I old super-8 films he rented from the library. Some of the first images I recall are from Frankenstein Meets the Wolfman (1943) and Jason and the Argonauts (1963). I suppose the idea of visual storytelling has always struck me deeply and perhaps my interest in documentary stems from some sort of social responsibility I felt when I was very young. In fact, specifically, I recall participating at the age of 13 in protests at the Chinese Embassy in Toronto against the Tienanmen Square Massacre in 1989. I recall a heroic Chinese student making a tear-jerking speech while Chinese officials in their overlooking offices took photographs with zoom lenses. I remember feeling, "This isn't right." From then on, I think I became more aware of social inequality and poverty, etc.

Q. Your most recent film, The Fruit Hunters is inspired by author Adam Leith Gollner's book of the same name – tell us how you met Adam and how this film came about.
Adam and I are good friends in Montreal. Just so happened that his book was published the same time I started traveling with Up the Yangtze. It was the perfect companion piece for my festival travels. I'd be in Brazil or Israel and I could look for exotic fruits in fresh markets. The realization that it could become a film came to me very slowly because the book is so thorough in its approach, it was difficult to imagine a film adaptation. With Adam's blessing, though, we optioned the book rights and I spent almost 2 years researching characters and visual approach. To be in Hawaii with Ken Love and then in Miami with these wonderfully generous and obsessed fruit hunters, made the story come together. I mean, the Rare Fruit Council Int'l exists! What a joy to be a part of this unique world. All the while, the money was coming together with the participation of the National Film Board of Canada and the Canadian Broadcasting Corp., that cameras were rolling simultaneous to the production of "China Heavyweight." The last three years have been rewarding and exhausting.

Q. At the core the film is about fruit – but there are other themes addressed throughout the film. Can you touch upon some of these for our audience.
The thesis of the film is based on the idea that we, as humans, have always been connected to fruit in a symbiotic relationship. We co-evolved with fruit. One wouldn't exist without the other. We've gotten so good at cultivating fruit and making it taste better that, in some cases, we've created a monoculture where all we have in our supermarkets are bananas, apples and pears. But in actual fact, there are hundreds of thousands of fruits and their varieties all over the world, even in the Arctic (see the haskap berry). So over the years, our ability to cultivate fruit en masse, has in fact made us lose touch with that initial relationship, that innate connection. We've forgotten what it means to be fruit hunters. So this film searches out fruit hunters to show us the way and hopefully, at the end of the film, you will find out what it means to be a fruit hunter.
Q. What insights did you gain into the world of exotic fruit and the people that pursue fruit – from making this film?
Firstly that fruit hunters are extremely generous and passionate individuals. They have a lot to teach us. In fact, while I was filming, I became more-and-more obsessed with learning to grow fruit and taste fruit that often times, I felt like turning the cameras off to pursue a career in pomology. Now, I can't help, when I'm traveling, or grocery-shopping, to be hyper-aware of the type of fruits in season or being very picky about where certain fruits are being imported from. Right now (mid-June), it's Indian mango season so this is the best time to hit the Indian markets for Alfonso and Kesar mangos! Buy the box!

Q. We see actor Bill Pullman first make an appearance in the movie at a mango charity auction (had no idea there were such things!). Tell us about Bill's fascination with fruit and his own fruit cultivation efforts in the Hollywood Hills.
Bill is a farmer at heart. He has a beautiful orchard in his backyard full of exotic fruit like cherimoyas and litchis. I think he has a soft spot for his citrus fruits. For me, Bill's story in the film is about preservation of community. If the other fruit hunters are pursuing fruit for ecological conservation or archaeological reasons, for Bill, he's set on binding his neighbourhood together through a community fruit orchard. He may be a Hollywood movie star, but Bill's a very grounded and generous person who strongly believes in the fabric of community. He's a true inspiration and a natural-born leader.

Q. What are your top five favorite fruits?
Tough question. Like ranking your favourite offspring. Like all fruit hunters say, your favourite fruit is the one you were invited to eat by the Balinese grandmother who picked that fresh fallen durian in her backyard – that will be your favourite fruit. But for the sake of the list, I'd say: ice cream bean, litchi, mangosteen, Alfonso mango and Burmese grapes are my favourite in no particular order.

Q. What is the most exotic fruit you have tried in your travels?
I think it's a tie between the ice cream bean. (This velvet pea pod that when unzipped reveals a cotton candy flesh) versus the art of truly appreciating durian. (There's nothing like fresh durian and its complex flavour. Adam describes it in his book as like "eating your favourite ice cream while sitting on the toilet.")

Q. Tell us about your time with the nomadic Penan people in Borneo? You experienced an insight into their world that most people will never have.
Yes, this was my most moving experience during the production of The Fruit Hunters. The Penan, formerly nomadic indigenous people, are now being forced to live on settlements. We were lucky to find Bala, the elder Penan. He still dresses in traditional clothing and knows the Penan culture and wisdom. It was quite emotional to be with him in the jungle and to learn about origins of medicinal plants and fruits. His knowledge is vast. He embodies the essence of the fruit hunter – the thesis of the film.

Q. Because of your film making career I assume you have been to Los Angeles a number of times – what are some of your favorite activities that you would recommend to a first time visitor to this city? And or perhaps some specific locations/markets or activities here that involve fruit!
I love Los Angeles. Many years ago, I once lived in Silverlake while working on an EPK for an indie film. You have it all: beaches, mountains, dessert. And fruit! We spent a lot of time fruit hunting in the LA area. I'd recommend checking out the Fallen Fruit organization where you can get an urban foraging map for fruit trees all over LA. I love El Matador Beach for its crevices and caves. The Hollywood Reservoir is breathtaking. Make a pilgrimage to visit Bill's fruit dealers: Steve Spangler from Exotica Nursery and Alex Silber from Papaya Tree Nursery.

Pictures of some of the fruit mentioned above:
Biography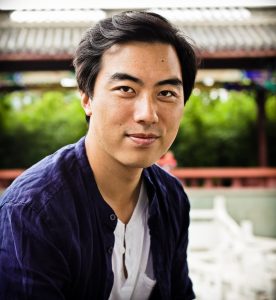 Yung Chang, made his feature documentary, Up the Yangtze in 2007. The film used China's highly contested Three Gorges Dam as a dramatic backdrop for a moving and richly detailed narrative of a peasant family negotiating unprecedented historic changes. Up The Yangtze played at numerous festivals and was one of the top-grossing documentary box office releases in 2008.
China Heavyweight is Chang's sophomore film. It had its World Premiere at Sundance 2012 and is currently traveling the festival circuit. The film is playing in Canadian cinemas and will open the USA in NYC on July 6, 2012.
He is also currently writing Eggplant, his first feature film, about a Chinese wedding photographer.
For more information about The Fruit Hunters visit: www.eyesteelfilm.com
Connect here: www.facebook.com/fruithunters and Follow Yung on Twitter.