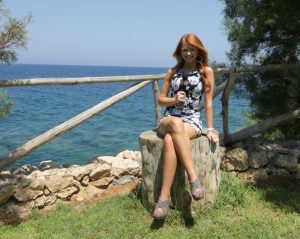 We first stumbled upon Lynn's travel videos inadvertently while doing research for another interview. Poker, International travels, well being – yes, this looks like a great lifestyle! We thank Lynn for taking time out of her busy schedule to do this interview – at the time of this interview, she was actually in the process of moving to Los Angeles from Melbourne Australia.
Q. What (or who) was your initial motivation to initially start traveling?
I was born in Ireland and my family moved to Australia when I was a baby, so we would travel back and forth every few years to visit our extended family. Luckily for me, travel has always been a big part of my life.

Q. How did you become involved with PokerNews.com and how has it led to you also becoming a travel show host?
Throughout my school years I was always performing – dancing concerts, musicals, TV ads, etc – but I would always say my dream job was to be a presenter on a travel show. It's been something I had my eye on for a very long time! As I was finishing school, though, I decided I had to get a "real" career, so off I went to get my marketing degree and secured a fantastic job at Crown Melbourne, the biggest casino in Australia. That is how I found myself in the poker industry, and after three years I said goodbye to the corporate world and was on my way over to Vegas with PokerNews, all by myself, not having a single clue what to expect, except that I knew I was chasing my dream! As a host on PokerNews, we fly all around the world following various poker tours, so naturally, featuring the travel side of the industry is a necessity!
I am about to take on another exciting new role, joining the World Poker Tour to host their prime-time Fox Sports 1 show, WPT Alpha8, which is a tour of high roller poker tournaments around the world, boasting buy-ins ranging from $100,000 to $250,000! It's an absolute dream come true and I cannot wait to get started. So at the moment I'm in the midst of packing my things for a new base in LA!

Q. What is it like covering and following these poker tournaments all over the world – I'm guessing you've visited all or nearly all major casino destinations!
This honestly belongs on a dream job list! I've been lucky enough to see more of this incredible planet than I could ever have imagined. I see a lot of familiar faces along the tour, so while the setting continues to change, the routine and relationships remain the same which helps a lot with keeping up. Some of the casinos we visit are incredible. The size of the casinos in Macau are insane, and the extravagance in Monte Carlo is everything you would expect. I often think to myself with excitement, "woah, this is my office today!"

Q. What are some of the ingredients behind being a successful host of a television show, travel or other?
A host needs to have a strong personality that will uplift the viewer, and authenticity. Many people assume that hosting is just like acting and that they need to turn on a performance, but that's when it comes across as awkward. There shouldn't really be any acting when you're hosting. The more real you are as a host, the more likely you will connect with your audience. Particularly with travel – you want to make your viewer almost feel like they could be experiencing the journey with you.
Q. What are some of the must have items you you always take with you when you travel?
Bose headphones are a godsend on the plane, and I always bring a candle to light in my hotel room, which helps me feel a little more at home.

Q. Tell us about your interest in "well being" and what directions that has taken you in.
Living a life on the road can get pretty unhealthy, so a couple of years ago I started taking an interest in learning about my body. I saw a huge difference in my energy while traveling when I was eating nutritious food, so I took it further by studying an online holistic health course, and I'm now a certified coach! I don't just focus on food, but also a lot to do with our mind and how that has a direct impact on our physical body. It all fascinates me so much! While I'm not practicing as a coach, I love sharing what I learn, so I have an online series, Stay Stacked, where I share advice for poker players on how to sharpen their game by sharpening their body. I also share a lot via social media. It's all just for fun at this stage as I believe people really need to be woken up to the importance of taking control over their personal wellbeing – mental and physical – first.
Q. You have traveled all over the world – what are some of your favorite experiences from your travels?

Visiting my sponsor child's home in the Philippines has been my most memorable experience. I've been sponsoring Bret for four years now, and I've been lucky enough to visit his village twice. I got to personally see how far the sponsorship money goes to drastically help with his education, his family, and his village. It is amazing how much of a difference we can make with a small donation.
While I may be helping Bret financially, he has helped me immensely in return with a whole new perspective on life and what is important. While many Filipino people may not have the material possessions that Western society has, the amount of love and happiness they share is priceless. They don't live in isolation behind closed doors, in front of computer screens – they are all outside, together, helping each other. It's beautiful.
Q. What are the most important things that traveling has taught you?
Travel has completely changed me. I always tell people that travel is a necessity, not a luxury – it's the best education that one can get. It opens your mind to new perspectives on life, taking you out of your bubble at home where small problems often seem much bigger than they are.
Travel has put me in a habit of being present in the moment. Eckhart Tolle teaches all about being present in "the now", because no negative emotions can be associated with the present moment. Fear, guilt, sadness, regret, anxiety – they are all tied to thoughts about the past or the future, and often completely unnecessary thoughts that do nothing but simply ruin the current experience you could be having. The more that we live in the present moment, the more we actually live. I realised that with my years of traveling that was what had changed me as an adult – I started to appreciate so many simple things in Melbourne that I had never previously noticed.
When people go on vacation, they always feel so free of stress because they're not thinking about the email they forgot to respond to, or the person who was rude in the elevator. They are soaking up the simplest of things around them in each moment – from the freshness of the air, to the rich green in the grass – something that wouldn't even be noticed at home. Why do we limit ourselves to a few weeks per year of vacation time to feel that when we can actually continue that same feeling everyday in our own backyards, or just a mile away discovering a cafe we've never been to before?
Step outside, wherever you may be right now, and imagine you were visiting that spot for the first time. Just really look. Welcome to the present moment!

Q. Since you call Melbourne "home", what are some of your most enjoyable activities that you would recommend to a first time visitor to this vibrant city?
Melbourne has an awesome cafe culture with some of the best coffee in the world, and you'll find a cafe on almost every block. Stopping by at least one (different) cafe per day is a must.
At night, the central city comes alive with lots of tucked-away bars that were nothing more than a stylishly-graffitied door during the day.
St Kilda Beach is a really funky area with a huge selection of fantastic restaurants to suit any budget and a popular art and craft market that spans along the esplanade every Sunday morning.
Victoria's Great Ocean Road is absolutely stunning. It takes a four-hour drive to get to the Twelve Apostles which are a must-see, so it would be best to stay overnight in one of the beach towns along the way. I like to call this Australia's version of California's Big Sur.

Biography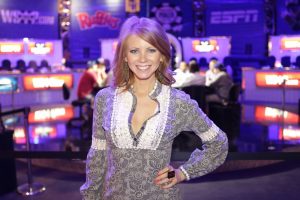 Lynn Gilmartin is an Australian presenter who has been lucky enough to travel the world with PokerNews.com, living her lifelong dream – exploring the world, while talking to a camera. Throw in the excitement of reporting on the largest poker tournaments known to man, and she has one pretty awesome job.
She avidly writes about travel and wellbeing, aiming to teach others how to live their lives to the fullest, playing on her nickname, LG: Life's Good.
For more information about Lynn and her travels visit, www.lynngilmartin.com or follow on Facebook and Twitter
Photo by Tennille Olsen